From Concept to Cartoon: Pathways Into Alanta's Animation Industry
By Oz Online | Published on September 30, 2021
Atlanta has become the perfect place to create virtual worlds, erupting with studios at an exponential rate. With Cartoon Network near Georgia Institute of Technology, Bento Box Entertainment down the street from Savannah College of Art and Design, Awesome, Inc. and Fern directly north of the Atlanta University Center the proximity of these training centers to production facilities produces a vortex of concentrated energy mixed with passion, inspiration and money. Animation workers from all around the world are relocating to Atlanta or extending their stay indefinitely to work at these studios. But if animation is a computer and web-based medium, why is everyone in Atlanta?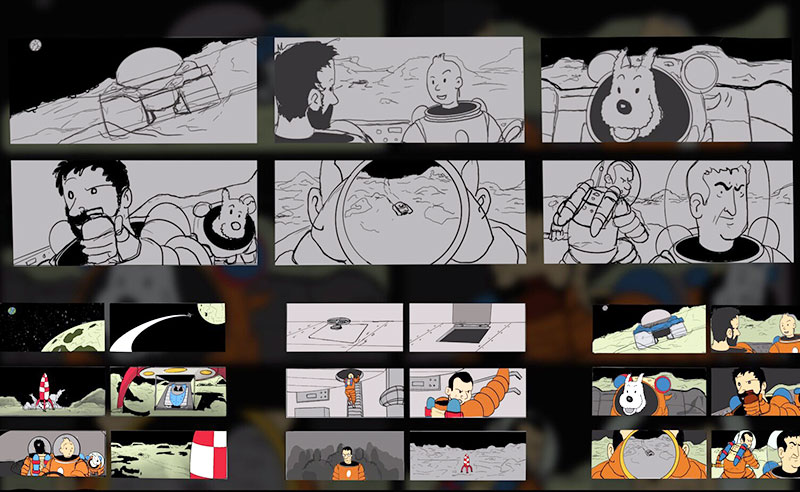 Do you ever wonder about the physical spaces of virtual productions?  Or the actual tools of the animators? Like, doesn't the crew just work at home on their computers as in the documentary, Life 2.0 (Spingarn-Koff, 2010)? Or, are animators visiting archives, libraries, and museums for research, commuting to studios during production, sending materials to storage facilities for preservation? How much of the production process, from prep to preservation actually involves person-to-person encounters in physical spaces with tangible objects? Or, better yet, what is the relationship between animation design and the lived experience?
According to Ginger Tontaveetong, Executive Director of US's southeastern chapter of Association Internationale du Film d'Animation, or ASIFA-South, the lived experience is at the center of animation. From working at physical production studios to designing racially-specific characters, an animator's illustrations directly reflect their experiences, environments and relationships. Tontaveetong quips, "Who are these characters? Where are their motivations? What is their background, what is this world like, and also the environment as well, too. And that's the big part that goes into designing not just the character, but how the characters fit into the worlds … if something is uncanny, it stands out really, really easily, it's fast. And now I think a lot of studios definitely understand that lived experience is important to actually building a world that reflects the people that they're putting in it other than just aesthetically."
At ASIFA, a Board of Directors and a team of professionals work to produce live and web-based events that provide resources, training, and support for the animation community. While much of today's animation work is digital illustration, it is still a corporate structure making getting into the business still about who you know and which studios are hiring. For Tontaveetong, outsourcing work is the root of the issue in the region; therefore, her mission for the chapter is centered around awareness. 
"For ASIFA South, our focus is on improving the industry and fostering sustainability as well as making sure that we're more accessible. So more on the diversity and inclusion part of the South…[but] also to kind of show people that there is animation talent in the South, because a lot of times when you think of animation prior to [ASIFA], you know you think of Hollywood, you think of New York," Tontaveetong told Oz. Atlanta has animation talent and ASIFA-South helps identify them. 
Roundtables with PGA, SAG-AFTRA, Big Women in Animation, and Atlanta Film Society puts Atlanta's animation community at the center of discussions, while sketch meets and watch parties on their online platform DISCORD, training sessions with Blender software; incubators with School of Humans, re:imagine/ATL, and Ste(A)M Truck; and figure drawing workshops on ZOOM create necessary networking opportunities for animators at all levels. The Southern Spotlight program helps local content reach an international audience through screenings in different regions of the US, as well as, in Australia, Taiwan, China and more.
---
SPACE 
Atlanta has always had a particularly expressive side. The Office of Cultural Affairs Public Art Program advocates for local art in an effort to produce a heightened sense of place and enliven the visual quality of the built environment. Like a refrain from Andre 3000's embittered acceptance speech at the 1995 Source Awards, "The South Got Something to Say" is a local mantra visually illustrated all over the streets of Atlanta. The industry-driven real estate market produces sky-scraper sized canvases for the art and design community, fueling the creative energy produced inside and outside the studios. Therefore, illustrators are at the forefront of the city's public works projects, as well as, in the center of creativity at major production studios.
The tax-incentive brings studios here, but it is privacy and non-disclosure agreements that tether workers to physical studio locations.   In order to protect information and secrets from leaking, production companies use physical studios for making and sharing company content. Not to mention, the ease of walking down to your coworker's office or desk to discuss the project allows for healthy and productive vibes important to the work environment. The expensive software and high-tech equipment in workstations also demand site-specific productivity. So, geography still matters, making Atlanta's matrix of studios most ideal for students of design and workers of the virtual universe.  
---
DESIGN
Designing a character relies on communal knowledge and shared images.  Brelan Evans, a freelance storyboard animator who works on projects in Atlanta, describes illustrating characters as a process of matching personality type with body type.
"So when we're designing the character, the costume is mostly a question of  'What's the personality type?' And that usually goes with like the body type of a person. Are they like a shy hero type characteristic? And then based off of that, then we start figuring out what is like if they are super person, 'What is the thing that's individual to them?'" he asked Oz.
With a 3-4 color palette, artists create a figure who can instantly communicate their personality, express their superpower, and move with agility.  
"Goku looks exactly the same every time, every season. So even when he transforms, the most he does is he has a different hairstyle. His villains still stick to the same thing, they kind of have this two-color profile or three-color profile. And that's it. They're not, they're not really over the top like intricate because they had to make the move and set speeds or do all these crazy movements with them… sometimes if it's too much going on, it's distracting from what you're trying to tell in a story," Evans explained. Even though digital illustration cuts down on the clutter created from too much action and visual detail, simplicity and appeal have become customary.  24 frames are still required to produce 1 second of animation. 
Evans uses social media in his design research phase to find images and concepts that are trending across the world. "I actually go on to Pinterest and obviously to Twitter, and look up appropriation because a lot of those trends China appropriates, or that UK appropriates, or that America appropriates, if you look at the links that those people who appropriate it or their posting, you can actually find certain posters or magazines or certain visions that they're being shown…those little trends I look at. I think, 'All right, cool. What can I do different?' I look up where his culture come from. I see certain patterns that work."  At the end of the day, it is about what works in the design process.  Evan says to ask yourself these four questions. Does it look good? Does it look true to the character? Can we repeat it? Does it still look cool? 
---
TOOLS 
Today Photoshop, Cintiq, and a felt-tip stylus, are the main tools (and therefore, artifacts) of the animation trade.  However, these technological advancements limit what you can know about practices and the labor embedded in the image. Storyboards are born digital and become digital assets, research is largely googled, and work is uploaded to servers and clouds with Storyboard Pro, Toon Boom, Shot Grid, Teradici, and/or Blender.  But, how are these images inspired?  Where do animators go to find sources for their creativity and where do these designs live when the project is over?
Currently, the work of United Productions of America (UPA), by Mary Blair, Tom Oreb, and Chuck Jones along with books like: A New History of Animation by Maureen Furniss, Cartoons: One Hundred Years of Cinema Animation by Giannalberto Bendazzi, and The Best Saturdays of our Lives by Mark McCray are popular resources for animators. 
For Joanna Davidovich, a freelance animation artist, digital animation just doesn't fully capture the labor of the medium. In a video interview with the artist, she talks about missing the threadbare paper in her current practice.  
"When it comes to paper and pencil, I feel like we still need to return to that. I certainly feel the need to return to that, to just scratching out a drawing and figuring stuff out on paper and seeing how threadbare the paper is from how much you've erased. It just shows how much work it takes to just draw something out of the paper. I think that's still important. I hope it doesn't become something only crazy people do in the future. Like, she actually carries around a sketchbook … 'What a Weirdo.' I hope that people still see the usefulness of it," Davidovich said. As she held up an invisible sheet of paper to an off-camera light source as a talking point in her description it became clear what was missing: the archive.
---
ARCHIVES
Davidovich recalls how visiting the Warner Bros. Studio Store in Perimeter Mall was greatly influential in her development as an animation artist. Even though the retail store was not an archive (and sold merchandise, instead of preserved objects) there was something about the tangibility of illustrations that inspired her creativity. Like the Warner Bros. Studio Store and The Disney Store (another defunct shopping mall retail chain) these places offered a closer look at content created for the screen and were accessible from all over the country.
ASIFA collects and preserves actual animation production artifacts at the Academy of Motion Picture Arts and Science's Margaret Herrick Library in California.  While ASIFA-Hollywood is the organizing chapter overseeing the project in partnership with the Academy, it is a major resource for animators who wish to see and study the materials of pen and paper illustrators of the past, as well as, today's born-digital animators.  Tontaveetong imagines a Southeastern archive as a personal mission, but admits it requires more bandwidth than is currently available in the region.
Students and professionals alike still require access to historical content created for their screen and have relied strongly on a handful of resources, according to Tontaveetong.
Every year, ACM's SIGGRAPH, a Special Interest Group of the Association for Computing Machinery hosts an annual art show. In an effort to aid scholarship, research, and teaching, the organization has preserved art show content that acts as a platform for the newest and most up-to-date contributions to computer graphics.  Jerry Beck, editor of Cartoon Research, has composited a rich collection of animation history and information in categories according to famous animators on his website, www.cartoonresearch.com. In 1987, Dr. Harvey Deneroff founded the Society of Animation Studies which publishes a journal, Animation Studies, a blog, Animation Studies 2.0, hosts an annual conference, and maintains a members-only directory.  Born-digital content may have altered the form of the archive by making material available online, but has allowed the community to serve a wider and more diverse public.  
Dragon Con, Comic Con and other animation conventions also act as living archives providing spaces and platforms for research, the embodiment of characters, the preservation of images, community building, and keeping tradition alive. Dragon Con 2021 is the 35th annual event and returns with costume contests, live performances, reading sessions, burlesque shows, workshops and more.  This year, visitors had the chance to meet Disney illustrator, Bryan Scott Fyffe, DC Comics and Cover animator, Zu Orzu, and 2021 Guest of Honor, William Stout, American fantasy artist and illustrator, as well as, a slew of comic writers, voice actors, podcasters, costumers, editors, vendors etc. In Atlanta, the archives are located in the people. 
---
EXPERIENCE
As an Animation Executive at ASIFA-South, Tontaveetong is concerned about representation and advocacy in all parts of animation production culture. ASIFA is an UNESCO-affiliated non-profit organization, which means centering neurodiversity through social justice initiatives is also part of their mission. Part of her job is to connect animators with other professionals to help tell better stories. For example, she might connect you with Signing Animation if you are designing a deaf character, or Women in Animation if you are seeking to promote the influence of women behind the scenes or in front of the camera. ASIFA is not only a resource for animators and other career professionals, but also a pathway into the workforce for artists who have been systematically ignored or overlooked.   
While much of production is streamlined with digital and web-based processes, studios also believe the lived experience is key to good stories.  Floyd County will actually hire live models and study facial expressions to create their reference photos. The animators of Raya and The Last Dragon actually traveled to Southeast Asia to study the culture.  While characters do not have to represent all persons of a community (obviously impossible) the key is including the unique perspective of someone that has that lived experience.