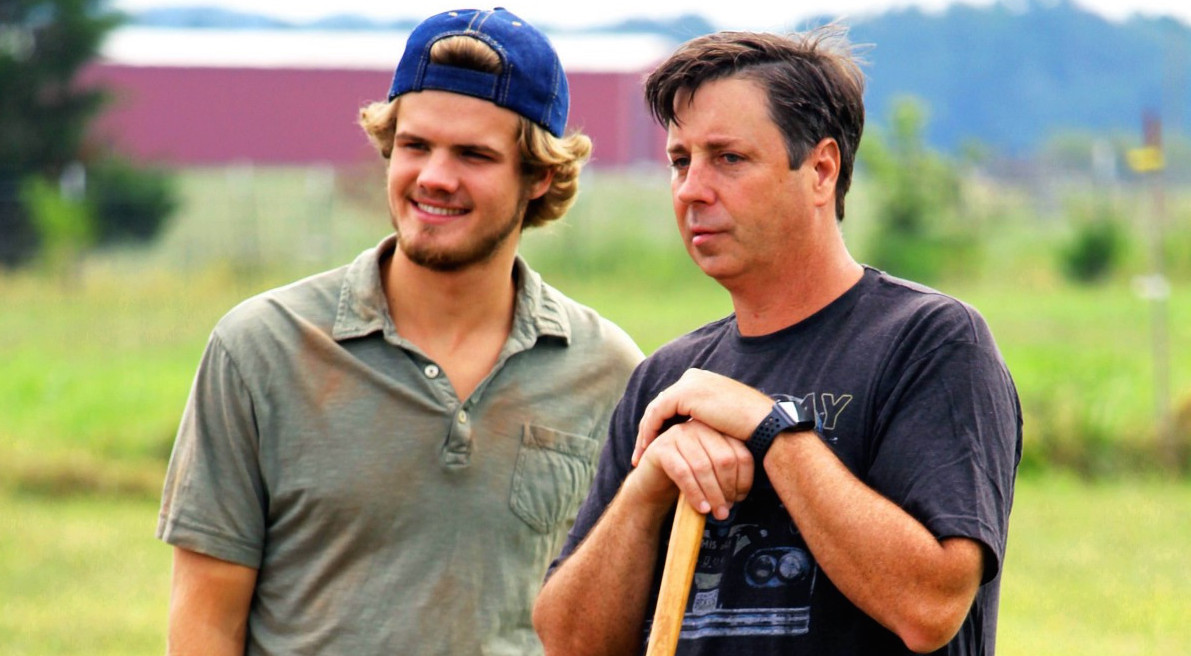 …If it's something you truly love and/or feel led or called to do, there really is not a choice, you have to pursue it. If you don't, you will live a life of regret. You will constantly feel incomplete and unfulfilled. As a part of our series about entrepreneurs who transformed something they did for […]
As a part of our series about entrepreneurs who transformed something they did for fun into a full-time career, I had the pleasure of interviewing Robert Eagar founder of Buckhead Film Group. Robert Eagar, who runs a mortgage company by day, always had a passion for film. In 2001, he decided to put a toe in the water and served as an extra on Remember the Titans. That led to a chance lunch with Denzel Washington. After that meeting, he decided to dive in to the industry. That same year, he wrote his first script for a film called Full Count, which he submitted to Ben Affleck and Matt Damon's Project Greenlight. The film made it through several rounds, but was eventually cut — but a fire was lit for Robert. The self-taught filmmaker continued to do to run his mortgage company during the day and wrote scripts at night and on weekends as well as network and meet people in the industry. In 2010, Robert's short film The Ticket won the "Audience Choice Award" at the Atlanta Underground Film Festival. In 2017, Robert launched Buckhead Film Group and finally made Full Count in August 2017. The film, which took two more years to finish, has just been picked by a global distribution company with plans to release in Oct. 2019. He has recently released Reckoning, which is on the festival circuit now and won Atlanta Film Festival's Georgia Film Award this year. This fall, he is starting production on his third feature film Blindsided.
Thank you so much for joining us Robert! Can you tell us a bit about your "childhood backstory"?
I was born in 1969 in Philadelphia, Penn. My parents divorced when I was 5. I moved with my dad to Georgia and Atlanta has been my home for 45 years. I was raised in Marietta, Ga., in a middle class family. I was a below average student and had no idea what I wanted to do or be when I grew up. I was a little wild.
What was the catalyst from transforming your hobby or something you love into a business? Can you share the story of your "ah ha" moment with us?
Watching Matt Damon and Ben Affleck accept the Oscar for best original screenplay for Good Will Hunting. I loved the film and the validation of their work winning the Oscar made me believe "why not me?"
There are no shortage of good ideas out there, but people seem to struggle in taking a good idea and translating it into an actual business. How did you overcome this challenge?
As I said earlier I always struggled in school. I was often told at parties and social gatherings I had good stories. I wanted to share with someone a script I had written, but I was ashamed because my writing skills and grammar were so poor, I thought no one would take me seriously. Noone in my inner social circle would ever believe I had taught myself and completed a 95-page screenplay. In a weird, sad way, I was embarrassed to show anyone. In 2001, a few years after becoming a Hollywood success story, Matt Damon and Ben Affleck wanted to give back to the independent film community and launched an online screenwriting contest called Project Greenlight. The winner received $1 million and would get to direct and produce their screenplay if they won. This was the perfect opportunity to submit my script for Full Count from the comfort of my living room and not be subject to the ridicule those closest to me would surely give. Ultimately, I did not win the contest, but went through several rounds. That experience gave me confidence to push forward and believe I could turn the script into a feature film one day. Not a single day passed I did not think about Full Count. Not a single day. I had to make this movie. For seven years, I worked hard at my day job in the mortgage industry saving my money. On nights, weekends, and in any spare time, I relentlessly pursued learning all things film-making. In 2009, I came really close to starting pre-production on Full Count. Like many Americans in 2009, the financial crisis took a toll on my family and our finances. Everything I owned was invested and tied to our banking system. My career, my investments, my businesses…. I was 100% tied to the financial sector. I had to put my dream on hold to hunker down and provide for my family. By 2012, I had restructured many of my personal and business affairs. Over the next 5 years, I would work harder than I had ever worked to get back the money I had lost. Even through this struggle, not a single day passed that I did not think about Full Count. In 2017, I had made back all the lost money plus some. In August of that year, I started a production company called Buckhead Film Group and immediately went into production on my first feature film Full Count. In two short years, I have produced three feature films.
What advice would you give someone who has a hobby or pastime that they absolutely love but is reluctant to do it for a living?
This is a big one for me …If it's something you truly love and/or feel led or called to do, there really is not a choice, you have to pursue it. If you don't, you will live a life of regret. You will constantly feel incomplete and unfulfilled.
It's said that the quickest way to take the fun out of doing something is to do it for a living. How do you keep from changing something you love into something you dread? How do you keep it fresh and enjoyable?
I believe if you love what you do you will never feel like it is work. I get up every day excited to get going and see what the day has in store.
What is it that you enjoy most about running your own business? What are the downsides of running your own business? Can you share what you did to overcome these drawbacks?
I like finding and hiring employees that are smarter than me and have big ideas. I also like knowing I am in control of my own success. I love mentoring and empowering people to grow and be the best than can be. I like seeing people succeed and go on to do bigger things than I've done. Running your own business is very hard work. It's not a 9 to 5 job. You have to be willing to sacrifice evenings, weekends, and holidays to start and manage a successful business.
Can you share what was the most striking difference between your actual job and how you thought the job would be?
It takes a village to complete a feature length film and you cannot skip any steps. I had no idea how much of the process takes place after you finish production. Post production is a vital part of the overall process and can really enhance the quality of a film. It can also break a good film.
Has there ever been a moment when you thought to yourself "I can't take it anymore, I'm going to get a "real" job? If so how did you overcome it?
After two years, not yet.
What person wouldn't want to work doing something they absolutely love. You are an incredible inspiration to a great many people. If you could inspire a movement that would bring the most amount of good to the most amount of people, what would that be?
Inspiring a movement where we all get back to loving our neighbors.
Can you share the most interesting story that happened to you since you began leading your company?
Meeting so many aspiring filmmakers who have a film that they have been trying for over a decade to get made. I am truly grateful and I don't take lightly how rare it is to have written, directed, and produced an independent film that ultimately got distribution. It is 100% a result of the talented hard working people I surrounded myself with. Without them, I would be sitting alone in a production office with a 95-page script.
Can you share a story about the funniest mistake you made when you were first starting? Can you tell us what lesson you learned from that?
My first day on a film set, I did not know the difference between the talent trailers and portable bathroom trailers. I noticed one of our lead actresses arrive on set and I offered to walk her to her air conditioned trailer. I ended up opening the door and showing her the men's bathroom.
Who has inspired or continues to inspire you to be a great leader? Why?
Tyler Perry. Tyler is everything I want to be and aspire to be as a producer. He is one of the most kind and generous people. Everything he does comes from a place of love. He has embraced being a good steward and doing good things with the things he's been entrusted with. I believe the dictionary definition of selflessness should be = Tyler Perry.
How have you used your success to make the world a better place?
In our family, we have a very special place in our hearts for interim foster care. To date, we have provided interim foster care for 38 newborns. We get them at time of discharge from the hospital and keep them until they are adopted into a loving new home. One of foster babies has since become our goddaughter and was recently in one of our films.
Can you please give us your favorite "Life Lesson Quote"? Can you share how that was relevant to you in your life?
"I know that if I failed I wouldn't regret that, but I know the one thing I might regret is not trying." — Jeff Bezos
Some of the biggest names in Business, VC funding, Sports, and Entertainment read this column. Is there a person in the world, or in the US with whom you would love to have a private breakfast or lunch with, and why? He or she might just see this if we tag them.
Denzel Washington. Not only is Denzel one of the greatest actors of our generation, he's a great husband, great father, great neighbor, a great leader, and a great person He has so much wisdom to share about life, pursuing your dreams, and the entertainment industry.
Thank you for these fantastic insights. We greatly appreciate the time you spent on this.
— Published on November 5, 2019
Read the original article on Thrive Global, here.