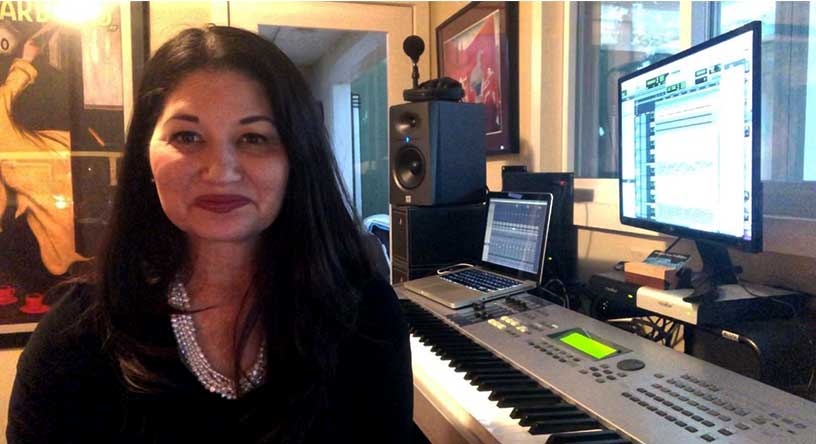 For the Love of Sound
By Oz Online | Published on December 21, 2021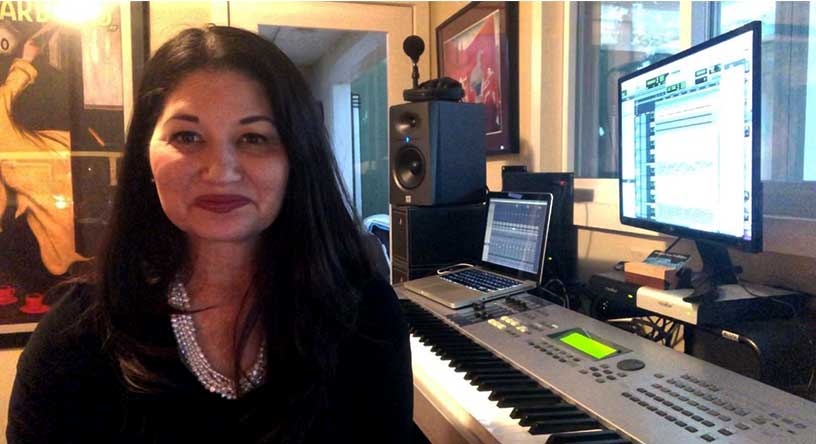 Oz Magazine got the chance to interview Peggy Still Johnson, an accomplished film and music producer for film and digital media in Georgia. We were able to learn more about the importance of sound through our interview with Johnson and her passion for film. At an early age, her love for film scores made her realize that she wanted to become a composer and music supervisor for film. She has a very impressive résumé that most people can only aspire to have, and she is proof that it is possible. Her responses are thoughtful and full of clarity as she explains how she has gotten to where she is now in her career.
In the years after graduating from college, her aspirations were to work in film. She performed in bands, founded and sold a successful music school in Georgia called the Peggy Still School of Music, and then ran a non-profit organization. She has had opportunities to work in notable productions like The Curious Case of Benjamin Button, Bessie, and Parental Guidance. …Johnson adds, "I have worked on a number of independent projects as a composer and music supervisor and now work with the post team at GO Media Productions and Pendulum-Productions. Though I still work wearing many hats in film and in fundraising, I enjoy most working in post-production composing stems, creating theme songs, working in sound design, and music supervision." Johnson has also held leadership positions that include serving on the Board of Governors (Composer Seat) for the Recording Academy (Grammy Organization.)
Johnson's humility shines through all that she shares with us, including talking about her musical influences ranging "from Brian Eno, Philip Glass, to Trent Reznor. As a female composer and in the industry, Hildur Guðnadóttir (Oscar winning female composer of the movie Joker) really gives me hope that women may be given more opportunities and women can create raw, edgy, and impactful work. Tyler Perry's commitment to filming in Georgia has also influenced me to keep believing that we Georgians, if we create it, the work will come. My college teacher and mentor Dr. Robert Thompson has taught me so much, always believed in me, and influenced my work, and now Wayne Overstreet and Len Gibson of GO Media Productions are a huge inspiration to me as they continue to mentor and teach me more about the industry and about post-production. The other talented, brave, and successful women I work with and admire like Mala Sharma, Margaret Marshall, and Diane Durrett also continue to be a strength to me in my journey along with my longtime writing and producing partner Nev Walker. Nev and I were both mentored by Eddie Horst (composer of "In The Heat of the Night" and Man on the Moon) and there isn't a month that goes by that we don't talk about Eddie and the influence he still has in our work and in our lives."
From silent films to talkies to how film has evolved today, we have made a giant leap technologically, in regards to sound. It's no secret that sound has always been an important factor in a film, and music has strengthened that importance. Music will make the audience feel intensity or sorrow, or even the excitement of a grand adventure. Sound's impact is limitless and gives an otherwise bland scene color. If you were to go to a theater with surround sound and just close your eyes, you would be able to feel the emotion along with the vibration of the sound. You would be able to get the tone and the emotion of the film without seeing one scene. That is what makes sound so precious.
Johnson feels that "Sound can make or break any project. If the sound quality and score is at a poor level in creativity or in mixing and mastering, it will distract from the film experience for the audience. I have always been a minimalist meaning, I feel it is better to support the visuals rather than overpower with too much music or sound. My favorite film composers are Hans Zimmer, Danny Elfman, and Trent Reznor. Their work is of high quality and highly creative using sound textures in addition to orchestrations and layering. I really think sound design and sound effects are very important and can be incorporated into the music score or vice versa. Feature film dramas like The Social Network show how effective a good score, sound effects, and sound design can have on a film adding so much tension and release even where there is no real action in the film."
With technology being a huge part of Johnson's job, technological advancements have been the cornerstone of sound's evolution in television and film. Without it, we would still be watching silent films while a pianist plays the accompaniment near the stage. For Johnson, "The creation of ProTools and Finale and other similar digital audio workstations… have been a game changer in the industry. In the 90's I started using Cakewalk music software (now considered vintage) and the Alesis ADAT digital 8 track recorder and created my avant garde album Footsteps using mostly analog recording. Today, with plugins, time sync, and music notation software, the sky's the limit. Our team at Pendulum-Productions recorded our latest album Pendulum working remotely sending files to one another (to as far as London) through the internet. We only needed a couple of recording sessions to lay down live tracks but it was amazing through the pandemic how we were able to still create and also work together also creating the soundtrack and film score for the documentary film Hello World (now streamed in 56 countries) without being in the same room together. It is because of the advances of technology we are able to have home studios which saves on overall film budgets and we can be selective on booking studio time (which also saves time and money) and yet not be impacted by circumstances out of our control like COVID-19." No longer are we unable to create due to unforeseen circumstances. Now that recording equipment and the internet are largely accessible, people are able to learn, create, and publish something all with the click of a button (or more). It can only be imagined what the future will have in store for us as sound technology develops even further.
It is important to Johnson that people know that Georgia has the talent and that successful projects can not only be created here but also completed in post-production. As we know, Georgia is one of the top producers of TV and film because our tax incentives are great for productions, but something I was unaware of is that post-production is still lacking as far as Georgia is concerned. The majority of post work is being done elsewhere. People are being hired out of state because that is what they are used to doing. Johnson stated, "Georgia still has a way to go to attract post-production projects. Generally post-production work is given to post teams in Los Angeles, New York, and Nashville. Filmmakers want to finish their films in their home town and/or work with those they are most comfortable with. With better post-production tax incentives, we may influence some filmmakers who are willing to take a chance on Georgia talent, especially if they can receive money back from the incentive. Our post-production tax incentives in Georgia need to be updated to benefit film production companies instead of benefitting the post house. The way the incentives work today for post-production, there is not much allure in hiring Georgia talent for post." Hopefully this will change at some point as people become more aware that Georgia is more than capable of handling a production from start to finish. Johnson continues that "This is something that Georgia Post Alliance (GPA) has been working on to bring awareness of our collective group of talent and creatives in Georgia working in post. I am hopeful with the many working to bring awareness of the talent that is here." "We as a team at GO Media Productions work together to analyze the films with the director, producer, and post teams giving our input on what we feel is working great for the film and what needs improvement. I do have great respect for those working in all aspects of post from coloring to sound. It is fascinating and vital to creating a good film. My hope is that more programs in Georgia are created to train up and coming talented students to learn the craft of visual and sound work in post-production."
Johnson states, "Post-production as a whole fascinates and excites me. I am so blessed to have a wonderful music and sound design team at Pendulum-Productions but also to work with GO Media Production's post-production team. Under the supervision of Wayne Overstreet, long time post-production veteran and General Manager (Wolffe Bros Post and Overstreet Production & Post), we are working in post offering everything from editing, coloring, ADR, SFX, VFX, motion graphics, mixing, mastering, music, sound design, and clearances. As a producer and manager, I love it all! Though GO Media Productions develops, funds, and distributes films, because of Wayne Overstreet, Len Gibson, and myself, we are very interested in post-production especially offering services here in Georgia hiring Georgia talent. We are also looking for interns in video production and digital marketing with social media. We always have a preference to work with those who live in Georgia. Though there are so many new innovations in technology today, talent in Georgia is what I am excited most about."
With a rich and complex history, "Georgia's sound legacy is like nowhere else in the world. From the origination of the blues, to recognizably Georgian' styles of R&B, Southern rock, hip hop to classical. Georgia's music has shaped the soundtrack for the world. For this reason, past rockers like Hans Zimmer, Danny Elfman, and Trent Reznor, have had much success mixing commercial music with old school classical orchestrating. So I believe Georgia has had a huge influence on music, scores, and soundtracks created today especially since Georgia has influenced music for decades from the blues, to country, to hip hop to classical. As a composer, I am inspired and influenced by the music created in Georgia. I really enjoyed working with John Mellencamp, Andy York, and their team collaborating with Stephen King and T Bone Burnett in the musical "Ghost Brothers of Darkland County." The incredible music was Americana blues with a folk and gothic feel and I feel to be some of John Mellencamp's best work. T Bone Burnett has had a huge influence bringing the Americana feel to film and television scores which of course is highly influenced by the music created here in Georgia and in the South."
When asked if she had any advice to give to people wanting to branch into sound design and music production in film, Johnson said, "Anything you do, do it because you love it and remember it is not a sprint. Becoming proficient at your craft and getting gigs takes time and if you really love working in film on the sound and music side, the work will come if you keep at it. You may have to score a few films for free or for not much pay but it will help you grow your demo reel and of course grow your experience. The more diverse projects you can work on, the more diverse your tools and creativity will be. We all have our specialties and preferences. Some are technicians and some prefer to be creative artists. If you can practice at both and of course read music and know orchestration, your odds of success will be higher." Johnson's experience and humility and love for her craft give off an energy that I would love to learn from, being a woman in a male-dominated industry.
Johnson is exemplary of the journey that we all take in this life. When asked if she had anything else that she wanted to share, she simply stated, "I feel incredibly blessed to have moved from San Diego to Georgia over 35 years ago and incredibly blessed to be here during such an exciting time in the industry…I feel my best work is yet to come."