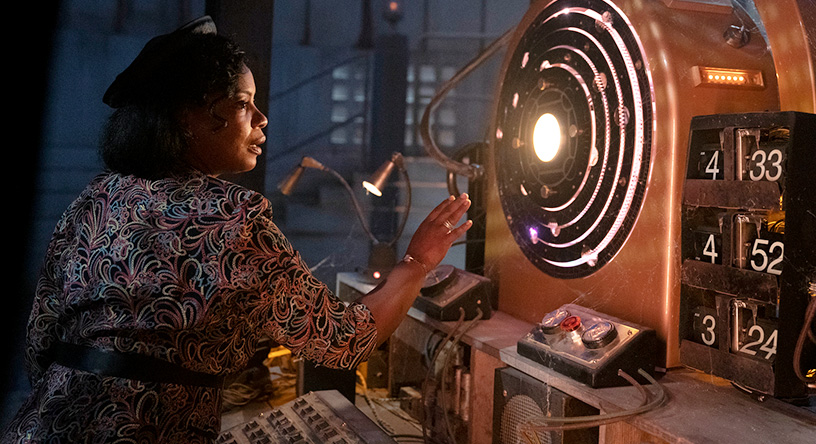 Atticus Freeman (played by Jonathan Majors), a young Black US soldier, returns home to Chicago in the 1950s Jim Crow era. Upon his arrival, one of the first places he stops into is a quaint mechanic shop. The store's window is big with perfect lettering arched over the top near the frame, inviting light into the crowded store. There are cars being fixed, customers being served, and a big rickety bookshelf that Atticus immediately walks over to. He pulls out the book, The Outsider And Others by H.P. Lovecraft, bound with a black and white cover decorated with a naked woman and bright stars of different shapes and sizes.
The HBO series, "Lovecraft Country," follows Atticus to his hometown to figure out the mystery behind the disappearance of his estranged father, Montrose Freeman (Michael Kenneth Williams). Once the young soldier returns to his Uncle George's (Courtney B. Vance) apartment and runs into his old friend, Letitia "Leti" Lewis (Jurnee Smollett), he is equipped with a team to accompany him on a road trip of a lifetime, with the goal of finding Montrose. Along this journey, the three stumble upon mansions and monsters. All the while, the audience is pulled into the story with its extremely detailed sets that are worth marveling at for far longer than what a ten-episode season allows for.
"Lovecraft Country" combines the genres of science fiction, historical, drama, psychological thriller and horror into one show, creating an incredibly addicting series that left audience members on the edge of their seats in 2020. Becoming the most nominated television show at the inaugural Critics Choice Super Awards, "Lovecraft Country" provided its viewers an exciting escape from reality. It is also currently the most viewed show on HBO's streaming platform, HBO Max.
With Underground's Misha Green as the writer and Get Out's Jordan Peele and "Lost's" JJ Abrams as its Executive Producers, the genre-defying show reached an estimated 1.5 million viewers for the finale and 10 million viewers throughout the first season on all of HBO's platforms.
While the majority of filming for "Lovecraft Country" took place in Georgia, the pilot was originally shot in Chicago. Once production was moved to Georgia, the crew had the exciting challenge of not only recreating Chicago's landscape, but also making it fit within the '50s time frame.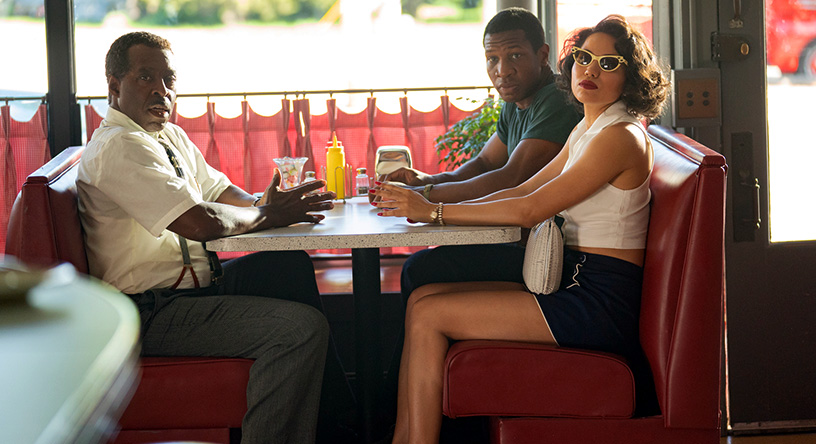 "IT IS KIND OF COOL TO SEE JUST HOW VERSATILE WORKING IN GEORGIA
CAN BE AND HOW BRILLIANT SOME PEOPLE, ESPECIALLY IN LOCATIONS, ARE AT FINDING THESE LOCATIONS."

– EMILEE COX, SET DECORATION COORDINATOR
When creating a hit television show, like "Lovecraft Country," there is a lot of work that goes into a mise-en-scene (what's in front of the camera and inside its recorded frame) that brilliantly encapsulates moments in history. The crew members on the set of shows work tirelessly during filming to curate the final project that fans enjoy on their streaming devices and TV screens. Oz Magazine interviewed two essential crew members, Set Decoration Coordinator, Emilee Cox, and On Set Dresser, Marissa Korchak, to showcase the work that goes into creating the background images that viewers see on "Lovecraft Country."
Redressing some of the streets and recreating specific locations required a lot of hard work, but the versatility that Georgia's landscape offered assisted the crew members tremendously. "All of that is actually facades and you can walk into some of those places, but a lot of them are just flats standing in the middle of the parking lot," Cox told Oz. As Set Dec. Coordinator, Cox assists in putting objects in the background that would have meaning to the script. "We try to provide subtle impressions in the background as a team and are there to enhance the story or reflect on the mood of the scene as best we can," Cox said. Head creatives do the research on their ideas for the show and make references to historical moments captured to establish this in the background. Then the head creatives go to the production heads for approval, and once the ideas are approved, the art department collaborates to implement the idea cinematically.
"We're in such a great place like Georgia," Korchak said when asked why she enjoys filming where she's based. "It wasn't difficult to make it come to life as far as looking like Chicago. We were able to implement those specific landscapes and things like that, to accommodate the look that we needed."
Having worked on shows filmed in Georgia, such as "The Vampire Diaries," "The Quad" and "Being Mary Jane," Marissa Korchak, the On Set Dresser for "Lovecraft Country," praised Georgia's malleable landscapes.
"I think Georgia is a very special place because of that, because there are so many landscapes that can easily be portrayed as different places," Korchak said. "We're capitalizing off of that and using it to its advantage."
Emilee Cox explained that with the help of the locations team, they were able to locate beautiful places within Georgia that were perfect for filming. "It is kind of cool to see just how versatile working in Georgia can be and how brilliant some people, especially in locations, are at finding these locations," Cox said. "I think it's kind of a fun challenge to shoot for other places around the world and make it passable."
After finding the perfect location, the design team had to go in and recreate the scene in preparation for filming. According to Cox, when it came to recreating some of the spaces, it was a mixture of challenging and fun. "It took a lot of hours and a lot of time and a bit of money to recreate and cover up buildings and have to remaster stuff and make it for the '50s. It was a lot of fun and definitely a challenge in a lot of aspects to be able to make it look authentic," Cox said.
Cox also has experience working on set in Georgia; she's worked on "The Walking Dead," "Ozark," and "Raising Dion." She revealed that her favorite building to film at is the Hurt Building in downtown Atlanta, which is a historic 18-story building located next to Georgia State University's campus. "I've used it on several different shows, but each show uses it in such a different way," Cox said.
Working in the art department provides Cox with a front row seat to the evolution of the building the sets for each project. "It was really cool to walk in and to see the transformation of everything that we had to get and obtain to make it really unique and reminiscent of Chicago's department stores of the time," she said. "It really did feel like you were stepping back in time sometimes walking on these sets. It's pretty awesome."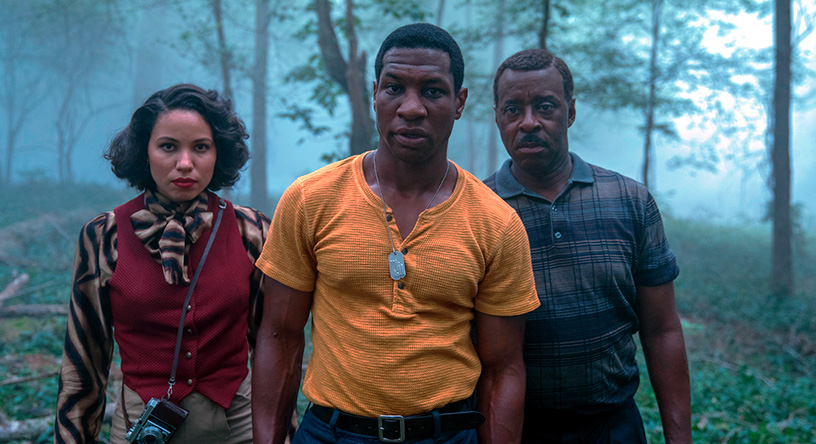 Cox and Korchak both jumped at the opportunity to work on this project for various reasons. For Cox, the chance to work on the set of "Lovecraft Country" provided her with the platform to shine a light on history that is typically forgotten about or brushed over. "I really can't stand whenever history is being buried constantly and we conveniently forget about certain things or just kind of whitewash things, and I don't want that to happen ever again … I want to be a part of the movement of pushing things forward and seeing the value of learning our lesson from past problems," Cox said.
Korchak explained that what drew her to the set was a combination of the script and being provided with the opportunity to work on a project with Green, Peele and Abrams. As a fan of science fiction and psychological films, Korchak was excited to see that "Lovecraft Country" was a combination of a little bit of everything.
"I had never read anything like that in my life," Korchak told Oz when describing the first time she read the script for "Lovecraft Country." The show manages to combine historical events, the spirit world, and fantastical monsters. "When I was asked to do that project, I was excited through the roof to do it."
On set, Cox and Korchak worked with various crew members to create everything that viewers were able to see in the background. "It really does pull people into the story more or less depending on how you dress it," Cox said. "It just is incredible having a team that could work behind the scenes and work around the clock almost to make sure everything gets in on time."
"For the 1950s artwork … it was kind of hard and difficult to try and get access and try to get clearances for a lot of those pieces, because they are just so loved and cherished now," Cox said about one of her many tasks: getting approval to use trademarked items on set. "We had to kind of work around it a little bit and we had some of our own painters come in and do some of [the] custom work."
Normally, Cox would also be responsible for product placement, which allows different brands to have their products featured in the show; however, since "Lovecraft Country" has a historical environment, she said that there were not many chances to do that. "We don't have too many opportunities to have product placement, but there is a little bit in 'Lovecraft Country.' Primarily, I think Coca-Cola," Cox shared.
While she could not be on set most of the time during the actual filming, Cox was always busy helping prepare the sets that would be used for the future filming sessions. "Since we had most of the scripts upfront … we kind of had like a motif and we knew what we wanted to aim for and because we were dealing with such older pieces, and older sets, and different pe