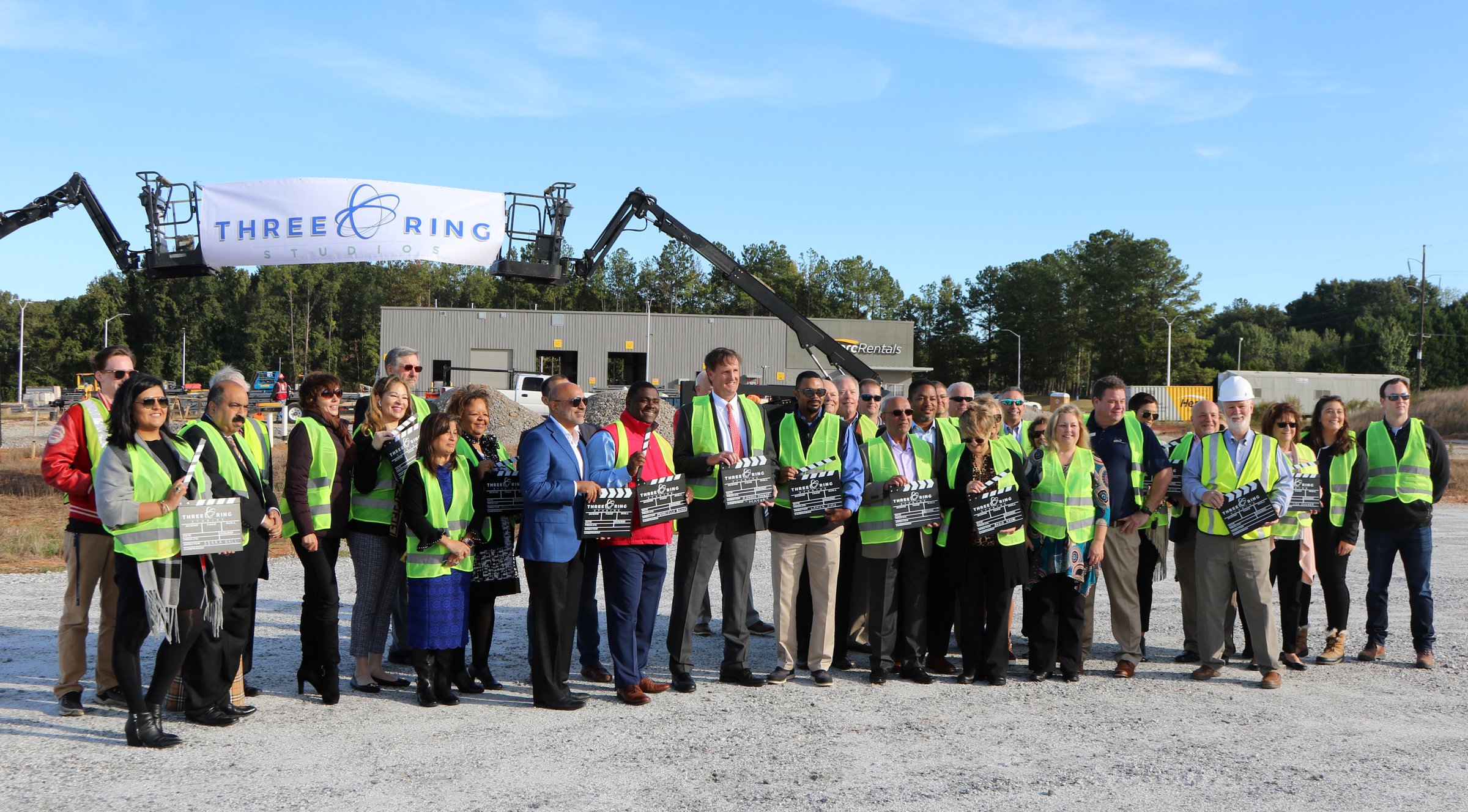 Community leaders celebrate Three Ring Studios next construction phase
By Oz Online | Published on October 22, 2019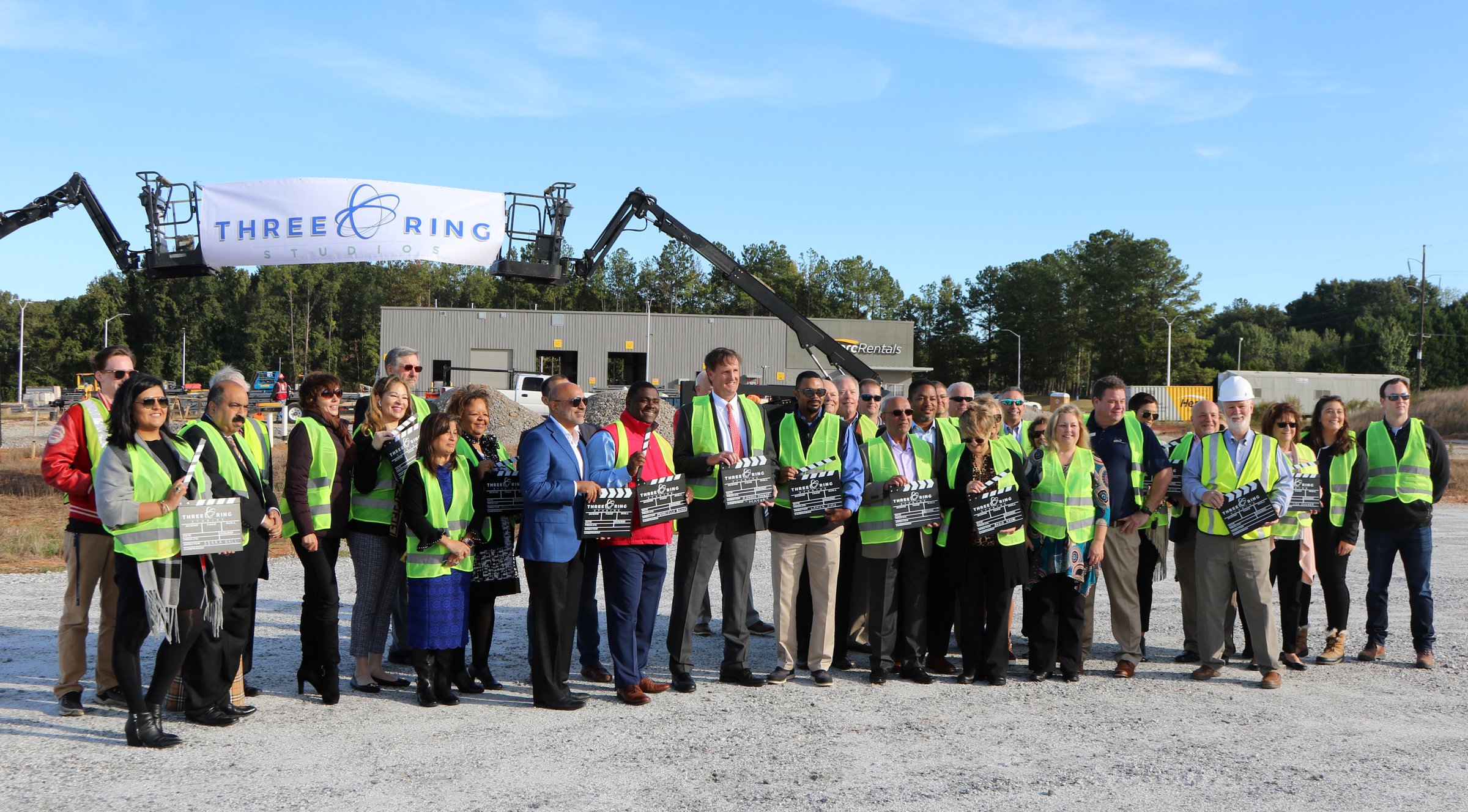 COVINGTON, Ga. – The Covington City Council, the Newton County Board of Commissioners and the Covington/Newton County Chamber of Commerce – alongside the Three Ring Studios family – celebrated Three Ring's pouring of the pads Thursday morning.
The pouring of the pads signified Three Ring's next construction phase for its Covington movie studio campus, which will consist of mill shops, sound stages and support space. The movie studio campus will total more than 250,000 square feet, making Three Ring "one of the largest purpose-built media facilities in Georgia," according to the studio's news release.
Three Ring Studios Principal Rahim Charania was excited to announce the next phase of construction, having called the two-year project "challenging."
"There were numerous challenges that we have to overcome – not the least of which is convincing the Global Capital Market that Covington and Newton County were a place to park $100 million," he said. "It was not an easy sell."
Charania shared the challenges he overcame to ensure Three Ring Studios would find a home in Covington, which he called "not just another city in Georgia but an economic driver in the state."
He made trip after trip to Covington – trademarked as 'The Hollywood of The South' – to show investors why investing in the city was worth it.
Not only did Charania work hard to give Three Ring Studios a home in the city, but Mayor Ronnie Johnston and Covington/Newton Economic Devolopment Vice President David Bernd gave a helping hand to help investors overcome their doubts on the project.
"After 45 minutes with these two gentlemen, 90% of investors – who doubted that Covington would make a sound investment – invested in this project, invested in this city, invested in this county, this region and this state," Charania said. "That is the power of vision put together by leaders like you – who drive that vision in the direction that benefits every one of its citizens.
"When this project is complete, it will add an addition $3 million every year to the property tax base. That's $3 million every year for schools, $3 million more every single year for roads and projects and things that will help our community flourish.
"Ladies and gentlemen, I want to thank you for having the courage, the conviction and the vision to really make this county, this state, this city something we can all be very proud of."
In early 2017, a piece of land off Highway 142 and City Pond Road – in the heart of Covington – was cleared to make way for the construction of Three Ring Studios. The progress was slowed down due to Charania wanting to make sure every "I" is dotted and every "T" is crossed instead of taking shortcuts.
With vertical construction in the near future, the first buildings are projected to open in Summer 2020, according to the release. The buildings will host blockbuster feature films, television shows, live productions, commercials, music videos and more.
"We are thrilled to be moving forward with construction," Olivia Schmitz, director of Studio Operations, said. "When fully complete, this $100 million dollar facility will bring the first major film studio to the 'Hollywood of the South.'"
Read more in The Covington News, here.