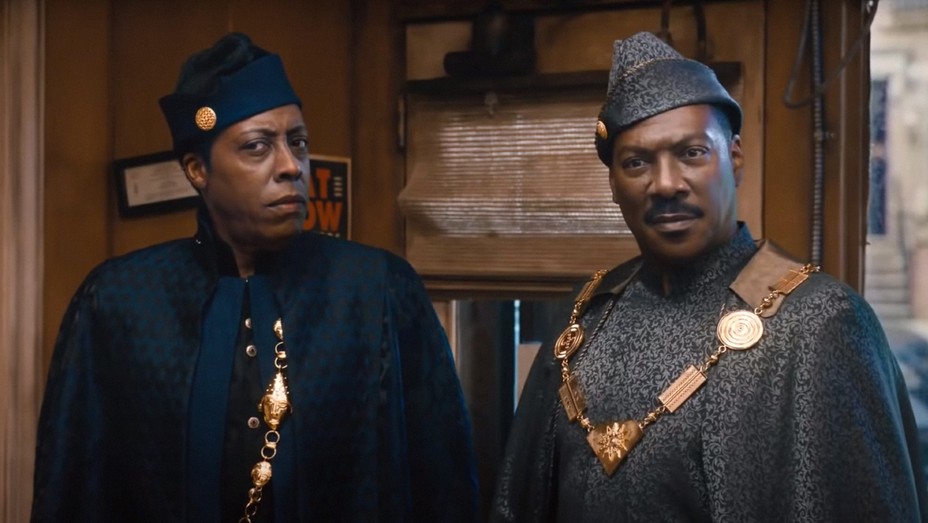 Research firm Screen Engine, which didn't disclose viewership numbers, finds the Amazon film's debut topped that of 'Wonder Woman 1984' and 'Borat Subsequent Moviefilm.'
The long-awaited sequel Coming 2 America scored the top opening weekend of any film launching on a streaming service in the past year when debuting March 5 on Amazon Prime Video, according to Screen Engine/ASI.
Screen Engine, however, isn't allowed to disclose viewership numbers for the movies it surveys.
Starring Eddie Murphy, Coming 2 America edged out Paramount+'s new offering, The SpongeBob Movie: Sponge on the Run, according to Screen Engine. The weekend's other high-profile new offering was Disney's Raya and the Last Dragon, although it cost Disney+ an additional $30 to watch the film (Raya also debuted simultaneously in cinemas).
Coming 2 America's performance means it beat out opening weekend viewership of fellow Amazon Prime tentpole Borat Subsequent Moviefilm, which debuted last October, and Wonder Woman 1984, which launched on Christmas weekend on HBO Max.
Directed by Craig Brewer, Coming 2 America — like Borat and SpongeBob — are among numerous films that opted to head for streaming instead of waiting for the box office to recover.
Murphy and Arsenio Hall reprise their roles as Prince Akeem of Zamunda and his trusted associate Semmi, who once again journey to America — specifically, Queens, New York.
Wesley Snipes, KiKi Layne, Leslie Jones, Tracy Morgan and more, also star in the sequel to the 1988 comedy blockbuster.
Amazon acquired the film from Paramount.
"The Zamunda Royal family has arrived and audiences around the globe welcomed them enthusiastically! The premiere of Coming 2 America has far exceeded any of our wildest expectations," Amazon Studios chief Jennifer Salke said in a statement.
Read more, here.