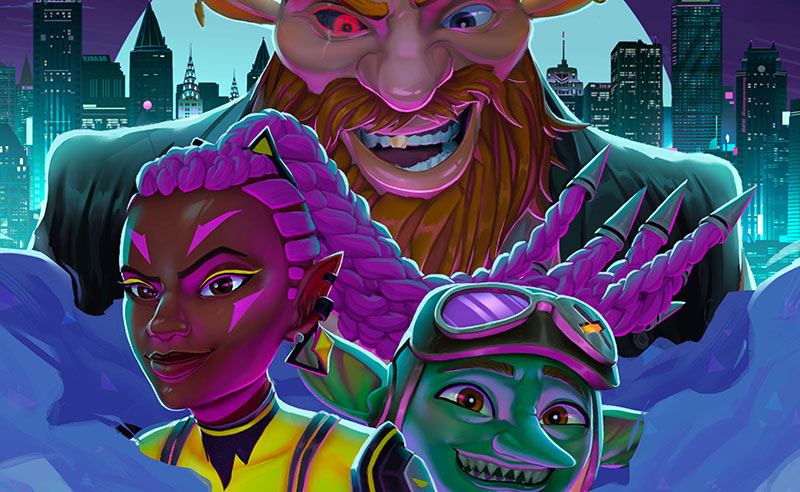 Collaborative Creations at SCAD Animation
By Oz Online | Published on September 30, 2021
SCAD Animation Studio gives the next generation of animators the rich opportunity to experience the ultimate collaborative environment of an industry studio while a student at Savannah College of Art and Design (SCAD). In 2017, SCAD alumnus Chris Gallagher, Chair of SCAD Animation Studio, built SCAD Animation Studio to be a 100% student-run studio. When he started at SCAD he wanted to incorporate the collaborative methodologies that he learned while working at Disney. Gallagher's impressive resume ranges from working on Frozen at Disney in LA to King Kong in New Zealand.
Gallagher had a knack for animation before the animation department existed at SCAD, after graduation he took his skillset to the next level in Los Angeles in the early 2000s. His first job was working as a Previsualisation Artist (aka "Previs Artist") at Digital Domain, a digital production company founded by James Cameron and Stan Windston.There he worked on feature films like Stealth, Peter Pan, The Day After Tomorrow, and XXX. Following his success in Los Angeles, Gallagher was recruited by Lord of the Rings Director, Peter Jackson, to make movies in New Zealand which included King Kong. His filmmaking journey brought him back to Los Angeles working as a Character/pipeline Technical Director at Sony Pictures on blockbuster films including G-Force, Speed Racer, I Am Legend, Spider-Man 3, and Surf's Up. Afterwards, Gallagher was recruited Walt Disney Animation Studio In 2009, where he had the chance to work on the Oscar winning film, Frozen among other feature and short animated films. In 2017, SCAD offered him to be chair of their new animation studio.
"I've taken all that knowledge and pushed it on them," Gallagher told Oz in an exclusive interview. "Working at Disney, it's all about collaboration; working on these large-scale projects that transcend generations … When I started at SCAD I knew I wanted to build that ultimate collaborative environment."
Being a SCAD alumnus has shaped the way Gallagher tackles animation projects, and the key has always been collaboration. "Students start at one level, right? They come in and it's a challenge to learn these incredibly intricate pieces of software as well as hone your own unique artistic skills. I like to put it this way: it's students versus the computer. They're battling the computer to their incredible art out of their heads, and that's the journey of a student but when they move to an industry it's not individualistic. It is collaborative."
Gallagher built SCAD Animation Studio to be an 100% student-run full-fledge Animation Studio. "It's taking the exact methodologies that I used when I worked at Disney and worked on the Oscar-winning animated movies and shorts. We want students to go get internships and learn firsthand but internships are challenging. We love that! So I wanted to be able to provide the next thing for students to work on a full-fledged animated project in that collaborative understanding as a branded Animation Studio," Gallagher explained.
For its first film, the studio produced "Bearly" (2017), a story about a young bear who resists nature's call to hibernate only to experience the mysteries of changing seasons. SCAD students of different age ranges and backgrounds came together to breathe life into a burly animated bear, and in many cases here, age is just a number.
"The bear itself was created by a freshman," Gallagher exclaimed. "A first quarter freshman came in and made the bear …. He did the rigging for me. Articulation [by a] first quarter freshman, incredible right?"
In other words, students don't have to be at the senior level to create something brilliant at SCAD. Both applications and professor referrals are accepted when applying to become a part of SCAD Animation Studios, which in turn brings in a wide variety of students throughout the SCAD campus.
Oz spoke to Jordan Fleming, now a senior in the animation program at SCAD, who worked on "Bearly" as Head of Story. "After I received the script, I worked with the story team to create the first visuals of the story for the rest of the team to base their work on," Fleming said, a testament to the collaborative efforts put into the animated storytelling that happens at SCAD.
"There are many soft and technical skills I've learned and focused on during my time at SCAD. Those skills range from networking with my fellow students and professionals in the industry and communicating efficiently during critiques to better my crew's work, to understanding every aspect in the animation pipeline, from pre-production with concept art and storyboarding, to production where animating characters occurs, to post-production where lighting and compositing finalize the film and developing my artwork as a story artist. SCAD Animation Studio provided me the perfect opportunity to hone in on these skills and gain a further understanding of what it is like to work in the industry," Fleming added.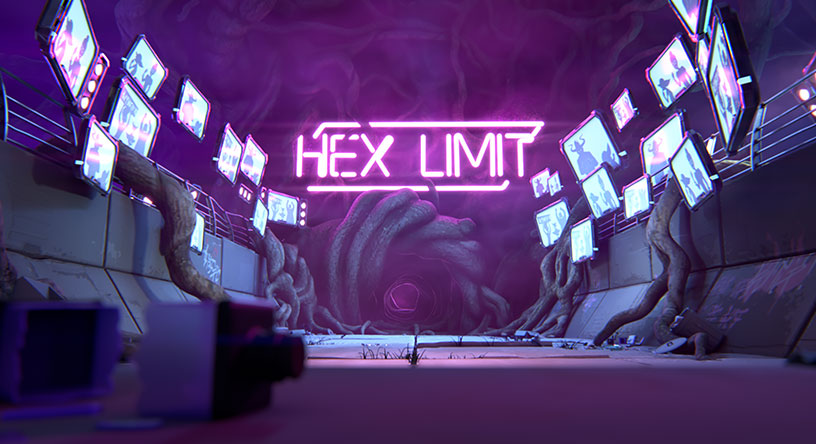 Fleming went on to direct one of the most recent SCAD Animation Studio films, "Hex Limit," a 3D animated short. "The way SCAD Animation Studio is structured simulates that of an industry studio. Every session begins with 'dailies' to review and critique work. When I applied to be a part of this 'Hex Limit' SCAD Animation Studio film project, I presented my past work in a portfolio, and was honored to be selected for this opportunity to work on an animated film from start to finish, and collaborate alongside my very talented peers," Fleming said. "SCAD Animation Studio students focus on their best skill in the pipeline within their department, as if they were hired for that specific job. It's an incredible experience collaborating with a large team that truly makes you feel like you're in the real world, and I'm so grateful for this amazing opportunity available only through SCAD."
The beauty of collaboration at SCAD Animation Studio is that it's incredibly inclusive in terms of welcoming scholars and artists across the college's departments. "It's not just for animation students, it's any degree here at SCAD that can contribute to what we're working on the film. So like Bearly for instance, was written by a dramatic writing student," Gallagher smiled giving the example of this method of cross-departmental collaboration. "He said he wanted to make a movie. He wanted to write something about a musical we're like, 'Great. We want to make a musical.' And then the person who did the orchestra, the music and the vocals. That was all done from performing arts and sounds."
"It mirrors the exact way you would see working in the industry," Gallagher added. "Now students have the ability to do their own unique passion pieces and that's where it's called, 'a capstone film for seniors.' And that's one of those things that they learn over time to get up to that level."
Consequently, this method of welcoming in students from different departmental backgrounds allows students to also be understood as having individual needs and goals. SCAD Animation Studio specifically caters to students who want to proceed on different paths in the industry. "Some people want to say, "I just want to animate." Great! Some [people are] like, 'I've been working on this project since I was 14 and I want to shepherd it through.' Great! We can provide both mechanisms," Gallagher said.
Since releasing "Bearly," SCAD Animation has come out with two new shorts: "The Pope's Dog" and "Hex Limit." "The Pope's Dog" is a 2D animated misadventure film, following the Pope with his new pet in the Vatican. "Hex Limit" is a 3D animation in the vein of the beloved Disney saga, Toy Story.
What's astonishing is that these two SCAD, student-run projects were created during quarantine from the COVID-19 pandemic that has fundamentally changed the way we work.
"Animation is one of these unique industries that pivoted on a dime when COVID happened. The world happened last March. And animation took a beat. Breathed. And spread to quarantine. At the same time we couldn't stop making because we have to do these things. So, like I said, it's not that isolation; it's all collaboration and the world started to embrace zoom like we're doing here," Gallagher motioned toward the webcam he was speaking into. "But we also figured out how we could leverage and mirror exactly the way that movies are done, right? You saw and you know movies such as Cocoa or Raya and The Last Dragon. Those movies were both finished in the same exact thing that we provide for these students. We provide them the technology that allows them to share their screens in the most basic form which is just a camera and share screens a little bit here and there. We also use other software 'Shotgun' which is industry standard production management software and that is what we layer in for the students. We can share a video that is something we worked on that we're drawing. I can play and then you could do drawings on it and then I could just switch the next frame and I can be drawing and so it allows you in Atlanta and me here in Savannah to work on the same exact thing but then somebody in Singapore or Indiana or California can also be in the same meeting."
"That's kind of the way that our classes were built. We didn't just close our classes down; we really embraced technology and said, 'Hey content needs to be made.' We love and we want to give somebody escapism. And so animation is one of the unique industries that actually blossomed and flourished and actually exploded during covid," Gallagher added.
"We want to always push and stretch ourselves," Gallagher said in reference to inspiring students to aspire to new and innovative way of breathing life into these animations. For Gallagher, his five year vision and aspirations are focused on creating episodic animations with his students. Currently, SCAD Animation Studio houses 60 students a year. The institution functions as a pipeline, funneling graduates directly into the booming American creative industry with alumni diving straight into traditional and virtual production companies, VFX offices, design agencies, and more.
Additionally, SCAD hosts a yearly AnimationFest that stimulates conversation around animation and promotes a better understanding for the craft of animation. "Ever since joining SCAD, I have attended as many presentations and major events as I possibly can. AnimationFest is one of the best events SCAD offers, as it offers opportunities for students to learn from professionals about their careers and get advice. We also learn about what major companies expect from student applicants. With a virtual AnimationFest even more students can attend panels and presentations, which is absolutely incredible," Fleming told Oz.
AnimationFest just completed its fifth iteration and students like Fleming were afforded the opportunity to talk to major industry leaders about their projects and visions for their future careers. It comes as no surprise when students who showcased at SCAD AnimationFest go onto larger animation projects and companies. That's the exact intention of the program's mirroring of the industry.
"You know SCAD gave me the most incredible foundation, and that is one of the big things that happened when I was working at Disney. I was very fortunate. I was a mentor there for their apprentice and trainee program for five years, and each year these talented students came in and I'm like, 'Man, they're really talented' … 'Where'd you go to school?' 'Oh, OK, same school as me' … They came in and they were just blowing me away," Gallagher explained the frequency of running into fellow SCAD alumni on his journey.
Films like "Bearly," "The Pope's Dog," and "Hex Limit" have become business cards in motion and proof that honing in on individual skills and applying them mindfully to collaborative projects (with the assistance of cutting edge resources) is the key to accessing different pathways of student success across departments at SCAD.