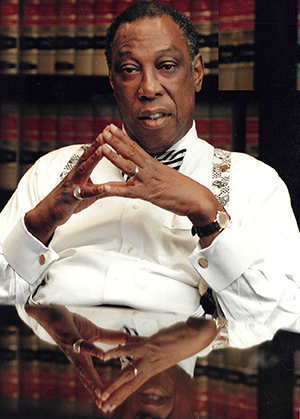 The Honorable Marvin S. Arrington, Sr.'s life story is the centerpiece of a new independent documentary film. For the new wave of Atlanta residents flooding the market the name may not be well-known. His name does not grace the main thoroughfares that snakes through the city. Even coming after the generation of Atlanta's Civil Rights icons his name rarely compares. But for an older generation of Atlantans Marvin Arrington, Sr. is a popular and transcending figure.
Go to City Hall on a quiet downtown day and walk past the second floor of the atrium and you'll notice his name graces the front of the city council's chambers. Then take a trip down memory lane and scour the old Atlanta Journal-Constitution article headlines and there he goes again. His name echoes the honorable mentions of births at Grady Hospital and the slick hallways of Emory University Law School. Somehow this transcending figure with over-a-three-decades impact on Greater Atlanta is felt and the new film, Bo Legs expounds on his importance and achievements.
Marvin "Bo Legs" Arrington, Sr.
Marvin "Bo Legs" Arrington, Sr. is a trailblazing figure in Atlanta's history. Among the political giants like Maynard Jackson and Andrew Young, Arrington helped usher in Atlanta as the "Black Mecca". This documentary film is titled after Arrington's lifelong nickname for being bow-legged. A term of endearment he so long has embraced. This film's thesis is on Arrington's impact both in city government and the legal profession. It is currently available for streaming on Apple TV, Amazon Prime Video, and YouTube.
Bo Legs was written and directed by Adelin Gasana, a Rwandan-American independent documentary filmmaker based in Atlanta. For him what began as doubt in an ambitious documentary film project slowly evolved into an inspiring work of art. After having previously worked as an archivist on the documentary, Maynard, a film on Atlanta's first elected black mayor, Fulton County Commissioner Marvin Arrington, Jr. approached him on a documentary about his father. Diving nose deep into the archival research and learning the biography of Marvin Arrington, Sr. Gasana was soon delighted to take on this film. "I was originally brought in to do just archival research on the project. But slowly I was elevated to writer, editor and then director," Gasana recalls. "I eventually fell in love with the story." Working with a small team led by Marvin Arrington, Jr. as Executive Producer, the team aimed to cover the long, impactful career of one of Atlanta's most significant leaders.
There's two rules in documentary filmmaking:
Find a good story
Don't f*** it up
As big as it was in telling the biographical figure of a legend the film also guides the viewer on the evolution of modern-day Atlanta. Known since the mid-1960s as the "City Too Busy To Hate", the message ascertained in the film is that the Atlanta we know today was not guaranteed to be what it ended up becoming. Marred by race riots, segregation and other forms of racist hate of the Jim Crow era, Atlanta moved past its scarred history and charted a way to a future of inclusion and opportunity. Continuing the legacy of Dr. Martin Luther King, Jr. were visionary leaders like Herman Russell, Leroy Johnson, and Jesse Hill–who all practically rolled up their sleeves to begin paving the way for an internationally-recognized city. Out of that fertile ground sprouted Maynard Jackson, Andrew Young, and Marvin Arrington, Sr., the new generation of stalwart leaders the city needed to rise up.
It was in this post-Civil Rights moment that Atlanta was dubbed with its generational moniker as the "Black Mecca". With African Americans asserting themselves firmly in local and regional politics with more representation in government coupled with the growth of minority-owned businesses Atlanta became the place to be for a once-disenfranchised community. At the turn of the 20th century the Great Migration saw a generation of African Americans throughout the U.S. give up on the Deep South for progressive regions of northern cities. But in the decades to follow and all of a sudden out of the ashes of a Jim Crow era was this growing mid-size city below the Mason-Dixon line rising to the challenge and daring to dream that they were more than the region around them. And, the decades of the 1970s and 1980s delivered a black migration back to Atlanta where growth in a diverse group of people have been consistent ever since.
Marvin Arrington, Sr. grew up in Grady Homes, a public housing projects once located downtown. He spent the rest of his childhood in The Bluff, the poor, crime-ridden, inner-city westside neighborhood of Atlanta. A star athlete at Henry McNeal Turner High School in football, Arrington earned himself a HBCU scholarship to attend Clark College (now Clark Atlanta University). As a student at Clark he took part in the Civil Rights Movement as a young, vivacious activist petitioning and marching in the segregated streets of a Jim Crow Atlanta. After his undergraduate studies, Arrington, Sr. decided he wanted to be a lawyer. He and his childhood friend Clarence Cooper, now a Federal judge, integrated Emory University's Law School where the two became the first African American graduates at the prestigious college.
After law school would be the start of Marvin Arrington, Sr.'s public life. Today, he still remains the youngest serving city council member and the longest-serving city council president in Atlanta's history. He would work with both Mayor Maynard Jackson's and Mayor Andrew Young's administrations in enacting key policies for Atlanta's eventual growth. Working behind the scenes in crafting legislation Arrington built alliances joining black and white communities for urban development, opened the access for women and minorities serving in city government, proposed policies increasing African American businesses in the city and promoted advancement in the city's transportation, sports, and housing sectors. "By telling his story this film tells the story of Atlanta," says director Adelin Gasana. "No other person's biography parallels so harmoniously with the successful growth of the city of Atlanta than Marvin Arrington, Sr." Moreover, in his private practice Arrington would also partner with the legendary Donald L. Hollowell where the two would go on to run one of the largest black-owned law firms in the country for nearly two decades.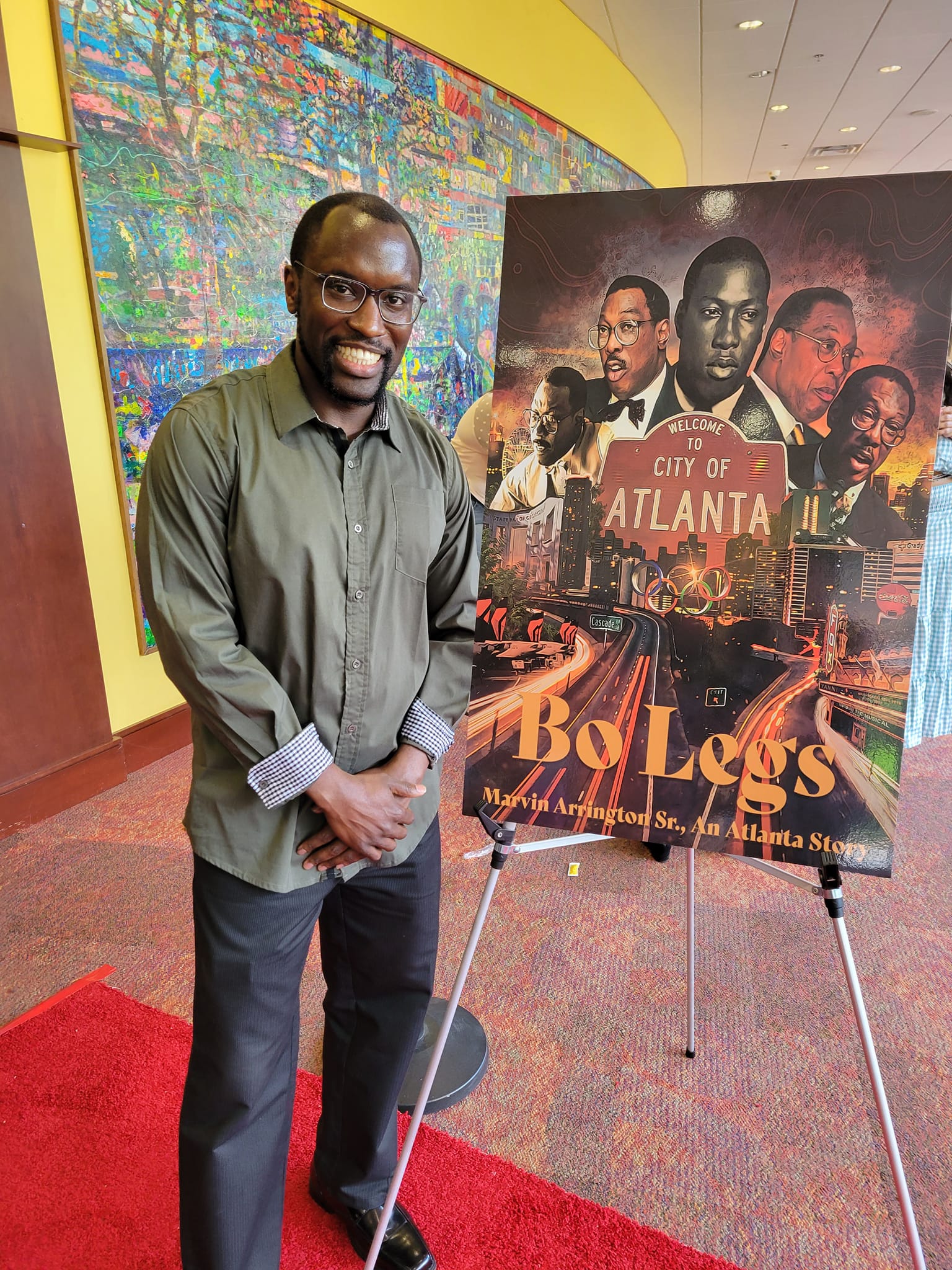 For Adelin Gasana the first challenge was to gain legal access to all the necessary archival materials in order to chronicle the biography or Mr. "Bo Legs". He went all over Atlanta like an archaeologist excavating a dig. His leg work brought him to the Atlanta History Center, Woodruff and Emory University Libraries, University of Georgia media archives, Georgia State University collections, and the Atlanta University Center. The next challenge was to complete the sit-down interviews of a number of notable figures. These include: Ambassador Andrew Young, Mayor Shirley Franklin, Governor Roy Barnes, Federal Judge Clarence Cooper, Mayor Keisha Lance Bottoms, TV News Anchor Monica Kaufman Pearson, and Mayor Kasim Reed. The final challenge was to sum it all up like a proficient chef putting all her ingredients together for a delicious cuisine. The meal or in this case the independent film is now market-ready. But working in the turbulent times of a global pandemic was no easy feat. It came with a lot of hiccups and stops, pushes forward and slow pull backs. But once completed, Bo Legs was featured in six film festivals winning awards in three of them. The film would go on to stream in Delta Air Lines' In-Flight Entertainment for six months. "It is a great honor that Delta selected our film in their entertainment catalog," says Executive Producer Marvin Arrington, Jr. "It proves Delta's continuing impact in our community by lending a platform to tell our local stories for the world to learn a little more about how Atlanta came to be. I joke with my Dad now that he's now known as far away as London and Dubai."
Deeper and more nuanced in the documentary is the aspirational and inspirational message that served as the film's subtle through line. Themes played throughout the film were: the intentionality in the fight for equality and fairness, the rags-to-riches journey, the daring vision to forge one's way from humble beginnings, living one's call for service and community and believing in oneself despite all the odds. Such powerful themes carry the film beyond its local scope. It paints a vivid picture of universal themes for all kinds of stories for the young and old, the poor and rich, the urban and remote. Moreover, 1960s and 1970s Atlanta exhibited a growing, progressive community seeking not just a way out of racism and prejudice but something more from what it was. Folks outside its city limits will like to compare how Atlanta, the old railway stop during the Civil War, became the shining, inclusive city of the Sunbelt surpassing the likes of Birmingham, Jackson, and other big Southern cities. Likely, cosmopolitan visionaries like Marvin Arrington, Sr. are the answer. Among his visionary work involved helping to bring the Olympics to the city, helping develop the world's largest and busiest airport, and saving the city zoo. And, let's remember the "Bo Legs" story began in the poorest section of a segregated town. Talk about aspiration and inspiration. The hope for this documentary is that the legacy of "Bo Legs" lives on.