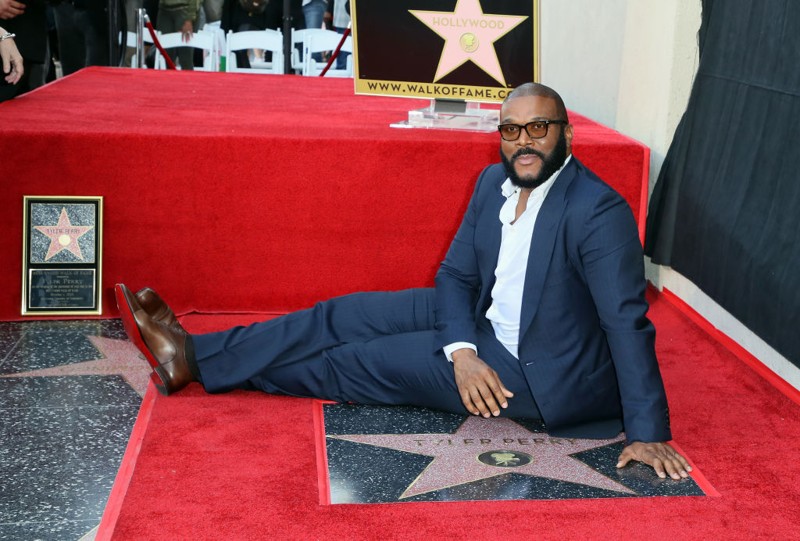 Kerry Washington, Idris Elba among celebrities paying tribute to media mogul
"For anyone whose dreams may be on life support, I want you to walk past this star in particular and know that I've been there," Tyler Perry said while attending the unveiling of his star on the Hollywood Walk of Fame.
Perry learned last year he would be honored by the Hollywood Chamber of Commerce.
A-list stars he has worked with were on hand to pay tribute to the actor-director-producer-writer whose Tyler Perry Studios are in Atlanta.
"Your star is now alongside so many others but you must remember it celebrates a man who has resolutely blazed your own fierce and faithful path," said Kerry Washington, who co-starred in Perry's 2010 film "For Colored Girls."
Idris Elba, who starred in the 2007 movie "Daddy's Little Girls," said of his friend: "When we talk about stars we talk about ones on this pavement or the ones in the sky — you're both. We are astronauts in your universe brother."
ABC7.com quoted Perry as saying: "This one in particular is for the underdogs, this one in particular is for the ones who want to do it their way. This one in particular is for those who want to bring as many people through the door with them as they can."
Ok, let me explain this photo. So I got a star today on the Hollywood Walk of Fame. Thank you chamber! I'm so grateful, but onto this photo. @Only1CrystalFox spoke and moved me. @kerrywashington spoke, and we both were in tears. Then @idriselba came…cont https://t.co/9xUEeykyts pic.twitter.com/AMFXdrOalu
— Tyler Perry (@tylerperry) October 1, 2019
In addition to being a media mogul, Perry is a humanitarian. He recently used his private plane to deliver supplies to the Bahamas in the days after Hurricane Dorian left the islands devastated.
Read the original article on AJC, here.