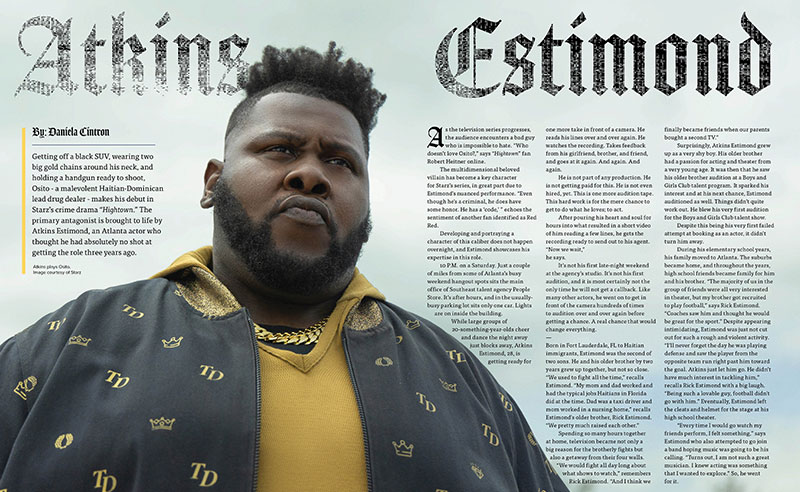 Atkins Estimond
By Oz Online | Published on June 23, 2022
Getting off a black SUV, wearing two big gold chains around his neck, and holding a handgun ready to shoot, Osito – a malevolent Haitian-Dominican lead drug dealer – makes his debut in Starz's crime drama "Hightown." The primary antagonist is brought to life by Atkins Estimond, an Atlanta actor who thought he had absolutely no shot at getting the role three years ago.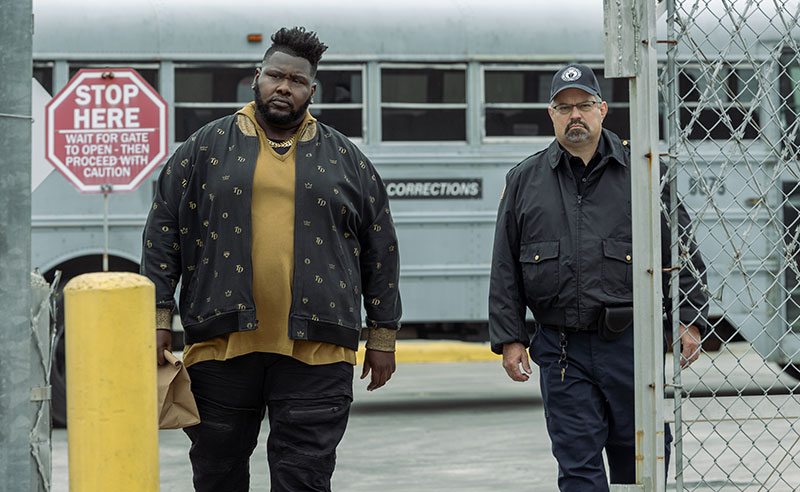 As the television series progresses, the audience encounters a bad guy who is impossible to hate. "Who doesn't love Osito?," says "Hightown" fan Robert Heitner online.
The multidimensional beloved villain has become a key character for Starz's series, in great part due to Estimond's nuanced performance. "Even though he's a criminal, he does have some honor. He has a 'code,' " echoes the sentiment of another fan identified as Red Red.
Developing and portraying a character of this caliber does not happen overnight, and Estimond showcases his expertise in this role.
10 P.M. on a Saturday. Just a couple of miles from some of Atlanta's busy weekend hangout spots sits the main office of Southeast talent agency People Store. It's after hours, and in the usually-busy parking lot sits only one car. Lights are on inside the building.
While large groups of 20-something-year-olds cheer and dance the night away just blocks away, Atkins Estimond, 28, is getting ready for one more take in front of a camera. He reads his lines over and over again. He watches the recording. Takes feedback from his girlfriend, brother, and friend, and goes at it again. And again. And again.
He is not part of any production. He is not getting paid for this. He is not even hired, yet. This is one more audition tape. This hard work is for the mere chance to get to do what he loves; to act.
After pouring his heart and soul for hours into what resulted in a short video of him reading a few lines, he gets the recording ready to send out to his agent. "Now we wait," he says.
It's not his first late-night weekend at the agency's studio. It's not his first audition, and it is most certainly not the only time he will not get a callback. Like many other actors, he went on to get in front of the camera hundreds of times to audition over and over again before getting a chance. A real chance that would change everything.
Born in Fort Lauderdale, FL to Haitian immigrants, Estimond was the second of two sons. He and his older brother by two years grew up together, but not so close. "We used to fight all the time," recalls Estimond. "My mom and dad worked and had the typical jobs Haitians in Florida did at the time. Dad was a taxi driver and mom worked in a nursing home," recalls Estimond's older brother, Rick Estimond. "We pretty much raised each other."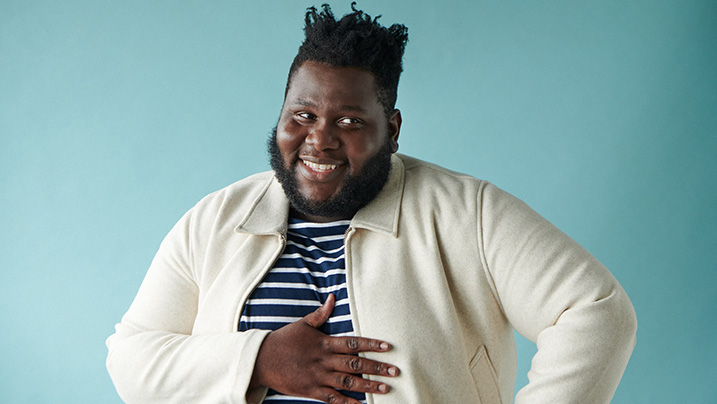 Spending so many hours together at home, television became not only a big reason for the brotherly fights but also a getaway from their four walls. "We would fight all day long about what shows to watch," remembers Rick Estimond. "And I think we finally became friends when our parents bought a second TV."
Surprisingly, Atkins Estimond grew up as a very shy boy. His older brother had a passion for acting and theater from a very young age. It was then that he saw his older brother audition at a Boys and Girls Club talent program. It sparked his interest and at his next chance, Estimond auditioned as well. Things didn't quite work out. He blew his very first audition for the Boys and Girls Club talent show.
Despite this being his very first failed attempt at booking as an actor, it didn't turn him away.
During his elementary school years, his family moved to Atlanta. The suburbs became home, and throughout the years, high school friends became family for him and his brother. "The majority of us in the group of friends were all very interested in theater, but my brother got recruited to play football," says Rick Estimond. "Coaches saw him and thought he would be great for the sport." Despite appearing intimidating, Estimond was just not cut out for such a rough and violent activity. "I'll never forget the day he was playing defense and saw the player from the opposite team run right past him toward the goal. Atkins just let him go. He didn't have much interest in tackling him," recalls Rick Estimond with a big laugh. "Being such a lovable guy, football didn't go with him." Eventually, Estimond left the cleats and helmet for the stage at his high school theater.
"Every time I would go watch my friends perform, I felt something," says Estimond who also attempted to go join a band hoping music was going to be his calling. "Turns out, I am not such a great musician. I knew acting was something that I wanted to explore."
So, he went for it.
With hopes to get representation and get his career off the ground, in 2010 Estimond reached out to one of the biggest talent agencies in the Southeast.
Their answer: "No, but come back later."
"It wasn't a full 'no,' " says Estimond. "So I was hopeful and went out and took as many acting classes as I possibly could."
Months later in 2011, Estimond tried again and, this time, was successfully signed by People Store, his talent agency to date.
At that time in his life, Estimond had been working for MARTA, the public transportation system in Atlanta. He knew that he wanted to pursue a career in acting, "but it's a hard leap to take when you are going on a different path," he says. It was then that life made the decision easy for him. He got laid off. 
Now with no job, and a small cushion to survive a couple of months, it was time to go all in.
Laying in bed next to his brother one afternoon at his parent's house, Estimond announced that he had decided to pursue his dream. "I'm going to be an actor," he said to his brother with confidence. And from that day on, he was committed. 
"Atkins has put in a lot of work," says Rick Estimond. "Nothing has come easy for him in life." Getting signed by a prominent talent agency did not exactly change his career from day to night. During the first year, Estimond didn't book anything. 
Things felt like they were finally turning when he got a call from the agency. He had just been confirmed for a big commercial. 
His parents, being immigrants, had wished their kids had pursued more conventional careers and often questioned Estimond's future as an actor. "More than anything, they wanted me to find a job where I could sustain myself and a family," says Estimond. Wanting to make them proud and prove to them that this dream was going somewhere, his first call after getting the news was to his father. 
Before Estimond got a chance to deliver the good news, another call came in back from his agency. There had been a budget issue, and they had to cut one actor. It was Estimond. He had been dropped from what would have been his first real gig. 
"That day I said, 'I am done. I quit. I can't do this anymore,' " says Estimond, referring to the "beating that you have to take as an actor sometimes." 
Defeated and ready to throw the towel, Estimond talked to Brian Bremer, now Vice President of Talent and Development at People Store. "You can quit. That is fine, but you will always be an actor," said Bremer, compelling Estimond to not give up. "That day I realized that I had to do this. I couldn't leave it alone," he says. "As mad and sad, and just defeated as I was, I still couldn't leave it alone. I had to push."
Bremer invited Estimond to write down three things he wanted to achieve in a year. "There is power in writing down things," he remembers Bremer saying. Estimond listened, and all three things related to his career came to fruition in the following months. Things finally started to take a turn. 
—
One of Estimond's greatest supporters and believers throughout the years has been his wife Kristen Estimond. "I couldn't do it without her," he says. 
Since meeting at a birthday party very early in Estimond's career, she has become a very essential piece of his life. "She has been my ride or die, especially with my acting," says Estimond.
As an aspiring actor, Estimond didn't have a steady income. "I was broke a lot," he says, putting strong emphasis on "broke." "I am a feminist, but I felt bad having my girlfriend pick up the bill all the time." 
Kristen Estimond's support for him has been consistent and unconditional over the years. Sometimes she even helped pay for a plane ticket to a big audition. "She has really been there for me throughout it," says Estimond. 
After years of dating, Kristen was ready to start building a life, and Atkins knew that he wanted to marry her, but was afraid of the uncertainty of his ability to support a family, or even pay for a wedding. It was after seeing his great grandfather surrounded by a big family at his 94th birthday party that he decided he was going to take a chance because he knew that that was exactly what he wanted. There was only one way to go – forward. Atkins and Kristen decided to get married. "It was then that jobs started coming in left and right," says Rick Estimond. "The money he needed to start his family was coming in at the right time every single time." 
Marrying Kristen was a pivotal time in Estimond's life and career. 
—
It was 1994 when Atkins Estimond watched the blockbuster Dumb and Dumber. Never in his wildest dreams did he imagine that 20 years later he would be walking the red carpet of Dumb and Dumber To next to Jim Carrey and Jeff Daniels as part of the cast. "I couldn't even believe it when they told me I booked it," he says. "It felt so unreal to be part of something big like that." 
His role in Dumb and Dumber To became the first big shift in his career. 
As doors continue to open for Estimond, it is clear that it is more than his talent and tenacity that has earned him a space in the industry. "People love Atkins," says Rick Estimond. "He has the gift to connect with people from different upbringings and different worlds."
Growing up, Rick Estimond worried his brother would be bullied the same way he was. As an older brother, he wanted to protect him. But that did not become necessary. "Atkins has always been very lovable, and he used wit to disarm people before they got a chance to attack," tells Rick Estimond. "He makes people feel good." 
Throughout the years, Rick Estimond – who also built a career in the industry parallel to Atkins and now sits as President of People Store – has been incredibly proud of his brother's tenacity and hard work. From chasing each other with a machete as kids to walking red carpets in New York and Los Angeles, their love and respect for each other have been key for them. 
"I remember seeing Jeremy Irons walk into a party with his dog at a bar in Edgewood," recounts Rick Estimond. "He looked around the room. Saw Atkins. Pointed at him with a big smile, and immediately made his way to him to give him a big hug." The whole scene was beyond belief for Rick Estimond. "All they did was laugh. Jeremy loves Atkins. People love Atkins." 
—
Regularly, Estimond's phone rings with one of his parents on the other end asking Estimond to talk to a friend who happens to be a fan of the show or a stranger who has a cousin who has a nephew who wants to act. His parents are proud of Estimond's achievements and are not quiet about it. But it has not always been this way. 
Atkins Estimond is proud to be a voice and representation for Haitians. Recognizing the sacrifices his parents made to give him and his brother the opportunities they now have is always at the top of his mind. Initially, their parents were concerned about his career choice. "To be fair, I told them first I wanted to be a musician," remembers Estimond with a laugh. "So I really blew it when I then told them I wanted to be an actor." 
Despite the doubts and concerns of his parents, Estimond understood their position. "I am not mad about that. They came here and didn't have the opportunity to think about dreams and doing what they wanted to do, or wishing what they wanted to do," says Estimond. "They had to come here, and hit the ground and see how to make money and how to survive. I am very fortunate to be in the position I am because they did all those things." 
Maybe Estimond's parents couldn't see the vision at the beginning, "Rightfully so," he says. "We didn't know anyone in any proximity to the entertainment industry, so the idea was very foreign to them. They just wanted to make sure I could take care of me and take care of a family." 
His parent's skepticism was confronted on a regular basis with Estimond's hustle and determination, which was a testament to his forthcoming success in the industry. "They saw something was going to eventually come to fruition," he says. "But I don't think they ever imagined it would be something close to what it has become." 
In 2014, Estimond had the honor to take his mother to the premiere of Get On Up, his first big film. He got to sit down to watch the movie next to his mother in a room full of industry legends like Chadwich Boseman, Viola Davis, Octavia Spencer, and Dan Aykroyd. The dream became so tangible. So real. 
"Months earlier when getting ready to go film Get on Up, I told my mom I was very nervous to mess it up," he recounts. "She said to me 'Look at me. Just a woman from Haiti. I am not anyone important. Just a regular person. But my son is about to be in a movie with all these big people. That is special. This is special. So, just go out there and do what you do.' " As simple as that was, it was incredibly meaningful for him. It was the push and encouragement he needed to truly believe in himself. 
In a journey of rejections, struggles, and hurdles, moments like this have become the fuel for his career. 
—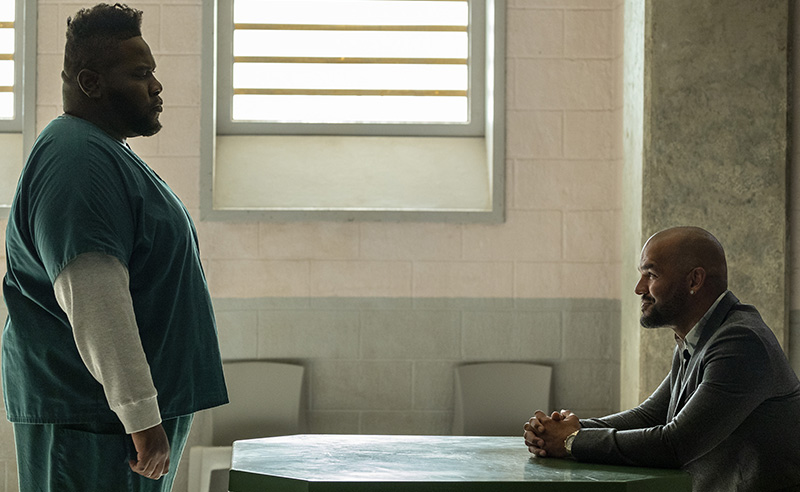 As the third season of "Hightown" is in the works, fans are speculating about Osito's development in the crime drama series and anticipate another treat. "He has the charisma and on-screen presence to steal every scene he's in and truly captivate the audience," wrote Fansided's Mads Lennon. 
While his character evolves into "King of the Cape," Estimond evolves as an actor, a father, a husband, a son, and a brother. 
"I am incredibly proud of him," says Rick Estimond. "He has accepted himself and has gotten others to accept him exactly for who he is." 
For years, Estimond had been anxious about every success thinking that with so many good things finally happening, something bad ought to come after. "But what if instead, more good is yet to come," Rick reminds him. 
"I followed my heart and it's taken me to places I've never thought I would be." – Atkins Estimond.
https://www.imdb.com/video/vi2901000985/?playlistId=nm3473606&ref_=vp_rv_2