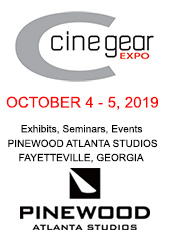 Are you attending Cine Gear Expo Atlanta? Oct. 4th – 5th, 2019!
By Oz Online | Published on September 25, 2019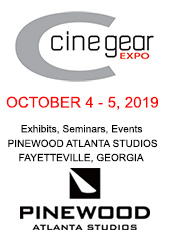 Cine Gear Expo Atlanta 2019 is the premier annual event for professionals engaged in the film and entertainment technology industry. The show runs October 4th & 5th, 2019 at Pinewood Atlanta Studios in Fayetteville, Georgia.
Cine Gear features exhibits, new product and service introductions, complimentary seminars led by industry leaders, and ample opportunity to network with peers within a studio environment.
Updates to the exhibitor list, event map, schedule, presentation topics, speakers, and screening engagements will be posted to the website regularly. http://www.cinegearexpo.com
Questions? Please contact the Cine Gear Office at (310) 472-0809 or [email protected]
____________________________________
Attendee Registration is open.
All attendees must complete the Cine Gear Badge online registration process. http://www.cinegearexpo.com/ga-expo-attendee-registration
Registration is free.
Explore and compare the latest tools and services in entertainment technology. Get educated and inspired while gaining insight from old friends, new friends, and everything in between.
Below is link to our Media Download Gallery for all Cine Gear web banners and logos (all sizes and formats) for your use.