"I don't know what's going on, but every night about midnight, the whole bed starts to vibrate and shake."
"A buddy of mine came to visit and I had him in the upstairs bedroom," says William Mark McCullough, writer and director of "A Savannah Haunting." "After a couple days [my friend] came to me and said, 'I don't know what's going on, but every night about midnight, the whole bed starts to vibrate and shake, and I feel like there's a little girl watching me.'"
That is not a scene in the film. That is real life.
"A Savannah Haunting" is not just a horror film. It's a horror film based on paranormal, true events. Plot twist: it was filmed in the actual haunted house in Savannah, which also happens to be its creator's current home. This is a thrilling ride for those seeking suspenseful supernatural drama far from fiction.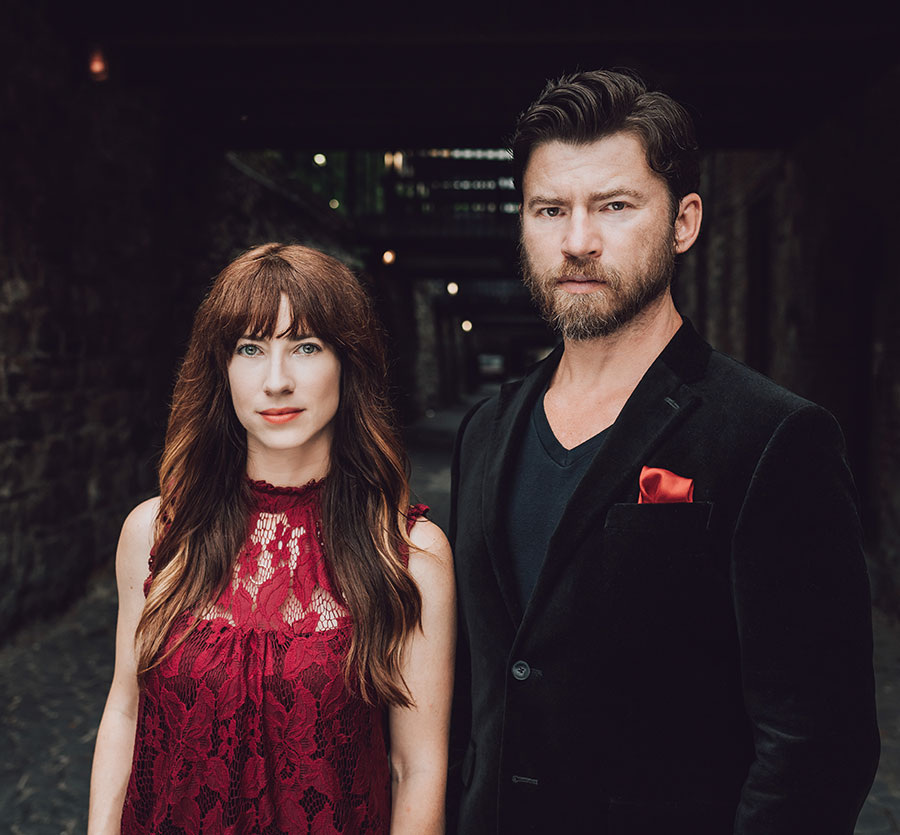 Alexis and Mark McCullough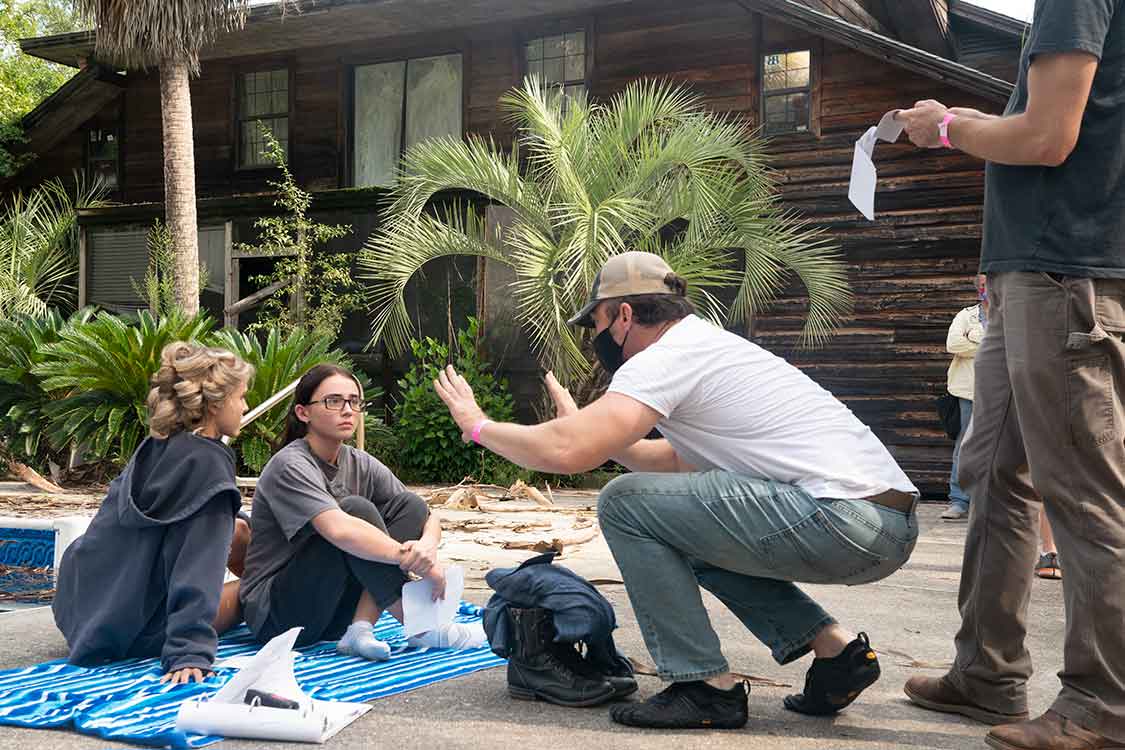 Mark directing on set of "A Savannah Haunting"
After the tragic loss of their daughter, Eric Rancourt, played by Dean J. West, and Rachel Rancourt, played by Gena Shaw, decide to move to Savannah. What was expected to be a new beginning turned into a terrifying experience when the house they had moved to turned out to be haunted by their deceased little girl.
"A Savannah Haunting" was created by Savannah native William Mark McCullough and became the first film made by a Savannah filmmaker to be accepted into the SCAD Savannah Film Festival in its 24-year history.
What is hard to determine is what is creepier: the film, or the similarities in the story with McCullough's daily life experiences in his home in historic Savannah, Georgia.
In the 1970's, McCullough's father bought the house, but it wasn't until his adult life that he got to spend significant time in the home. "For years, I knew the house was haunted," says McCullough. "I would wake up in the middle of the night and hear whispering outside my window and I would try to make up excuses for it being something else."
Historians who visited the house have revealed that the property was a "former plantation property and there was a plantation house that burned down on the property," says McCullough.
After his business partner Alexis Nelson visited the property and had supernatural experiences during her stay, the idea of bringing the haunted house's story to film came to life.
"I wanted to capture what it was like to live in a haunted house, because there's this dread that just grows day by day. And it's almost like the walls of the house are closed in on you," shares McCullough about his inspiration behind writing the script. "It was a very subtle, creepy thing."
He decided to write the story based on a fictional family, but applying the experiences that actually happened to his family. "The supernatural experiences that they deal with are things that happened to people that lived in this house," says McCullough.
Filming in a haunted house was complicated. The cast was not the only one performing; the spirits were too.
Paranormal experiences were not for everyone. Some crew members threatened to quit. From missing tools, to things reaching from under the bed to grab their legs, the production crew experienced the supernatural activity going on in the house firsthand. A female crew member who was staying in the house left to never come back after waking up three nights in a row to a "bluish fog on the ceiling that had almost like electrical sparks in it," he remembers. "It didn't surprise me at all because at least 10 women I know have had that same experience over the last 25 years."
One of the most intense occurrences was a crew member being pushed up the stairs, causing her to cut her leg.
A couple of months after the filming wrapped up, actress Genna Shaw, who played Rachel Rancourt, visited McCullough in his house. "We were standing down and right by the front door, and doors all over the house started opening, closing, just slamming all over the house," says McCullough. "I think that the stuff in the house was excited about the fact we made the movie, and I think it was just letting her know it was happy she was visiting."
Two years later on October 28th, 2022, "A Savannah Haunting" premiered. As McCullough returned to the house that night, "the house was crazy. Like, it was just crazy. It was almost like it was celebrating the fact that we had made a movie about it," he says. "I think it really liked that."
"This is what I choose to do now with my life. It is entertaining people, which I love."
Despite the supernatural experiences and incidents, McCullough felt strongly about filming in the actual haunted house. "I wanted to capture what it was like to be in the house in the film," says McCullough. "I knew that if anyone's in the house for any length of time, almost everyone has experiences here. So I knew for our actors, if they were actually in the house, it was going to enhance their acting. I don't think we could have done that very effectively if we'd built a set."
And it paid off.
"A Savanna Haunting" went around the world participating at various film festivals and winning several awards in the categories of Best Actress, Best Actor, Best Director, Best Horror Film, Best Cinematography, and many others.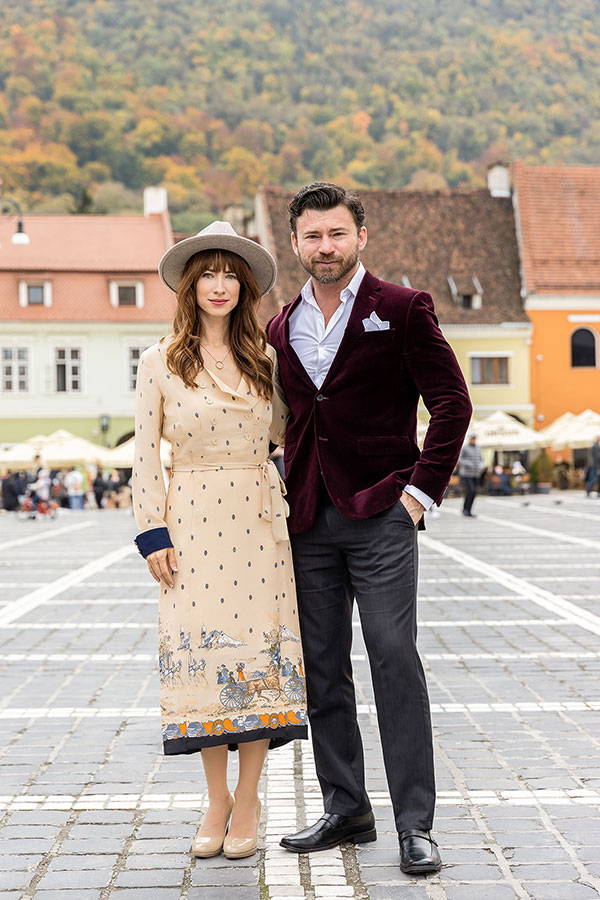 A Savannah native, McCullough has had a very successful career in the film and television industry, but writing and directing "A Savannah Haunting" has been a very personal project. "I wanted people to feel the growing dread of what it is like to be in a haunted house."
McCullough had no interest in acting until it was time for him to step on stage to deliver a monologue for an elective class in college. His elective choices were thin, and intimidated by art history, acting was his way to go. Little did he know, that class would change his entire life. "When I finished the monologue, my whole body was on fire and it was the most amazing feeling," remembers McCullough. "So, I decided I was going to do acting." But it wasn't quite so easy.
"I think that's one of the issues with a lot of college programs," says McCullough. "They teach the craft of acting, but not the business of acting. And the business is so critical." Without any information on how to make an acting career actually work, McCullough went a different route and eventually ended up in Capitol Hill, then as a prosecutor, and eventually in Nicaragua on what was supposed to be a fun trip. However, that trip did not end up going as planned.
McCullough got in a tragic accident in Nicaragua and was forced to remain on bedrest, recuperating for weeks. All that time alone, immobilized, led him to rethink his path in life. On his return to the United States, McCullough quit his job and moved to Los Angeles. "I could not have been any more ignorant about how the entertainment industry works," says McCullough with a laugh when remembering his "ramen years." "It was a long journey to get from lawyer to actor and filmmaker," he says. "This is what I choose to do now with my life. It is entertaining people, which I love."
"My dad moved into this house years ago. He basically built 95 percent of the house around this little tiny house from the 1930s."
From the Courtroom to the Studio

A law degree and his job as a prosecutor has helped shape McCullough's career in the film industry. Aside from understanding contracts and negotiations, his leadership style as a film director and creator have been heavily inspired by his work as a prosecutor.
"If someone had a great idea, I was like, 'Let's use it,'" says McCullough. In his law career, he learned that it is not just about being right. At the end of the day, winning always comes first; "It's about putting on the best thing we can put on."

It is said that success is defined differently by everyone, and for McCullough there are two key elements to measure. His requirements to consider his film a success are, "to make my investors their money back, with a profit," he says. "And to make movies that I want to watch." It's simple.
Ten years ago, McCullough wouldn't have believed what awaited him when it came to his destiny. From making films for his family on VHS tapes to producing his own film, he has come a long way. The journey started years ago, but it wasn't until he saw himself acting and spending time next to Tom Cruise that he looked around and realized he was officially "into the club," he says. The same feeling happened when he got to film with Nicolas Cage, or when he got to fight with Ralph Macchio. "If you told Mark in fourth grade that one day he would be getting in a fight with the karate kid, I never would've believed it," says McCullough with a laugh. "It's getting to work with people that I idolized as a kid and then as a filmmaker."
Of course, many would question McCullough on why he has decided to stay at the haunted house despite all the supernatural experiences he has experienced there, the struggles, and the escalated intensity of the events in recent months. However, he has a meaningful reason.
"My dad moved into this house years ago. He basically built 95 percent of the house around this little tiny house from the 1930s. It's pretty unique the way he designed it. So everywhere I look, I see my dad. I mean, not literally, but I see the work of my dad in the way he built," says McCullough. "There is no way I am going to let something scare me out of the house."
Throughout the years, McCullough has experienced the stresses and challenges of living in a haunted house, and has reached out to numerous paranormal teams, Voodoo priests, demonologists, and even an Eastern Orthodox priest for help. All of this to help make the house livable, to keep the memory of his dad alive.
"A Savannah Haunting" has been a success and a milestone in McCullough's career. However, it is hard to imagine the project has culminated. As the film gains more traction, projects around it could grow legs. It is fair to assume that the house has much more to reveal, so we advise staying tuned.
"A Savannah Haunting" is available through various platforms, including Amazon Prime Video, YouTube, AppleTV, and Google Play Movies.