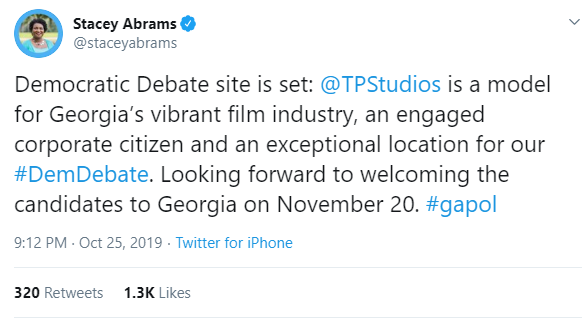 'A Model for Georgia's Vibrant Film Industry': Tyler Perry Studios to Host the Next Democratic Debat
By Oz Online | Published on October 29, 2019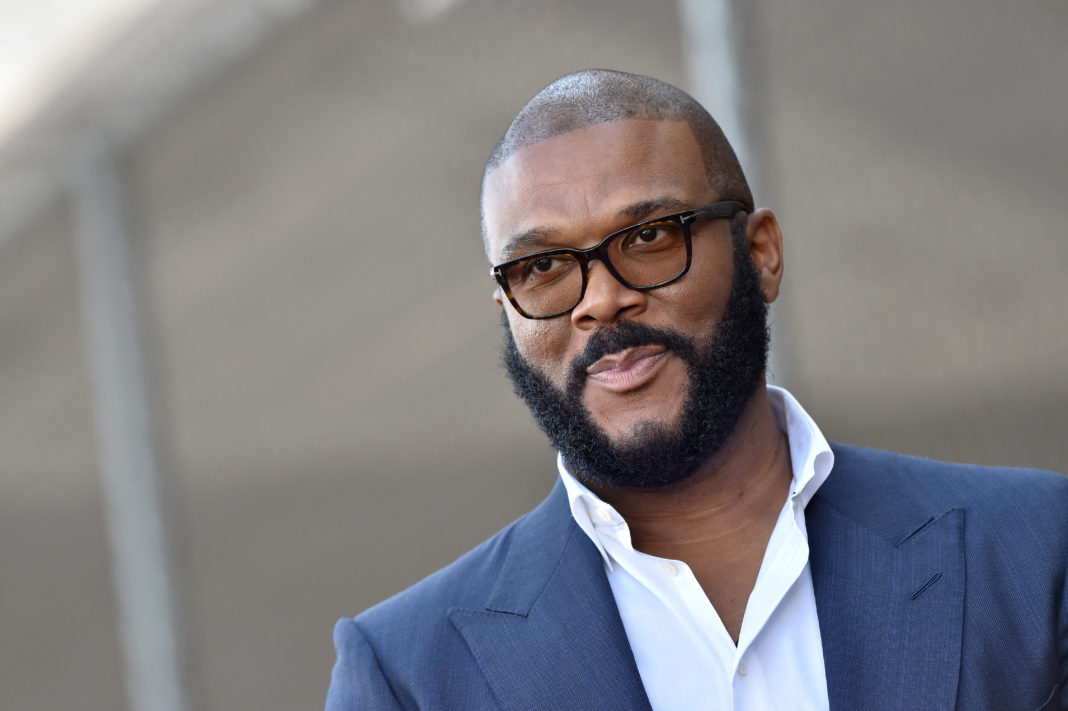 The fifth Democratic presidential debate is slated to be held at the newly built Tyler Perry Studios next month, former Georgia gubernatorial candidate Stacey Abrams confirmed on Twitter.
The one-time Democratic challenger to Secretary of State-turned-Governor Brian Kemp tweeted Friday night that the filmmaker's 330-acre Atlanta studios will host the Democratic debate on Nov. 20.
"Democratic Debate site is set: @TPStudios is a model for Georgia's vibrant film industry, an engaged corporate citizen and an exceptional location for our #DemDebate. Looking forward to welcoming the candidates to Georgia on November 20. #gapol," read the former congresswoman's tweet shared to the platform Oct. 25.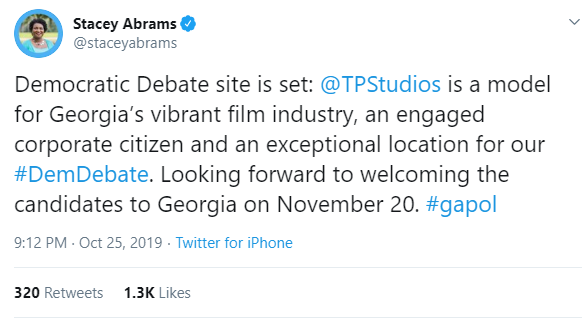 Perry has not publicly commented on the matter.
Abrams, who founded the voter protection initiative Fair Fight 2020, posted the tweet about the debate being located at the 12-sound stage studios on the military base Fort McPherson following a report from The Atlanta Journal-Constitution earlier that day.
The newspaper initially reported that a contract had not yet been signed off on. Yet with Abrams' tweet, it seems everything is now a go.
Originally, however, the Democratic National Committee hoped the debate would be hosted in Sandy Springs, a suburb north of Atlanta. Specifically, the AJC reported the DNC wanted the debate held at an entertainment complex in that suburb. Doing so would have supported Democratic U.S. Rep. Lucy McBath; that announcement would have been held on Monday, Oct. 28.
Allegedly, Atlanta Mayor Keisha Lance Bottoms' protests spurred the DNC to reconsider the revamped Tyler Perry Studios as the debate's location. Bottoms has not commented on that matter, however.
The Democratic debate being hosted at TPS comes just over a month after the actor/director himself stated he won't ditch Atlanta as his filming hub simply because of the so-called Heartbeat Bill that has now been put on hold by lawmakers.
"Atlanta has been the dream. It has been the promised land," Perry told The Associated Press regarding Kemp's anti-abortion law that bans the procedure at six weeks. "So when I got here, this whole state and city has been amazing to me and I wouldn't trade that for anything. Also, I put $250 million in the ground here and in the studio. So when you have a quarter of a billion dollars sat down in the ground, you can't just up and leave."
Aside from those remarks, Perry's venture into politics shouldn't come as a surprise. One of his new shows produced from TPS, "The Oval," recently premiered on BET last week. It focuses on the White House's newest occupants, a seemingly idyllic interracial family.
The Atlanta-hosted Democratic debate, co-hosted by The Washington Post and MSNBC, will be held on Nov. 20 from 9 p.m. to 11 p.m.
Read the original article in the Atlanta Black Star, here.