9th Annual Bronzelens Women Superstars Luncheon Honorees and Host Committee
By Oz Online | Published on October 25, 2018
August 22-26 – The BronzeLens presented an interactive experience that stimulated ideation and fostered collaborations over the course of five days. Programming was comprised of a diverse mix of cutting-edge panels, workshops, master classes and signature festival events such as BronzeLens Women SuperStars Luncheon, BronzeLens Awards and Brunch with the Brothers.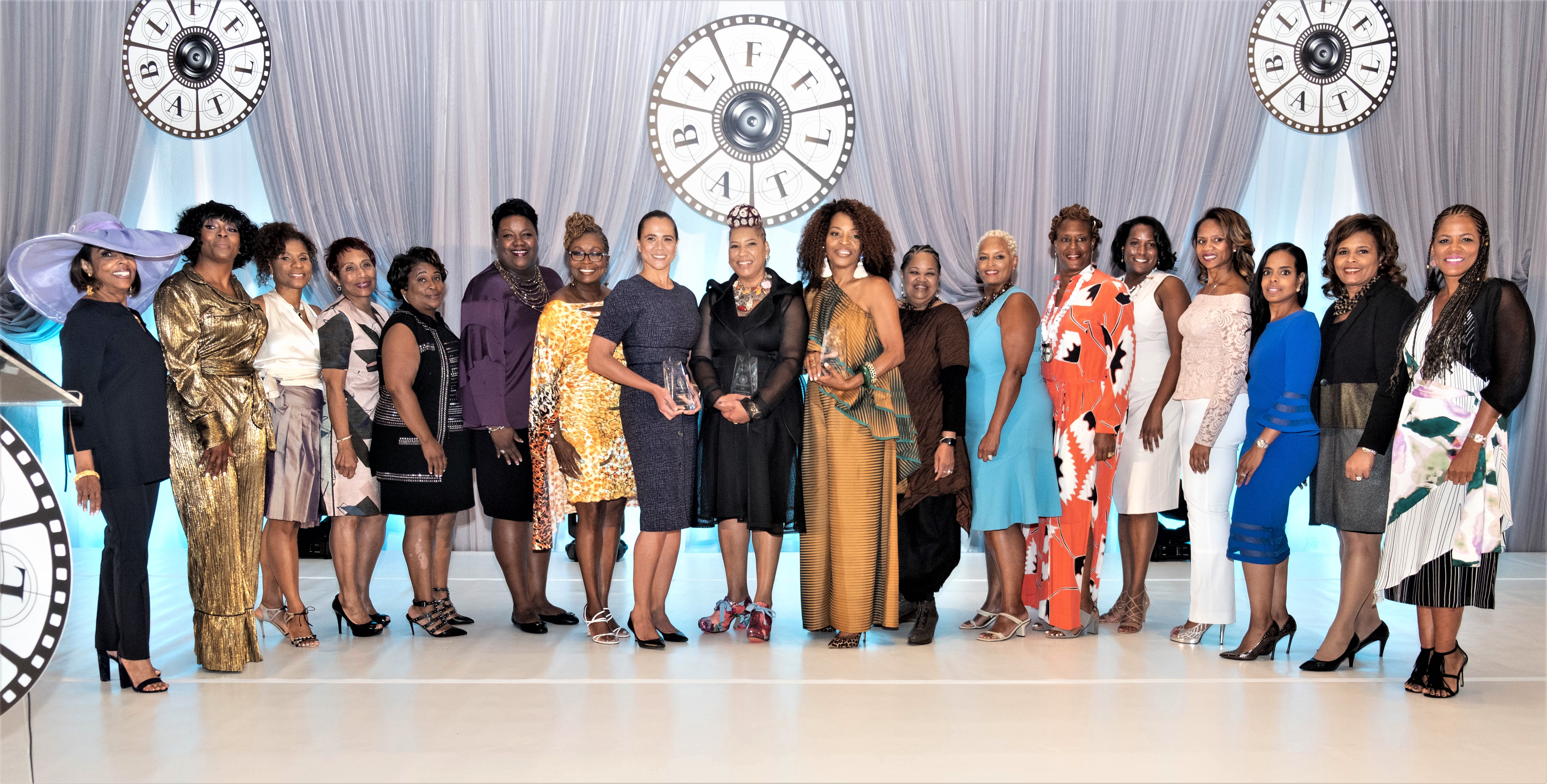 This year BronzeLens received submissions from 23 countries and a total of 85 juried films were screened. Narrative fiction, documentary, webisode, music video and short film screenings coupled with the who's who of the film industry are the core components that have established BronzeLens as one of the nation's most substantive film festivals.
BronzeLens Film Festival Highlights:
• SUNDAY, AUGUST 19 – BronzeLens hosted the pre-festival Atlanta premiere of Nollywood's Isoken a feature film written, produced and directed by Jadesola Osiberu. Gladys Edeh's documentary Mr. Gele: The Man.The Story. The Craft., was also screened.
• WEDNESDAY, AUGUST 22 – All Shorts, All Night presented by BET Networks returned and was hosted by Screening Room ATL Creator Khalimah Gaston.
• THURSDAY, AUGUST 23 – All Shorts All Day presented by BET Networks continued the free screenings of 2018 BronzeLens short films selections. Opening Night at BronzeLens kicked off with screenings of Nijla Mumin's Jinn and Brian Banks directed by Tom Shadyac.
• FRIDAY, AUGUST 24 Women SuperStars Luncheon BronzeLens
Women SuperStars Luncheon presented by BETHer celebrated the accomplishments of women of color in the film and television industry. Honorees included Actress Tina Lifford (Queen Sugar, Scandal, Criminal Minds: Beyond Borders), Producer, Director, Ayoka Chenzira (Hair Piece: A Film for Nappy Headed People, Alma's Rainbow, Queen Sugar), and Samantha Vincent (The Fate of the Furious, XXX: Return of Xander Cage, Riddick).
First Glance Friday Feature Presentation:. AA BronzeLens Exclusive to all festival Screening Pass holders. Attendees got a "First Glance" of The Bobby Brown Story presented by BET Networks.
• SATURDAY, AUGUST 25 BronzeLens Awards Show A celebration during which the 'Best of Festival' filmmakers in their perspective categories were honored at SCADshow. Categories include the best in Features, Documentaries, International Films, Shorts, Student Films, and Webisodes, as well as Best Actress and Best Actor.
• SUNDAY, AUGUST 26 – Sunday Brunch with the Brothers generated insightful and revealing conversation with actors TC Carson (Star, The Quad, Greenleaf, Black Lightening), Alan Maldonado (The Last O.G., Black-ish) and Mykelti Williamson (Canal Street, Fences, Forest Gump). Cinema and Social Justice Sunday Screenings for 2018 were Fahamu Pecou's Emmett Still and Max Power's Don't Be Nice. Post screening talkback included Dr. Dwight Andrews, Don't Be Nice producer Cora Atkinson, fine art photographer Sheila Pree Brightand interdisciplinary artist Dr. Fahamu Pecou.
• Closing Night at BronzeLens featured screenings of United Skates produced by Dyana Winkler and Tina Brown, and Canal Street directed by Ryan Lamar at Georgia Pacific Center Auditorium.
About the BronzeLens Film Festival
BronzeLens Film Festival of Atlanta, Georgia, is a non-profit organization, founded in 2009, that is dedicated to bringing national and worldwide attention to Atlanta as a center for film and film production for people of color. Its mission is two-fold: to promote Atlanta as the new film mecca for people of color; and to showcase films and provide networking opportunities that will develop the next generation of filmmakers. Since its inception, BronzeLens producers have brought national and worldwide attention to Atlanta, helping to showcase the city as a leader in the thriving film industry.
In 2017 the Academy of Motion Picture Arts and Sciences approved BronzeLens as a qualifying festival for the Short Film Awards category. The short film that receives the BronzeLens Best Short Award may now be eligible to enter the Academy's Short Subject competition for the concurrent season.