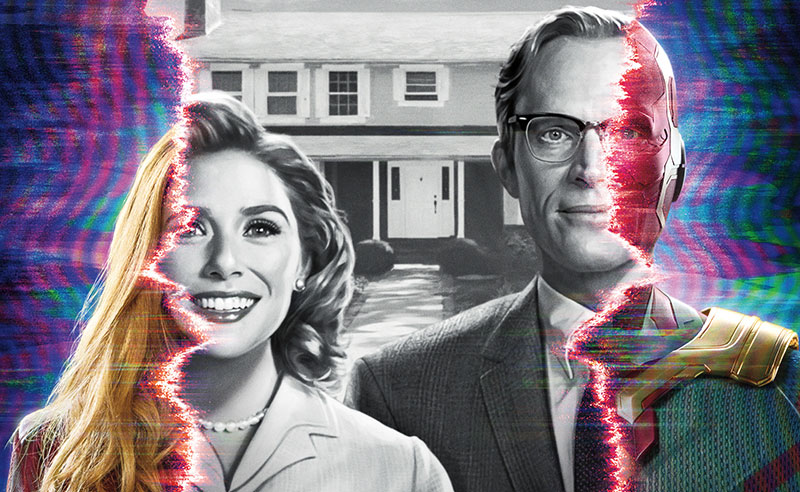 The Bewitched Script Behind Marvelous Mrs. Maximoff
By Oz Online | Published on March 17, 2021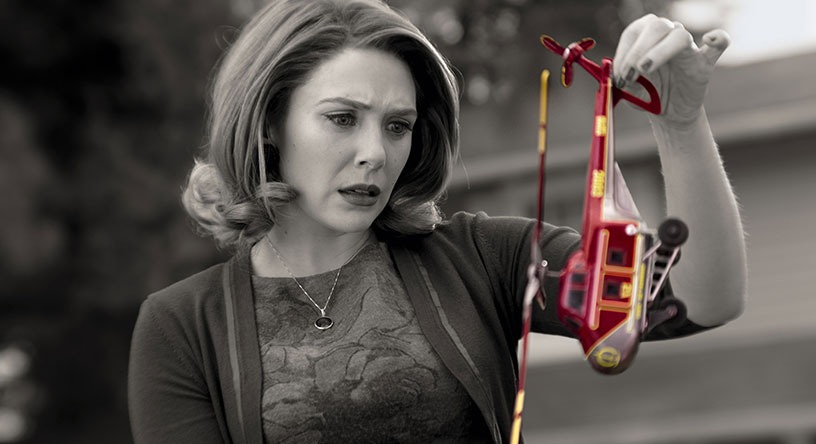 Jac Schaeffer is a Princeton graduate with an extraordinary talent that allows her to tap into other universes with her pen. Her first entry as a writer and director into speculative fiction was in her debut feature film, TiMER. TiMER is a science fiction movie that feels relatively close to the present day reality, except for a small piece of technology with monumental influence on people's everyday lives: a wrist implant device that counts down to the exact moment you will meet your soulmate. It's a creative romantic comedy that premiered at the Tribeca Film Festival in 2009 and received rave reviews.
Schaeffer advanced her screenwriting career with the opportunity to write for Disney's newest heavy-hitter franchise with Olaf's Frozen Adventure, a twenty minute short film spinoff of Frozen (2013). There's an obvious gap between TiMER and the short; however, the transition from writing for older demographics to a younger audience was seamless. "I'm interested in authenticity and I'm interested in entertainment," Schaeffer told Oz in an exclusive interview.
The success of Olaf led to further meetings with the House of Mouse, this time across the lot at Marvel Studios. After amassing credits on Captain Marvel (2019) as a contributing writer and co-screenwriter on the upcoming (and continuously delayed due to COVID-19) Black Widow (2021), she garnered enough of the studio's trust to earn a rare steady spot within the studio's braintrust. "When you're on the same page with your collaborators or the people that you report to, you have a lot of freedom to make things great," Schaeffer said.
In tackling "WandaVision", both Schaeffer and Marvel Studios found themselves wading into unfamiliar territory. Neither had developed episodic television before. "WandaVision" was among a slate of several new limited series being developed for Disney+ where the studio saw an opportunity to explore characters that hadn't yet had their own stand alone films.
The limited series takes place after the events of 2019's Avengers Endgame and follows Wanda Maximoff (Elizabeth Olsen) and Vision (Paul Bettany) living in the idyllic domestic suburbia of Westview, New Jersey. "WandaVision" audiences were in for a surprise as the show isn't formatted like any previous superhero film. Shot in black and white, utilizing sitcom multi-camera techniques and canned audience laughter, it's a rich and faithful homage to the domestic sitcoms of the Golden Age of Television. Hijinks ensure as Wanda scrambles to keep her telekinetic powers and Vision's synthezoid identity a secret from the nosey neighbors while preparing for an evening engagement that neither she nor her "normal husband" can quite remember ― a far cry from the typical Marvel fare, but on the edges of the idealized domestic utopia, things are not quite as they seem. And didn't audiences watch Vision die a couple years ago?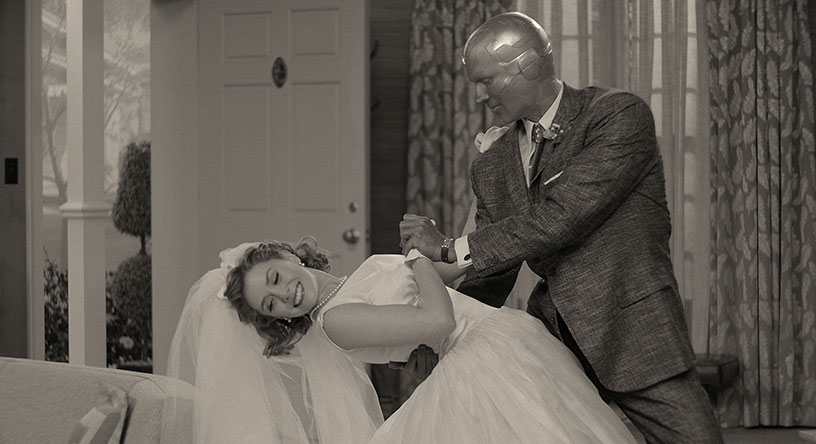 "I'm interested in entertainment and I'm interested in authenticity"

– Jac Schaeffer
"I found myself an incredible team," Schaeffer said about her group of eight writers. They had twenty-four weeks to script out the entire limited series. Their biggest challenge in the early stages would be figuring out how to carry the story into an episodic format rather than Marvel's traditional two hour, three-act feature film. Schaeffer knew the episodic structure for the story was essential to build a believable space for the televised sitcom reality. "There was a lot more freedom in that I think Kevin Feige and I were aligned in how we wanted to pace out the series."
The shift from solitary screenwriting to leading a collaborative group environment was an easy adjustment for her. "It just was a different skill set. I had never run a writer's room before," Schaeffer told Oz, "but I found myself fairly well suited for it. And kind of more importantly for me, I loved it."
Schaeffer admits to not being the biggest superhero movie fan before her work at Marvel, but found an unlikely safe space to explore nuanced stories within the larger Marvel sandbox. "It was much more about the conversation, which is what I like. I always want the conversation more than anything else."
Upon first glance, the show itself doesn't make too many references to the extended Marvel franchise outside of its titular characters, keeping the whole first three episodes contained entirely within the sitcom format, following structures of TV shows like "The Dick Van Dyke Show" and "I Dream of Jeannie."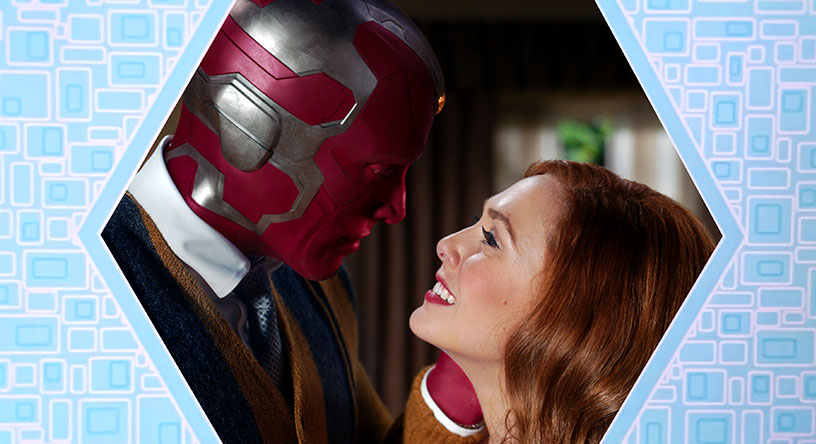 Schaeffer and her team were keenly aware of the balance between the Wanda's imaginary sitcom and the usual franchise reality outside the bubble. As Wanda's grasp on her televised "happily ever after" slips, each subsequent episode has to morph itself to meet the demands of the week, playing out as a sitcoms-by-the-decade serial until "WandaVision" finally opens its scope to reveal the larger view of the mystery at play. The show within a show format allows for some entertaining meta commentary as both the S.W.O.R.D. agents and audiences tune into "WandaVision," left to piece together the clues of just what exactly is going on.
While some audiences may have found their captivation with the Marvel franchise starting to wane, "WandaVision" feels like a rush of energy in the right direction. Without a cosmic MacGuffin to motivate our central heroes, there is a fresh landscape to explore these characters on a deeper, personal level as we watch them solve the problems of everyday life. This is one of the original ideas championed by Marvel legend, Stan Lee, who made the original comics so great and relatable to begin with.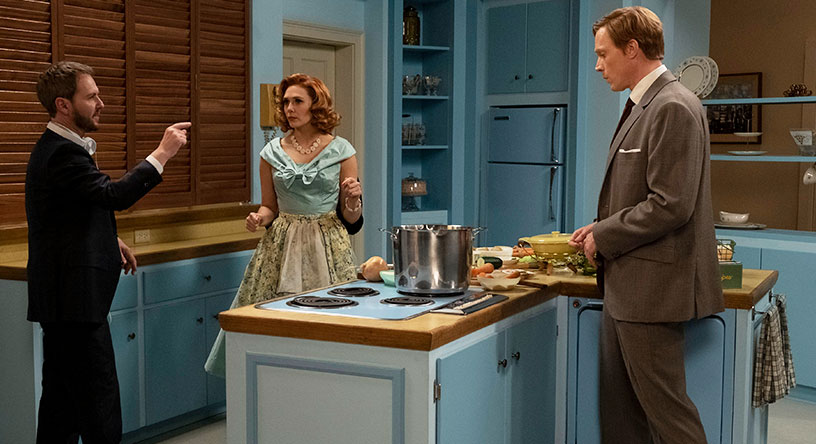 Wanda's life before implementing her new pseudo-reality was already pretty extraordinary. Her traumatic backstory involves her and her twin brother being kidnapped and experimented on by terrorists, their following alliances with murderous robots and her brother's ultimate death. Now, after watching her lover Vision die before her eyes, all she longs for is the ordinary ― a happy domestic life with silly, pedestrian problems.
Neither Wanda nor Vision can quite remember their lives before Westview. Pattern seeking brains may want to fit the mystery of Wanda's motivation into a familiar formula ― a formula with a simple good and evil binary ― but it would be cheap to chalk up Wanda as the central villain of the piece. A number of past comic storylines featuring Wanda have often leaned heavily into portrayals of her struggles with mental illness and borderline personality disorder. While the comics have a history of depicting Wanda as a hysterical character, Schaeffer and her team were sensitive in presenting grief in trauma within Wanda and other characters within the series.
For example, Monica Rambo (Teyonah Parris), a S.W.O.R.D. agent that's grown up from the child who befriended Captain Marvel in the 2019 film, is a superb addition to the cast as she returns from being "snapped" away for two years to a world that has moved on without her. As Rambo is assigned to investigate the mystery in Westview, she too is digesting her own grief over the loss of her mother and the antagonistic direction the agency she founded has taken during her absence. Rambo's depth is further evidence that the women in the show are fully realized and beyond what we're used to with Marvel's sidelined and supporting love interests.
It's not surprising that the masterminds behind these stories of multidimensional women are also women themselves. It's one of the first Marvel Studios properties to be led by a team of mostly women, including four female writers. Schaeffer is accompanied by Marvel producer Mary Livanos. "Mary Livanos is kind of my walking Marvel encyclopedia," Schaeffer said. "I do not enjoy research and the way I've operated at Marvel, that's not a big part of [my job]." The two made an effective team as Livanos would provide any relevant references from Wanda and Vision's dense comic history, freeing Schaeffer from massive deep dive research and allowing her and the rest of her writers room to focus on the more nuanced elements of these established characters. "This era of my career has been about inheriting characters and mythology and working with groups of people and making it the best that it can be," Schaeffer added.