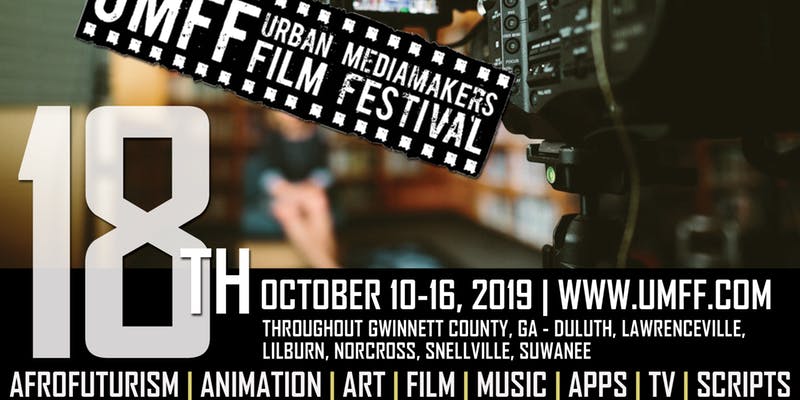 The Urban Mediamakers are excited to announce the 18th Urban Mediamakers Film Festival (UMFF), running October 10-16, 2019 throughout Gwinnett County, GA — Duluth, Lilburn, Lawrenceville — and metro-Atlanta. Congratulations to the official selections of UMFF 2019. Founded in November 2001, the Urban Mediamakers is a 501c3 organization founded by Cheryle Renee Moses, a native of Georgia and resident of Gwinnett County.
This year the Urban Mediamakers Film Festival has partnered with the Gwinnett County Public Library to bring free international independent movies in select libraries.
Festival Event Locations:
• ArtBar at Sonesta Gwinnett Place Hotel – Duluth, GA
• Gwinnett Justice and Administration Center – Lawrenceville, GA
• Five Forks Trickum Branch – Gwinnett County Public Library – Lawrenceville, GA
• Suwanee Branch – Gwinnett County Public Library – Suwanee, GA
• Rehearse Live – Atlanta, GA
For more information, visit www.umff.com.
Grab your tickets on the eventbrite page, here.