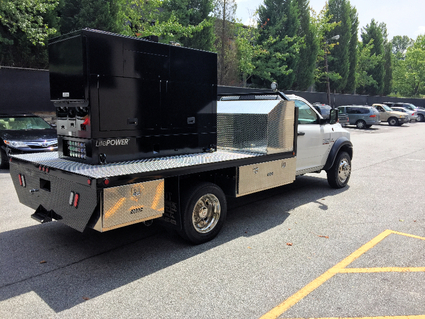 Straight Shooter at PC&E
By Oz Online | Published on November 2, 2015
Updating the inventory is an ongoing goal of PC&E. For their new 1000 amp generator, they've mounted a custom made Litepower 140kw plant on a 2014 Dodge Ram 5500. The plant generates 1100 amps continuous, 1200 amps standby at 120 volts. With the latest in electronic monitoring on board, the new generator will fit nicely alongside their existing 1400 amp plant and two 500 amp plants. A generator class featuring this newest unit is forthcoming.
At the behest of customers, PC&E added two ARRI T12 fixtures. The large lens gives great efficiency and an extremely wide beam spread. The new RatPac stand-alone 12K dimmers make a great accessory for the ARRI T12. Along with those, the K5600 400w and 800w Jokers continue to be popular items so they've added one of each to their inventory. Also added were the popular Bug-a-Beam attachments as well.
PC&E increased their inventory of the most popular Source Four barrels: 19, 26, 36, and 50 degrees and now also offer 70 degree barrels. They also just received two-dozen new American triple riser combo stands as well as two-dozen new large grip heads.
PC&E's Straight Shoot'r is a silky-smooth, one-piece, X&Y-axis Jib-Arm combined with a unique Z-axis linear slider gliding camera mount. The total arm length is 9′ 10″ with a maximum payload of 125 lbs.
New Kinoflo Celebs make an appearance: the Kinoflo Celeb 400 and the Celeb 400Q. These units provide a broad soft source with dial in white light from 2700 to 5500 Kelvin while drawing only 1.8 amps of power. And finally, the next generation of the Litepanel 1×1 Bi Color. The Astra 1×1 Bi Color is four times brighter than the traditional 1×1 and comes with both active and passive cooling options while drawing only 110 watts.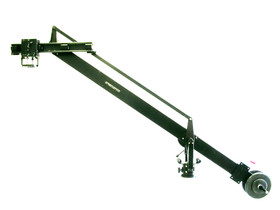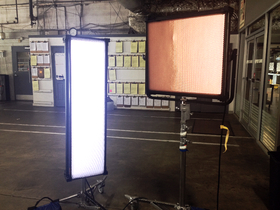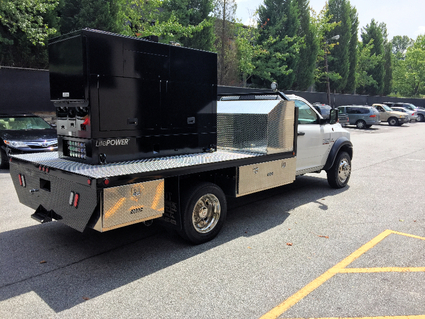 New equipment at PC&E includes a 1,000 amp generator and the new Straight Shoot'r jib arm.