Putting yourself out there is easier than ever. Now you don't have to wait for someone to call you or to see your potential. You can make your own content, distribute it, and get a following without needing an entire team to back you! The quality of our technology alone is a game changer for everyone, and finding the right people to help you is where Jon Esther and Brett Newton come into play. Both have separate companies that serve a specific, similar need for different people.
LA Reels
Brett Newton, with LA Reels, helps service actors that need demo reels to get ahead in their careers. Starting in Los Angeles and branching out to Atlanta, he saw the potential to help others grow by creating short clips with a cinematic feel. The company as a whole has done over 4,000 reels for their clients. I'd say they are experts in their field. As an actor, it is very important to be able to show people what you are capable of on-screen. So if you are just starting out and no one will give you the time of day, this can be a great step forward. Also, if you are a seasoned actor and want to try something new to prove that you can also play the "weirdo next door" instead of the "girl next door," LA Reels can set you up for success.
Newton's process is quite seamless because he has been doing this for over 10 years. Once you reach out to him about doing a reel, first and foremost, you talk about the script. The script must be in TV format at a page to a page and a half. They want you to do original content, so if you don't have that or aren't interested in writing it, Newton's team has an entire catalog of scripts that they have written to suit your needs. You can change the characters around and really make it your own. His goal is that you get to collaborate with each other and finish with a product that truly benefits you. By the time the script is figured out, there is a pre-production meeting where you discuss hair, makeup, casting, and wardrobe. These are very important and bring a lot to a scene. The client can bring in an actor that they know to star in the scene with them, but LA Reels also has people they can recommend that are reliable and come prepared to every shoot.
When it comes to locations, LA Reels will provide those too. They have access to many, but if there is something special that you are looking for, or somewhere that you want specifically, you are responsible for sourcing that location. Newton states, "What is most important when shooting a reel is the relationship, the location, great sound, and good depth and light. If it's not going to be beneficial for the final product, it's not going to be beneficial for the actor. At the end of the day, these scenes are sixty to ninety seconds long, and the pages are a page to a page and a half. The pacing is important…When we make the demo reel, we will take the best thirty seconds to make the scene. Fifteen seconds is all you need. If you [already] have a lot of content, you wanna keep it moving, you wanna keep the person engaged." Fluidity is what makes a demo reel interesting, and from the experience gained from LA Reels, Newton has really become an expert at making people stand out.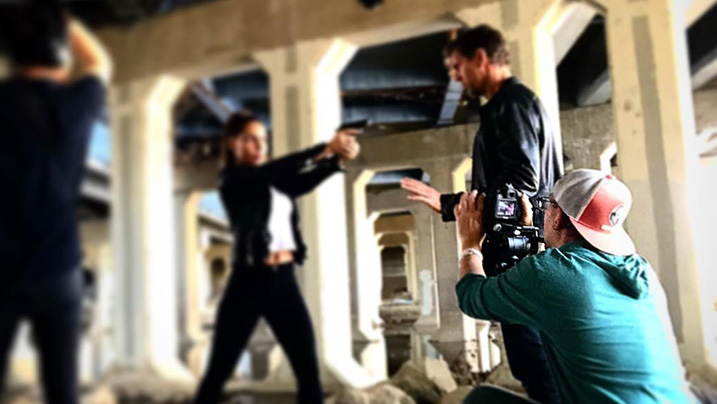 Between twenty-four to forty-eight hours before a shoot, Newton will send out a call sheet to everyone that is involved so they can confirm. The day of the shoot is meant to be fun and exciting. Come prepared and bring your best self so that you can play with the scene and with your scene partner. LA Reels also offers a "tele" (telephone) scene, where it is a quicker shoot and the client is the only one on camera. A monologue and a moving shot is involved and it adds contrast to the typical scenes we get as actors. It really is your time to shine.
Once everything is shot, Newton will send out the raw footage with time stamps for you to approve and confirm the cuts that you want in your reel, or you can leave that up to him and his team to decide which cuts make you unique. Once confirmed, it takes about 10-15 business days to get the mastered version. Now you can send out your clips to get new representation, or even to show your old reps what else you can do. It's truly convenient from beginning to end.
I asked Newton what the future of LA Reels will look like and he said, "… of all the scripts we wrote over the years, I have about 2000 scripts available to use. So, I have all this intellectual property that LA Reels owns… so I put metadata on the scripts like genre, character type, [and] age range. I've been building an app for actors over the last fourteen months called Weekly Audition. Right now we are in a live beta with paid users. You go on as an actor and fill out a profile and every week in your inbox, you get mock auditions, mock sides. We licensed those scripts so you can use them for auditions, in your demo reel, or in class. The next iteration we are building is a community page so…you can get feedback from your community. In the future, the goal is to add other creative types, like a coach, or casting director…I built it for myself, selfishly, because it's one of those things that I wish I had when I was first starting out in this industry and even now. If I'm only getting one or two auditions a month…" Weekly Audition becomes "a workout, so I get to practice and work on my craft."
MachineHead Creative
Sizzle reels and demo reels are not just for television and film. They are also used to explain a story without giving spoilers away. Recently, I learned that some people use sizzle reels for novels to promote their books. As an avid reader, I am shocked that I have never heard of this concept before, but it makes complete sense. If I don't want any major plot points ruined by reading a book review, a sizzle reel makes it easy to know if that's the book for me. Some people use actors and some use footage with narration to get their point across. Both seem to be very effective.
Jon Esther, owner and creator at MachineHead Creative, has worked freelance for the past 20 years. Speaking with him, I learned a little about his process as a whole when it comes to creating reels. His typical work entails sizzle reels for news companies like CNN and Reuters where he takes hours and hours of footage and shortens it to four or five minutes. Sometimes they even ask him to take all of that and make it into a fifteen to thirty second commercial or trailer. And sometimes the turnaround time for these spots has a very tight deadline. So, doing a reel for a novel was out of his typical genre, but it was a breath of fresh air for Esther. As a friend of his was finishing up his debut novel, he asked Esther for help with a sizzle reel.. Luckily for me, I also got to chat with that friend, Robert Gwaltney, author of The Cicada Tree, to get both perspectives of the process
Gwaltney worked on his novel The Cicada Tree for about five years from start to finish. When he was almost done with it, he started to put together some visual aids to help his story move along. "I see the book cinematically, so I wanted for those individuals who…seeing it visually might help peak their interest about the novel. Really trying to get any sort of competitive edge in the world to get attention to your work. They've [novel sizzle reels] been around for a while." Gwaltney continues, "Before I finished the novel, I put together some images to some music to creatively help propel me to the end. It's helpful to be able to see the arc of the novel…" He already had a rough cut of what he was looking for and sent it to Esther. Gwaltney knew what ehe wanted as far as the tone was concerned, so it became a very collaborative process. He told Esther that he wanted it to be backtracked to Moonlight Sonata by Beethoven and that it needed to have a southern gothic feel. Typically for Esther, starting with the music is key because music can make or break a project, especially if you can't get the rights to use the music.
Gwaltney wrote a synopsis to be narrated by a friend of his that does voice acting to really add to this tone. The book is about an eleven year old girl in the South, so the accent and timing needed to be just right. As Esther worked on finding the right images, everything came together.
Esther explains that because it was a new medium for him, "all of it was challenging because it was my interpretation. I didn't do anything for three days except think about it and come up with visuals that fit what [Gwaltney] was saying. The challenge was now: I have an idea of what I'm looking for but there's not exactly those kinds of shots using all stock photography… so you have to find things that work to replace the idea that you had in your head. And sometimes that's actually very helpful because now you're open-minded with how the shot can be interpreted. That way you're looking at a lot of different aspects for the reel." Esther continues that after the reel was done, "[Gwaltney] put it on all social media platforms. He said his responses have been remarkable and his publishers were very happy with it. Robert totally trusted me. He didn't change one thing." 
When asked if he wanted to continue working on novel sizzle reels, Esther said, "I really want to do more of them. I think it'd be great and I'm hoping that more people approach me about it because it was a lot of fun and it's so different from what I do."
Being someone that only judges a book by its cover, it's extremely helpful to get another version of visual aid to make the decision to buy a novel or not. The end result of The Cicada Tree is beautiful and the feel is complete with the voice, music, and sepia colored footage. It certainly makes me want to find out what is going to happen next.