Imagine for a moment that you're on a movie set and hours of pre-planning have gone into executing a difficult and potentially dangerous action scene. Of course, they go as planned most of the time – stunt coordinators do know what they're doing. But what if the unthinkable happens? Who do you call? What do you do? If you are on-set medic Stan Swofford, you don't have to imagine it – you've lived it:
"There was a fight scene on [the movie] Furious 7, and a stunt guy crashes through several full walls of glass into a hallway, then through a glass handrail barrier which had the handrail attached to the railing with a compression fitting with a glass railing. They had done all this pre-planning for the glass to break. The only thing they didn't factor in was where the railing attached to the glass, it did not break – it was compressed," Swofford recalled. "There was a compression joint there. And so, the guy landed on that piece – as luck would not have it – and it cut him. Bad."
Veteran Paramedic Stan S. Swofford, the owner of Production Medical Services, began his service in 1985 to provide on set stand-by medical services to the motion picture, TV, and commercial markets in the state of Georgia and throughout the Southeast.
He has coordinated the teams of many high-risk major motion pictures and has handled the emergency medical services for other high-profile events and sports venues including music videos, the Atlanta Braves baseball team, the Atlanta Falcons football team, the Olympics and Peach Bowl sporting events, PGA golf tournaments, and major concerts.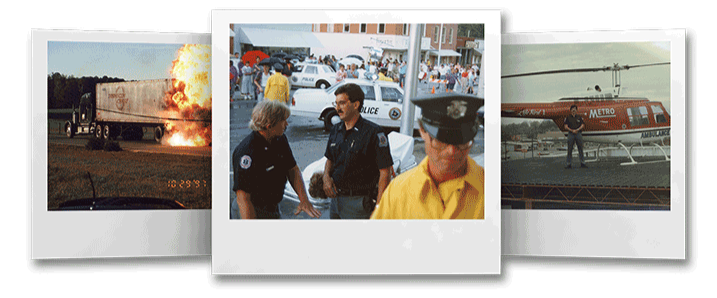 "There was no 911 number, no fire department EMS,
and few to no private emergency services."

– Stan Swofford
"In 1985 my good friend [actor] Hank McGill was dating a wanna-be actress, she got some roles and introduced us to the film business," said Swofford. "We later learned that film companies hired medics and Hank and Pete Mitchell got us started as set medics. Our first movie was The Annihilators which led to our first big one Invasion USA with Chuck Norris. The rest is history. I'm still working as a set medic 37 years later."
Swofford's medical career, which began in the 70s, has mirrored the rise of the Georgia film industry. According to the Georgia Film, Music, and Digital Entertainment Office website, Georgia experienced some film production in the early 70s, but the industry really made waves on a national level in 1972 with the movie Deliverance which proved to be both a commercial and critical success. Former Governor Jimmy Carter, realizing the state's potential, established the Georgia Film Office in 1973 "to market Georgia as a shooting location for future projects."
In that same year, Sonny Foster, the owner of the Sandy Springs Chapel and Roswell Funeral Home, paid for Swofford and four others to attend Red Cross First Aid classes. Later they were some of the first to take Emergency Medical Technician (EMT) training courses and upgrade to Paramedics.
"The TV show 'Emergency!' had a huge influence on my getting involved in EMS (Emergency Medical Service)," said Swofford.
The television series "Emergency!" originally aired from January 15, 1972, to May 28, 1977, on NBC and lasted for six seasons. When the series began in 1972, there were only two or three startup Emergency Medical Services in the country. After eight years of the show, almost the entire country was covered by some form of EMS.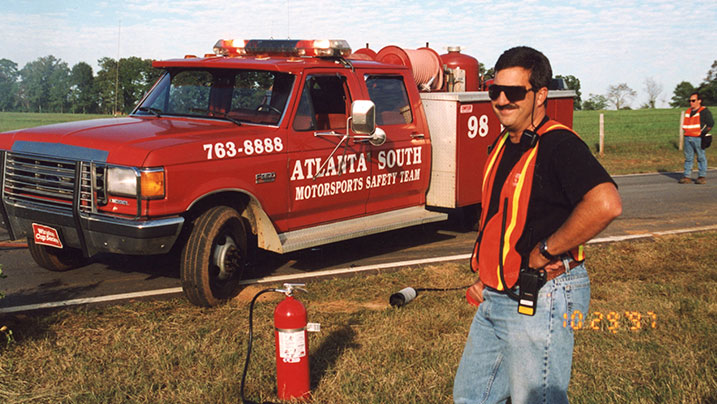 In 1974, Swafford became one of the first three Emergency Medical Technicians in Fulton County and served on the first Volunteer Rescue unit for Fulton County Fire.
"Emergency Medical Service (EMS) started in Georgia around 1972," Swofford recounts. "Before that, you had Grady Ambulance in downtown Atlanta, other than that it was funeral homes that operated the ambulance services – not necessarily because they wanted to, but because they had the only vehicles that had a stretcher and could transport a disabled person."
Swofford continues, saying: "There was no 911 number, no Fire Department EMS, and few to no private ambulance services. Many people at the time would just dial '0' on their hard-wired phones. They would get the phone company 'Operator' who would do their best to route the call to an appropriate funeral home or Grady dispatch. There was no coordination between the Ambulance, Fire Department, or the Police. Seems unfathomable these days."
Swofford's experiences before he became a part of Georgia's film industry are highlighted by several impressive "firsts" for the state. During this time, he served as paramedic in charge of the ambulance on approximately 25,000 911 calls and his other major achievements include his serving on Lifebird 1 EMS Helicopter (the first EMS Helicopter in Georgia), the Metro 101 (the first Critical Care Mobile Transport vehicle in Georgia), and providing escort for the Presidential Motorcade EMS for Atlanta visits made by former presidents Jimmy Carter and George H. W. Bush.
There are different types of medics employed for every production: set medics, off-production medics, and the key medic. The key medic is the first medic hired for a production; they serve as the Medic department head and are ultimately responsible for staffing the medical department. It's a job with huge responsibility and is usually reserved for those who have demonstrated their ability to perform their job well on multiple films. With over 37 years in the industry, Swofford has earned a reputation for being able to get the job done. A veteran paramedic who has been involved in EMS since 1974, Swofford started working on movie sets early on in his career.
Set medics are those that are assigned to work on set while filming takes place. They work closely with the stunt coordinators, the onset fire marshal, and usually assistant directors. They also attend meetings to see exactly how the day's film schedule looks, whether or not there are any potential hazardous stunts being performed, and what the exact plans are should something go wrong.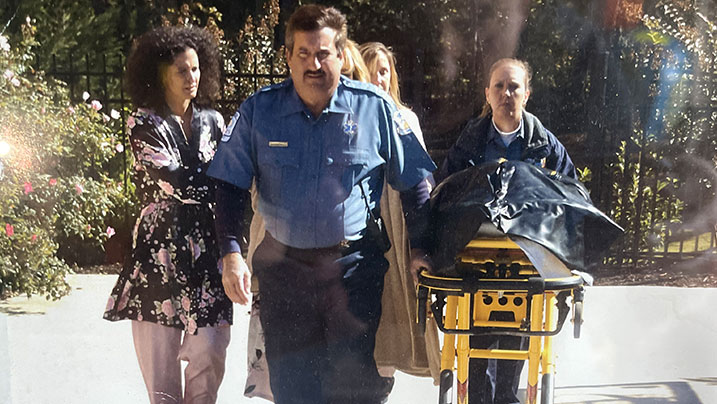 With each production shot in the state, Georgia film union IATSE Local 479 – a chapter of The International Alliance of Theatrical Stage Employees, Moving Picture Technicians, Artists, and Allied Crafts – advises that someone who can administer first aid be present on the set. However, most film sets, construction sites, and stunt rehearsals usually have at least one, if not an entire team, of set medics available to respond if things do not go as planned.
"Furious 7 was the biggest stunt movie I ever worked on," said Swofford. "It lasted seven months and I was in charge of all the stunt safety and managed 17 medics total – just not at the same time."
Furious 7 may have been the biggest stunt movie Swofford worked on, but it was by no means the only one that presented tense scenes – both in front of and behind the camera.
"We were on Black Dog in Helen," Swofford recalls. The stunt was to drive a tractor trailer down a mountain at 63 miles per hour, have it crash into a mobile home that was being towed, then flip over and roll three or four full rotations. The stunt man had baseball catcher shin guards on, full shoulder pads, Nascar-style full helmet and he was secured with ratchet straps in several different directions. He executed the stunt perfectly and walked away with his only injury being a bitten tongue. We had a rescue truck, ambulance and EMS helicopter on site for that one."
"Another big one was Stone Mountain Park gondola on Fled. They ran the cable car partway up the mountain at least 10 stories, then staged a fight scene where the stunt man gets pushed out of the gondola and falls 10 stories to a giant inflatable air landing pad. They positioned the air bag by having the stunt guy lean out of the car and drop a small sandbag off his forehead, and if they miss it's curtains. The stunt went well, no one was hurt."
The thrills of being an on-set medic don't all come from the tense action scenes, though. There are some moments of levity.
"This isn't medical but on the set of We are Marshall, we got a long rain/lightning delay. The producers decided to stage a crew talent contest for a $500 prize. One of the grips had been mastering his Matthew McConaughey impression but didn't want to go on stage. After several of us chipped in some guaranteed winning money out of pocket he agreed. He nailed the impression with McConaughey in the room watching. The crew went crazy and the guy won first place. I never laughed so hard."