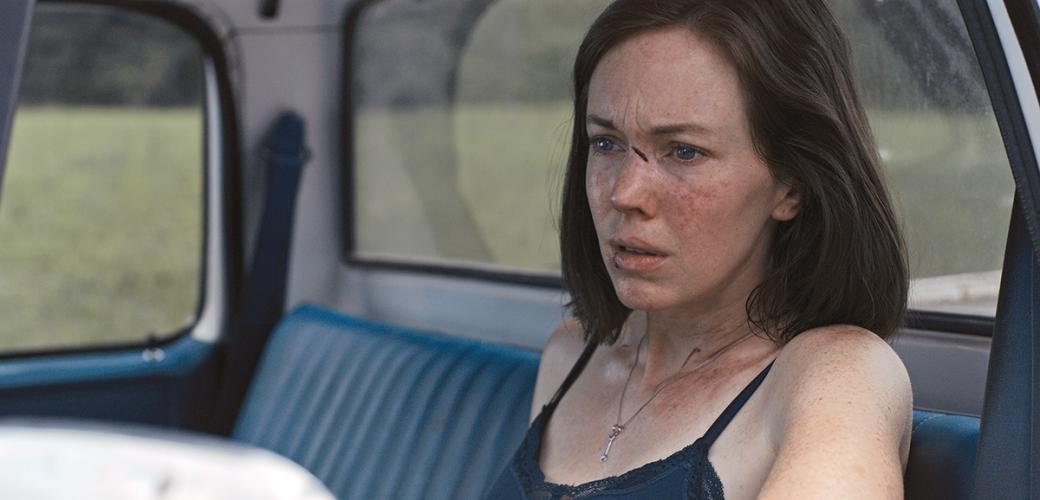 SCREEN TIME: Two tough mothers
By Oz Online | Published on March 3, 2020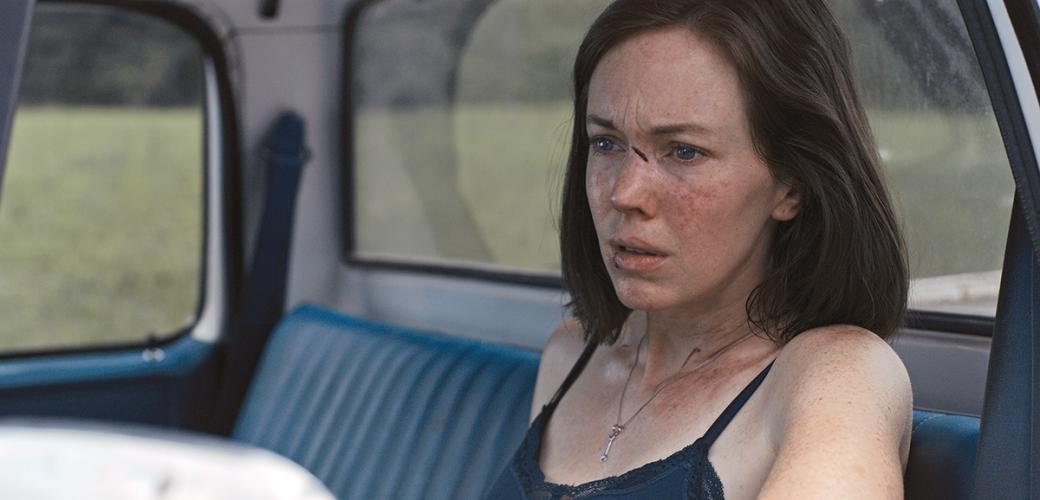 Low-budget, locally-filmed indie thrillers showcase female protagonists
Blood on Her Name and The Dark Red are a pair of low-budget, Georgia-filmed thrillers that you have to track down. Blood on Her Name was released on video on demand (with a stint at Studio Movie Grill in Marietta) on February 28, while The Dark Red screens at The Plaza Theatre on March 6 and makes its streaming debut the same date.
Blood and Red are both worth the hunt, proving that tightly-written screenplays and committed acting can still emerge from limited resources. Directed by local filmmakers Matthew Pope and Dan Bush, respectively, the taut tales each focus on compellingly flawed female protagonists.
In Blood on Her Name, Bethany Anne Lind plays Leigh Tiller, whom we first see in a garage alongside a recently murdered body. Like a Hitchcock suspense film, Blood captures the tension and dread of trying to conceal a crime without things spiraling out of control. And Leigh tends to be her own worst enemy, tempted to return the body to the victim's family, despite the personal risk.
The screenplay, by Pope and Don M. Thompson, gradually reveals that Leigh is grappling with family issues on both sides. Her father (terrific character actor Will Patton) is a police officer near retirement with a history of secrets, while her son (Jared Ivers) has had troubles with the law that threaten to ruin his life. The viewer soon realizes that Leigh's seemingly self-defeating motivations turn on the axis of those relationships. Lind's performance is a tour de force of raw feeling, to the point that Leigh's emotional transparency gives her no "poker face." Her intensely mixed emotions are always clear as day.
The Dark Red's structure is a little more complex, as we find young Sybil (April Billingsley) in a mental institution, trying to convince her psychiatrist (Kelsey Scott) that her unborn child was surgically removed and stolen by a cultlike organization. Sybil's flashbacks reveal her increasingly horrific story, while her doctor warns that the only conspiracy may be her own tendency to schizophrenia.
Bush was one of the three directors of The Signal, a 2007 sleeper hit that helped establish Atlanta's indie horror scene. (Another co-director, David Bruckner, recently screened his new film The Night House at this year's Sundance Film Festival.) Bush shifts gears between genres in The Dark Red switching from paranoid thriller to horror to revenge flick.
Bush credits his creative partners with strengthening the film's feminine point of view, saying in an email, "Our female 'keys' — director of photography, production designer, stunt choreographer, costume designer, and our female lead — all worked together to help me honor a female perspective while telling this story."
The film's themes of psychic powers feel a little undercooked, but Billingsley gives a wrenching, powerful performance, transforming herself from desperate victim to dedicated avenger, and longtime Atlanta actors Rhoda Griffis and Jill Jane Clements give strong moral support. Both Blood on Her Name and The Dark Red suggest, in very different ways, how bad an idea it can be to come between mother and child.
Blood on Her Name. B+. Stars Bethany Anne Lind and Will Patton. Directed by Matthew Pope. Available on demand.
The Dark Red. B. Stars April Billingsley. Directed by Dan Bush. Available on demand and screening at the Plaza Theatre on March 6.
No Strings Attached: An under-appreciated boon of our current streaming options is the increased outlets for short films — if you can find them. In January, Netflix released David Lynch's "What Did Jack Do?" a self-conscious exercise in hard-boiled clichés, with Lynch interrogating a talking monkey. But usually, shorts pop up on platforms without warning.
Such is the case with Amazon Prime's "Nature Calls," billed as "a New Puppet Order live-action cartoon." Directed by Darrell C. Hazelrig with Atlanta-based New Puppet Order, the short shows a young woman drop a cell phone during a hike, which disrupts the natural order as flora and fauna fight over it. A purposefully goofy homage to Looney Tunes animation, "Nature Calls" uses puppets for slapstick and puns: A tree stump gets the phone and starts dating on "Timber." Its broad silliness is probably best suited to kids and puppetry fans, but it's nice to know that "Nature Calls" is out there.
Coming Attractions: Landmark Midtown Art Cinema has an intriguingly diverse line-up for its Classics Series in March, showing Tuesday nights through March 31. On March 3, catch Wanda, the 1970 directorial debut of neglected female filmmaker Barbara Loden, March 10 features Putney Swope, a satire of U.S. race relations and advertising industry from cult director Robert Downey Sr. His A-list son, Robert Downey Jr., stars in Oliver Stone's Natural Born Killers, a surreal meditation on violence and media, screening on March 17.
On March 24, Monty Python's Life of Brian offers an irreverent but pointed spoof of Christianity that serves as a timely tribute to director Terry Jones, who died in January. And March 31 presents Do the Right Thing, Spike Lee's blazingly creative, perpetually relevant drama on race relations, which celebrated its 30th anniversary last year.
And speaking of the classics, Silver Scream Spook Show brings its campy hijinks back to The Plaza Theatre on March 14 for a screening of 1935's Bride of Frankenstein, the most highly regarded of the old-school Universal monster movies. —CL—
Screen Time is a monthly column about film and cinematic narratives, from the big screen to streaming services.
Read the original article, here.