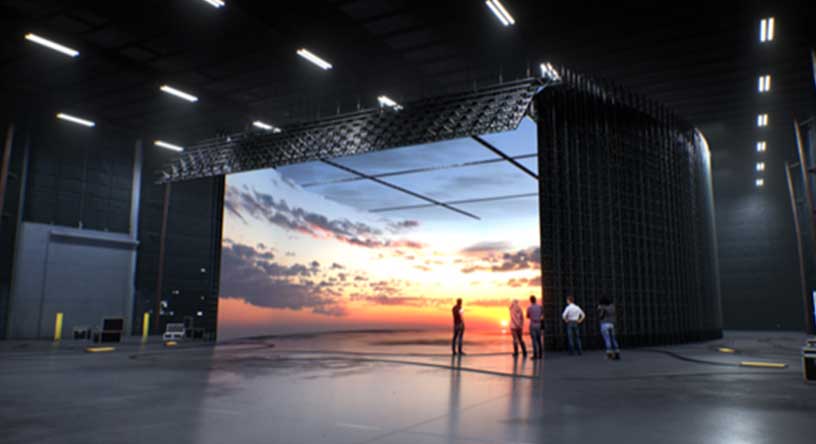 NEP Virtual Studios and Trilith Studios are teaming up to build a new, cutting-edge virtual production facility in Atlanta. The Prysm Stage will be one of the largest of its kind in the world and is led by top notch talent including entertainment industry veteran and Global President of NEP Virtual Studios, Cliff Plumer, virtual production pioneers Lux Machina Consulting (LuxMC), Trilith Studios President and CEO Frank Patterson, and Trilith Studios Director of Creative Technologies, Barry Williams.
The stage will be in the Creative Technologies District at Trilith Studios which is one of the largest purpose-built movie studios in North America. Popular productions like Loki and Black Adam are made there, and Trilith Studios continues to expand rapidly. The virtual production processes that this stage offers allow filmmakers to work faster, increase creativity and collaboration, and save big money on productions.
"Ensuring the success of a virtual production shoot relies on having a rock-solid stage setup and an experienced production team in place," said Mitch Bell, Vice President of Physical Production at Marvel Studios. "The Prysm Stage at Trilith is just another example of how we rely on Trilith Studios to bring best-of-class solutions to our productions."
With a virtual production volume of 80' x 90' x 26' in an 18,000 square foot purpose built sound stage, the Prysm Stage will be absolutely massive. There will be an LED ceiling and set pieces wrapped 360 degrees with LED panels designed to surround the filmmakers in the virtual world of the movie. In early 2022, the facility will also have a process stage for automobile shoots as well.