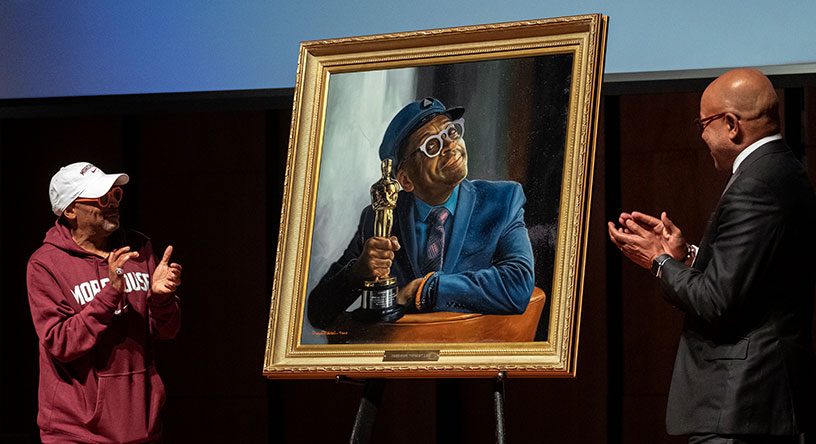 Morehouse College Honors Spike Lee
By Oz Online | Published on November 15, 2019
Morehouse College recently presented Academy Award-winner Spike Lee with the first ever Spike Lee Award for Social Impact in Filmmaking at the school's Ray Charles Performing Arts Center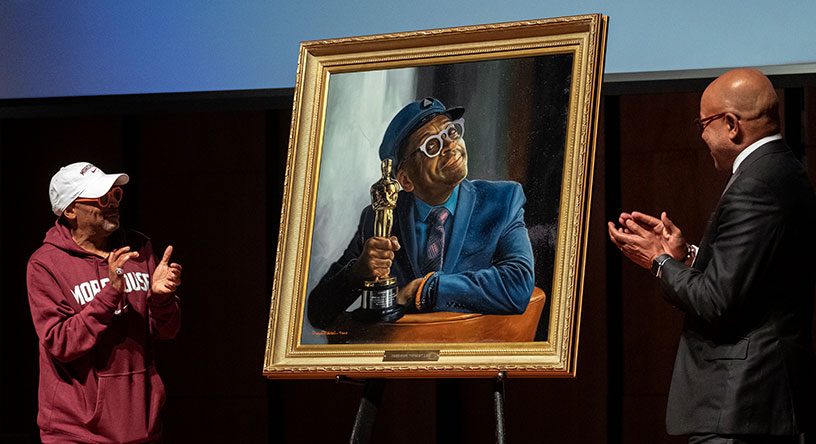 The presentation came at the conclusion of the first annual Morehouse College Human Rights Film Festival on campus and during the 30th anniversary celebration of Lee's film Do the Right Thing, a 1990 Academy Award-nominee for best screenplay.
Lee, an Atlanta native and third-generation Morehouse Man, thanked the faculty members who made him work harder at Morehouse, as well as his grandmother, Zimmie Reatha Shelton, a teacher and Spelman graduate who supported him in different ways. "My grandmother worked for 50 years and saved her Social Security checks for her grandchildren's college educations," Lee said. "I was able to see my grandmother every day, and that meant I got a good meal every day. And on Sunday, I was able to bring a group of guys."
Lee's grandmother gave him money to study filmmaking in graduate school at New York University and seed money for his first feature-length film. "I say my prayers every night because I'm doing what I love," Lee said.
In addition to the Spike Lee Award for Social Impact in Filmmaking, Lee received an Originator Award from Chris Escobar, the executive director of the Atlanta Film Society, Morehouse College's partner in the Human Rights Film Festival. Lawrence E. Carter, the dean of the Martin Luther King International Chapel, presented Lee with an oil painting of the filmmaker's likeness for the Morehouse College Hall of Honor. Lee's painting will be the first likeness of a filmmaker to be hung in the school chapel's oil portrait gallery.
The inaugural Human Rights Film Festival showcased 34 films from eight countries, including documentaries, feature films and marquee films. The festival featured works from independent f ilmmakers and veteran directors, including films from students and former students in the Morehouse Cinema, Television and Emerging Media Studies Program. In addition, there were workshops on screenwriting, editing, directing and producing, as well as discussions on immigration, race, politics, health care, law enforcement and the judicial system.
The purpose of the festival was to celebrate filmmakers who have dedicated themselves to the ideals of social justice. "Morehouse College has a rich legacy of producing leaders who speak truth to power across disciplines, including film and television," said Morehouse President David A. Thomas. "Sharing that spotlight with new voices exposes our scholars, the greater Morehouse community and the public to ideas that broaden their intellect and to art that speaks to their cultural experience." Morehouse College Honors Spike Lee Spike Lee (left) and Morehouse College, President David A. Thomas (right). Lee's oil portrait will be the first image of a filmmaker to be featured in Morehouse College's International Hall of Honor More coverage on first annual Morehouse College Human Rights Film Festival page 54