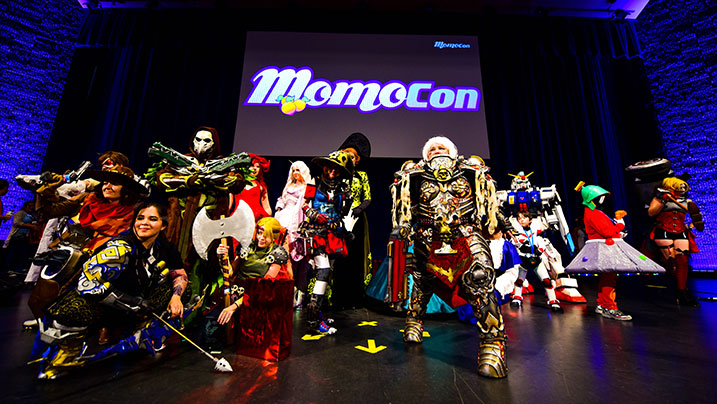 MomoCon Returns After A Two Year COVID Break!
By Oz Online | Published on May 6, 2022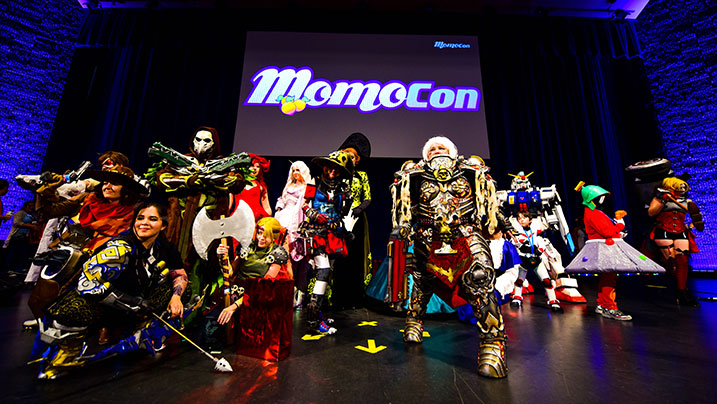 BrAfter missing the last two years due to the pandemic, MomoCon is excited to make its return as Atlanta's favorite geek culture convention! The all-ages event will take place this May 26-29 at the Georgia World Congress Center and feature four straight days of gaming, cosplay, and comics, as well as a few other unique events like a wrestling ring. With an estimated 120,000 turnstile attendees, MomoCon is ready for its biggest event ever and expects the numbers to continue growing!
"After two years, when our fans weren't able to gather in all their glory, we are excited to be back and show a new and more exciting MomoCon experience for our visitors," said Jessica Merriman, co-chair of MomoCon and Georgia Tech graduate.
The inspiration for MomoCon began at Georgia Tech's anime club, Anime O-Tekku. For years, the club was interested in holding a convention on campus, and that goal finally came to life in 2004 through the Techwood Convention. Although the event only welcomed approximately 175 people, it set the stage for members of the Anime O-Tekku club to hold the first ever MomoCon the following year.
Originally, MomoCon was held across several Georgia Tech buildings, but the convention would soon experience a strong period of growth and welcome over 10,000 attendees in 2011, making it one of the top anime conventions in the Southeast! Because of this development, leadership realized that the drastic increase in demand required a much larger venue. In response to this success, they moved the convention to the Georgia World Congress Center, added a third and fourth day to what was originally a two-day event, invited more celebrities spread across multiple fandoms, and introduced new events like raves and martial arts programming.
This year, the convention will stay open 24 hours a day and allow attendees to participate in eSports competitions; meet celebrity voice actors and designers; interact with the writers of well-known TV shows, games, and comics; and explore the world of independent video games. Additionally, MomoCon will host the Stranglehold Championship Wrestling matches featuring WWE wrestlers like Sgt. Slaughter and Kane throughout the weekend. All of these fantastic events will take place at the 750,000 square-foot "Hall B" of the GWCC.
One of the event's main attractions, cosplay, is a creative expression form where dedicated fans dress up as their favorite anime, video game, or comic book characters. These talented individuals will put their cosplaying skills on full display at MomoCon through two contests judged by professionals in the costume and prop design fields.
The first of these contests is the Cosplay Showcase on Friday, May 27, which will select the competitor who best brought their character to life and made 60% or less of their costume by hand. The second contest, The Craftsmanship Costume Contest, takes place the following night and requires that qualifying contestants have made 60% or more of their costumes by hand. In this case, judges will primarily score the competition based on the craftsmanship of the costume or prop. The fun does not stop here though, as there will also be KPOP/JPOP Dance Battles, a Disney Sing-Along Contest, and an Anime Music Video Contest.
Along with these fantastic contests, MomoCon will offer 300,000 square feet of classic arcades, eSports stages, PC/LAN gaming, console tournaments, and freeplay. A significant note for those interested: the console tournaments will feature 23 games and a Smash Ultimate $10,000 prize pool to go along with a 100 seat PC freeplay area, a 240 seat BYOC LAN area, and a Retro World Series where competitors can show off their skills in playing games from the early 2000s. About 90,000 square feet of that space will also present board games, card games, RPGs, and LARP!
MomoCon's Chris Stuckey said, "You'll find games such as Settlers of Catan, Cosmic Encounters, 7 Wonders, Splendor, Ticket to Ride, and Love Letter. We'll even have game teachers on hand to help participants learn how to play the hottest new (and old) board games."
On a more business-related note, MomoCon's career expo takes place Thursday, May 26, 2022, from 9 A.M. to 12 P.M. and 2 P.M. to 5 P.M. at the Omni Hotel International Ballroom. Attendees of this free event can expect the opportunity to connect with gaming, animation, comic book, film, and staffing companies and learn more about occupations in the entertainment industry.
Throughout the event, celebrity guests will put on panels and sign autographs. Among them include experienced professionals in the industry like Bill Farmer, voice of Disney's Goofy and Pluto; Colleen Clinkenbeard, voice actor for English versions of Japanese anime such as "One Piece," "Fullmetal Alchemist," and "Dragon Ball Z"; Barr Fox, an award-winning cosplayer and film producer; Khary Payton, actor on AMC's "The Walking Dead" and the voice of Cyborg for DC Comics; Phil LaMarr, actor in "Pulp Fiction" and voice actor for "Futurama" and "Family Guy"; and Jen Taylor, known for her work as Cortana and Dr. Halsey in the Halo video game franchise.
Those attending can purchase four-day passes for $70 to $85 or single day passes for $35 to $50. Kids under the age of nine may attend for free. Game tournament registration and specific concert tickets are also available online.
Please visit www.MomoCon.com for more information!