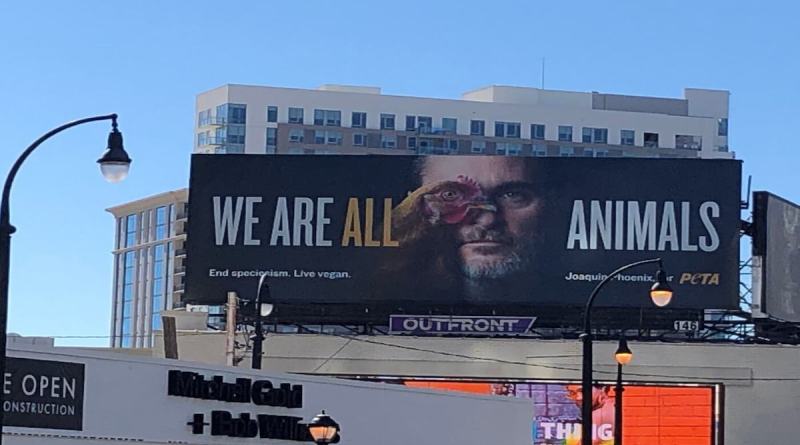 Joaquin Phoenix Is Everywhere! Now In Atlanta On A Huge Billboard Asking People To Go Vegan
By Oz Online | Published on February 16, 2020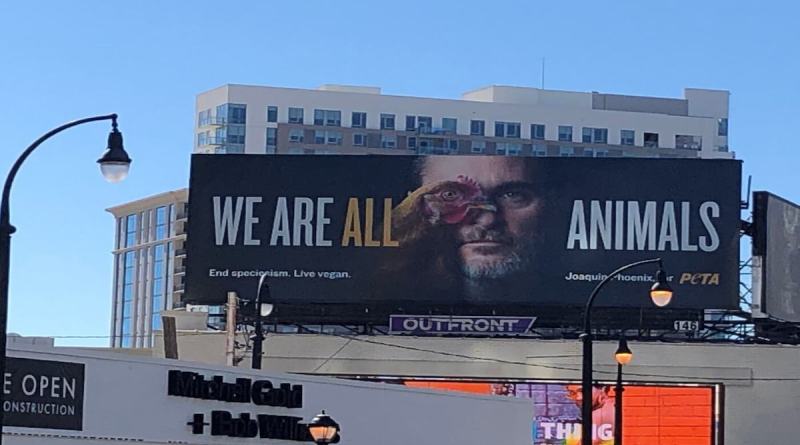 PETA's 2019 Person of the Year Joaquin Phoenix is everywhere lately! From awards ceremonies like the Golden Globes that he helped veganize this year's menu to being arrested at a protest in our nation's capital held by Jane Fonda. Phoenix is everywhere you turn both in 2019 thanks to his movie Joker and this year thanks to his continued animal rights activism.
It should come as no surprise then that he's in Atlanta Georgia's Buckhead district on a large new PETA ad that declares "We Are All Animals".
The new billboard ad urges the public to help "end speciesism," a belief no different than racism or sexism that says animals are
inferior to humans despite their obvious similarities where it counts the most.
"When we look at the world through another animal's eyes, we have to realize that inside we're all the same—and so we all deserve to live free from suffering," says Phoenix.
Even the United Nations has spoken out about animal agriculture stating that "It's responsible for nearly a fifth of human-induced greenhouse gas emissions—and warns that a global shift to vegan eating is necessary to combat the worst effects of climate change."
Although the actual percentage of greenhouse gas emissions is 51% if not more according to a study that takes many other factors often left out taken into account.
Phoenix's decades-long partnership with PETA includes campaigns against the wool (2016), dog-leather (2015), exotic-skins (2013), fishing (2013), and meat (1998) industries, among others. He's part of a long list of celebrities—including Michael
Keaton, Woody Harrelson, Natalie Portman, Edie Falco, Richard Linklater, and Alicia Silverstone—who've teamed up with PETA to promote kindness to animals.
Because of human prejudice, billions of animals are tormented and killed in the food industry every year. Every person who goes vegan saves the lives of nearly 200 animals annually.
PETA—whose motto reads, "Animals are not ours to experiment on, eat, wear, use for entertainment, or abuse in any other way"—encourages everyone to combat speciesism by choosing delicious vegan food and otherwise rejecting the exploitation of all animals.
The billboard is located on Peachtree Road, east of E. Paces Ferry Road, facing north.
Read the original article, here.