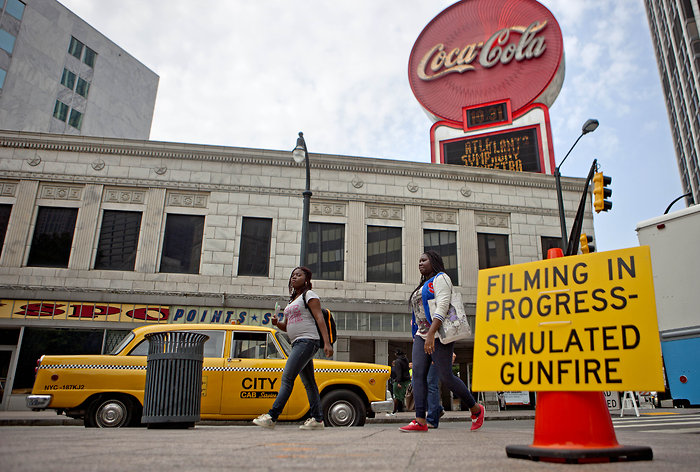 If Film Permits
By Oz Online | Published on September 17, 2019
Road Closure with Cardellia Hunter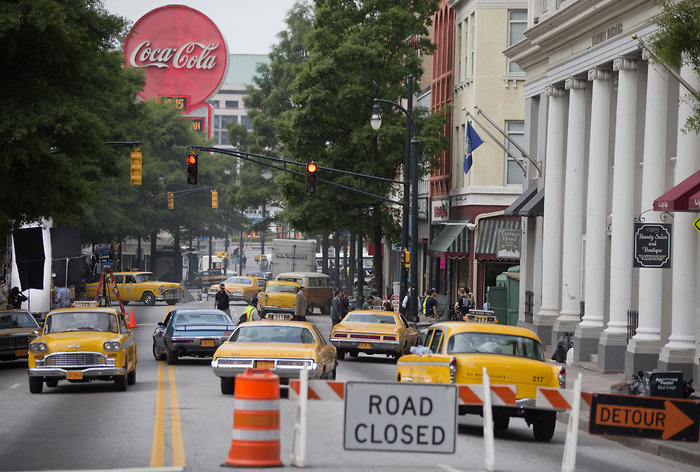 In the more than 30 movie posters that line the walls inside the Mayor's Office of Film and Entertainment, Cardellia Hunter, director, operations and productions, who has worked at the office since 2013 sees beyond the slick photography and big-name actors. The glossy, framed prints mean so much more. Each has its own story. Hanging in the conference room, adorning the hallways, these are veritable trophies that highlight not only the success of the film office but the continued rise of Atlanta and Georgia as a southeastern U.S. film, television and commercial mecca.
"It has been mind-blowing," says Hunter, "What's very exciting for us is the fact that despite all the new studios and buildings that have been created over the past few years Pinewood Atlanta Studios, Atlanta Metro, Blackhall, Eagle Rock and more these productions still find a way to film in the city itself."
She says on any given day there are 14-20 production crews working in Atlanta on the streets, in communities, inside city buildings and before the film office came to be, the permitting process to get productions up and running could be a bit overwhelming.
Prior to the office of film and entertainment's creation in 2013, permitting involved a 28-page document for production teams to complete as well as an often-lengthy period of back and forth visits to multiple city departments overseeing various aspects of the process. Nowadays, production crews can secure permits via an online, cloud-based film app that Hunter says, "has been amazing… for productions, for the office and for stakeholders."
James Lin, a location manager for films like Avengers: Infinity War, Avengers: Endgame and Captain America: Civil War, says the city of Atlanta has had "a willingness to learn and improve in their permitting process…if you want to solicit larger film productions, you have to be willing to do what other successful, big cities are doing and often that willingness involves sitting with production companies to understand their needs."
THE GIVE AND TAKE
There can be a great deal of give and take when it comes to those needs, Hunter says. "I work with so many different people at a time so many different personalities with different characteristics. So, for us, we try to make sure that every production gets equal treatment," Hunter says. "It can get a little taxing because productions push to the end. They have their budgets, and they want what they want."
Location Manager Kyle Hinshaw, who has worked with the office of film and entertainment extensively on a wide range of productions, including Baby Driver, Bad Boys for Life, and First Man, says "there's always give and take."
While working with the city to secure locations for a helicopter scene in Atlantic Station for Bad Boys for Life, Hinshaw says there were ongoing construction projects in the community that wouldn't allow them to film the scene for as many nights as they needed. "Cardellia got on the phone with someone and helped get us to the table so we could sit in a room and discuss (with Atlantic Station community members) what we needed. We wanted four nights using the helicopter, but what we got was three half-nights instead." Adds Hinshaw: "I was worried we wouldn't even get that far, so that was a success."
Hunter and the office of film and entertainment often play this role of liaison and advocate when location managers have a need. "They've proven to be good partners when it comes to facilitating more complicated requests – cutting down the approval process time and then helping us work through problems as they arise," Hinshaw says.
While the primary role of the office is permitting, the office's role as liaison between different agencies continues to be a major function. Hunter too referenced Bad Boys for Life and Baby Driver as prime examples of when a large production can involve multiple governmental agencies or community groups to clear all the necessary hurdles. "Permitting is first and foremost, but when productions come here, we do the production meetings with them. We go on scouts with them to see what it is they'd like to do in terms of closing down the rights of way," Hunter says. "These meetings can be huge, with Atlanta Police Department, Atlanta Fire (Rescue Department)…and GDOT (Georgia Department of Transportation)."
SHUTTING DOWN THE STREETS
Another role the office plays involves minimizing potential inconveniences to residents and local businesses affected by the many film productions always going on around the city. Just last year, the office of film and entertainment issued 1,080 permits and in 2019 has already surpassed that number–with 1,235 permits issued at around 200-250 locations. That means film crews on several streets, potentially affecting commutes, business hours and neighborhood rules. Before production begins, the office of film and entertainment alerts people, living, working or driving near the affected areas. "We set up film liaisons to help them maneuver within these communities, and we usually have a production (representative) go speak (to the community) before even going forward with the application," Hunter says. "Once they submit their application, we do an overall notifying of the community."
Full street closures, she says, require at least five full business days to execute. Agencies like APD, Atlanta Fire and all involved stakeholders need plenty of notice before the production moves forward. In addition, the office of film and entertainment usually seeks "a blessing" from the city council. "There's a lot of layers," Hunter says. "A lot of people just see the finished product on TV or at the movies and don't realize everything that happened to get the locations secured and get the film made."
WATCHING THE INDUSTRY GROW
If anybody should know, it's Hunter. She was hired in 2013, when then-Mayor Kasim Reed opened the office primarily and initially to oversee the permitting process, but also marketing of the office, assisting with economic development and "courting production houses to come set up shop here."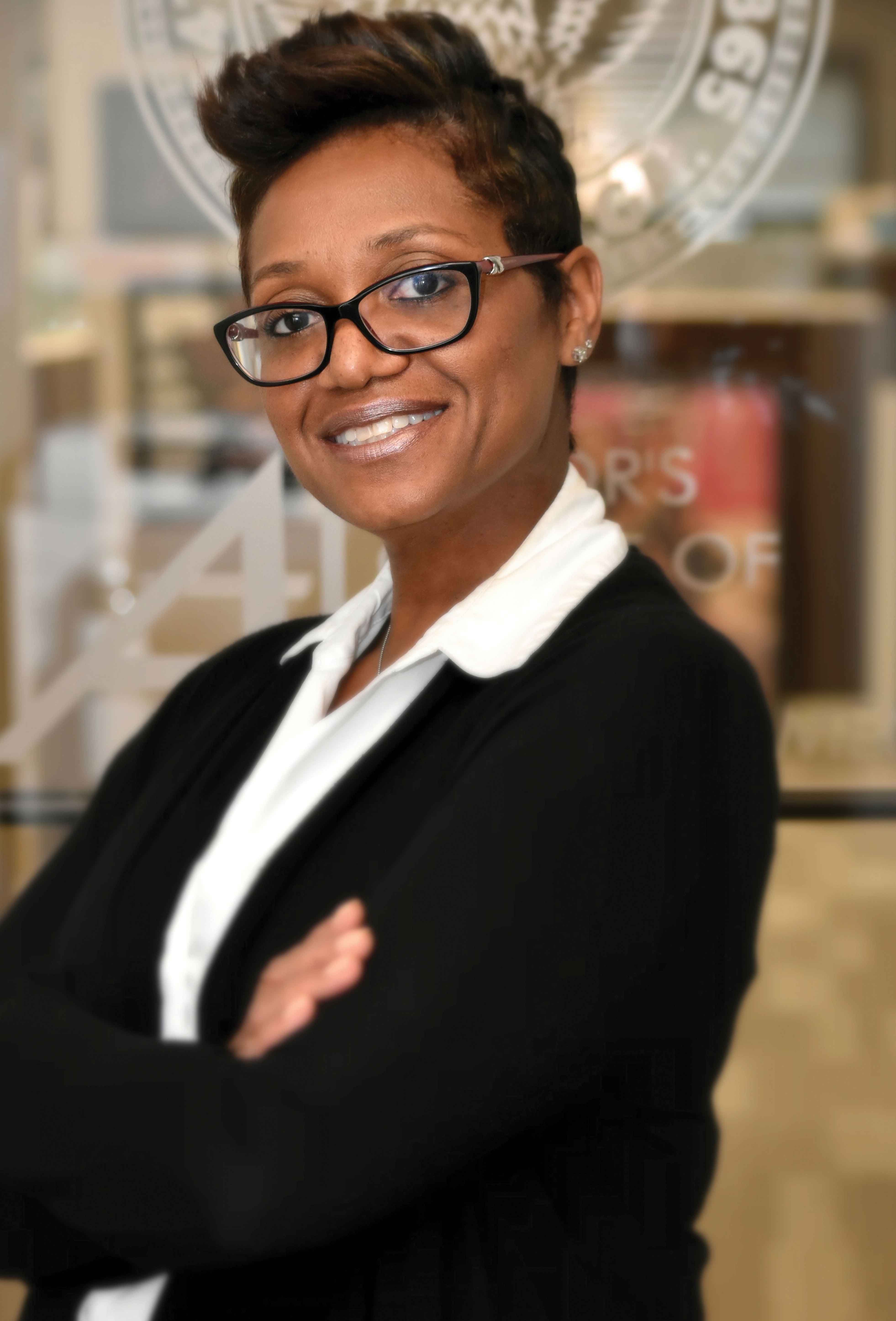 The staff has since grown from four to seven employees, and the number of major studios in and around Atlanta has risen from just a couple to seven as well, by Hunter's count. Much of that growth, of course, is attributable to the film, television and digital entertainment tax credits available to filmmakers and studios, which creates significant cost savings for companies who film in Georgia.
"Since the tax incentive came in, the scale of productions has taken off, and even during the short time of when the office first opened up to right now, it's unbelievable the number of productions that we see here or the phone calls we get with people wanting to come here," Hunter says. She adds that having the world's busiest airport and "for the most part, great weather" also have played roles in the explosion of the local industry. She also says that, in addition, since the tax incentive began, many location managers have moved from Los Angeles or New York to live here. Hunter herself is from Los Angeles and "was born and raised around movies and on watching movies being shot nearby."
PAY ATTENTION, HOLLYWOOD
Much of the challenge of having a relatively recently-booming industry in the Atlanta area is getting filmmakers from the Los Angeles or New York areas to acknowledge the talent pool here in Georgia, she says. To address this, the office of film and entertainment has initiatives aimed at boosting the means and skills of local professionals in the industry.
OWING TO THE OFFICE OF FILM AND ENTERTAINMENT
Hinshaw himself a Georgia-grown film industry professional feels the area has really come into its own as a hotspot for making movies since the days of his childhood growing up here. "It seems like you drive through the city, and you see people filming on the streets everywhere," Hinshaw says. "You see the same thing in New York or L.A. it's definitely gotten its fair share of business over the past 10 years."
He feels much of the success and efficacy of filming in Atlanta and in Georgia is owed to the various types of architectural styles and topography in Atlanta and in the rest of the state. "You can get different styles of homes in neighborhoods here that you might not be able to get in places where houses are built very similarly," Hinshaw says. "You can get mountains here, and in middle Georgia, you can get landscapes that can double as the Midwest because it's flat … and, in the Savannah areas, you can get the coast, and you can rarely get all those kinds of things in just one state."
Hinshaw says that when he was scouting locations for First Man, he and the film crew were even able to double an Atlanta area rock quarry as the moon: "With a little creativity, you can double just about anything you need here."
He says much of the ease of scouting and securing locations is owed to the office of film and entertainment. "(The office) has definitely made the job a little easier in terms of actually getting the permits," he says. "They've streamlined and digitized the permit process." He's been in the industry long enough to recall a time before the office's existence when securing permits involved multiple city departments and less efficiency. "With Baby Driver and Bad Boys 3 particularly, I don't think I could have done it without having an office in place, because there's just so many people involved and so many different approvals from other entities," he says. "You need someone on the other side, helping to expedite permission and getting everybody to the table promptly."