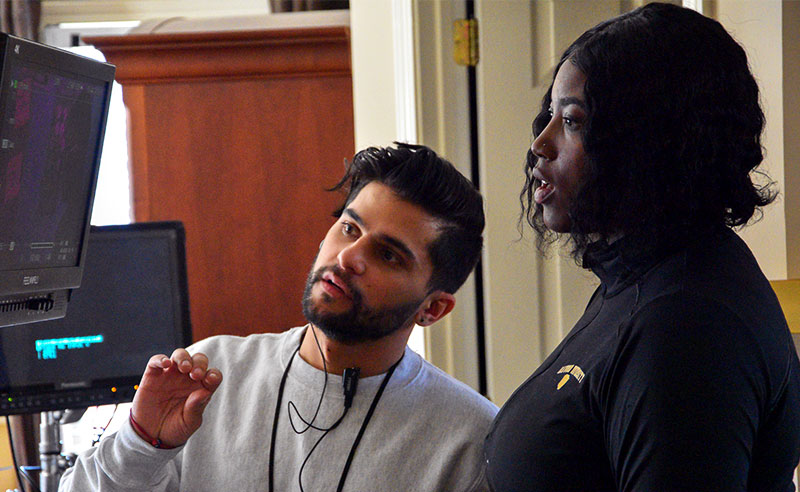 Filmmaker On The Rise: Mahalia Latortue
By Oz Online | Published on September 9, 2020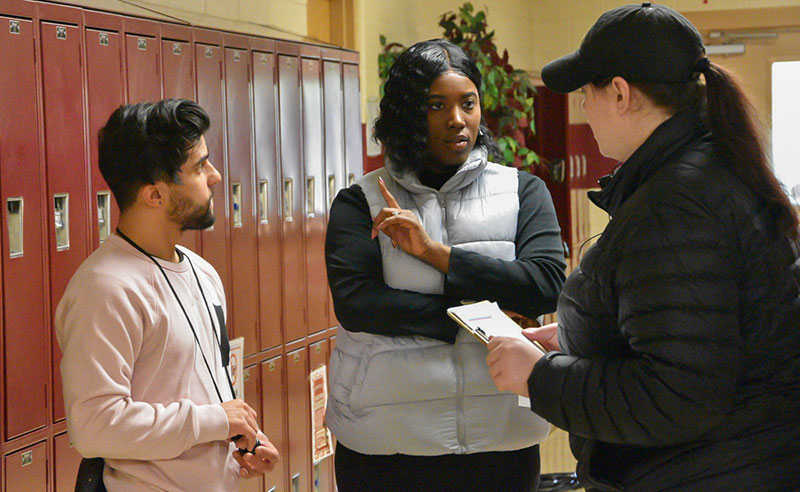 A Q&A With Mahalia Latortue
Traditionally, Oz Magazine spotlights different industry events through a collection of photographs in a section called "OzScene." While the threat of the coronavirus continuously rises, many of these group gatherings where there were once photo opportunities have been postponed or canceled in response to social distancing regulations. As a result, Oz is introducing a new OzScene which highlights individual, Georgia-based newcomers who are using the craft of filmmaking in innovative ways.
Mahalia Latortue is an up-and-coming filmmaker who is making waves in the industry. When enrolling in Oakwood University for her undergraduate degree, Latortue's family assumed that she'd embark on one of the following career journeys: that of a doctor, a lawyer or an engineer. However, it was her Production 101 class that changed her entire trajectory. After graduating with a Bachelor's degree in broadcast journalism, Latortue enrolled in the Savannah College of Art and Design (SCAD) as a film and television major. Throughout her time at SCAD, she traveled to Hong Kong, started a podcast, interned with Viola Davis's JuVee Productions, received the Women in Film and Television Atlanta (WIFTA) scholarship and met her writing partner, Erik Francisco, who joined her in co-founding their production company, Anacaona Pictures.
Oz connected with Latortue to discuss her background, her experiences as a new filmmaker, and her upcoming short film, Chocolate Thunder.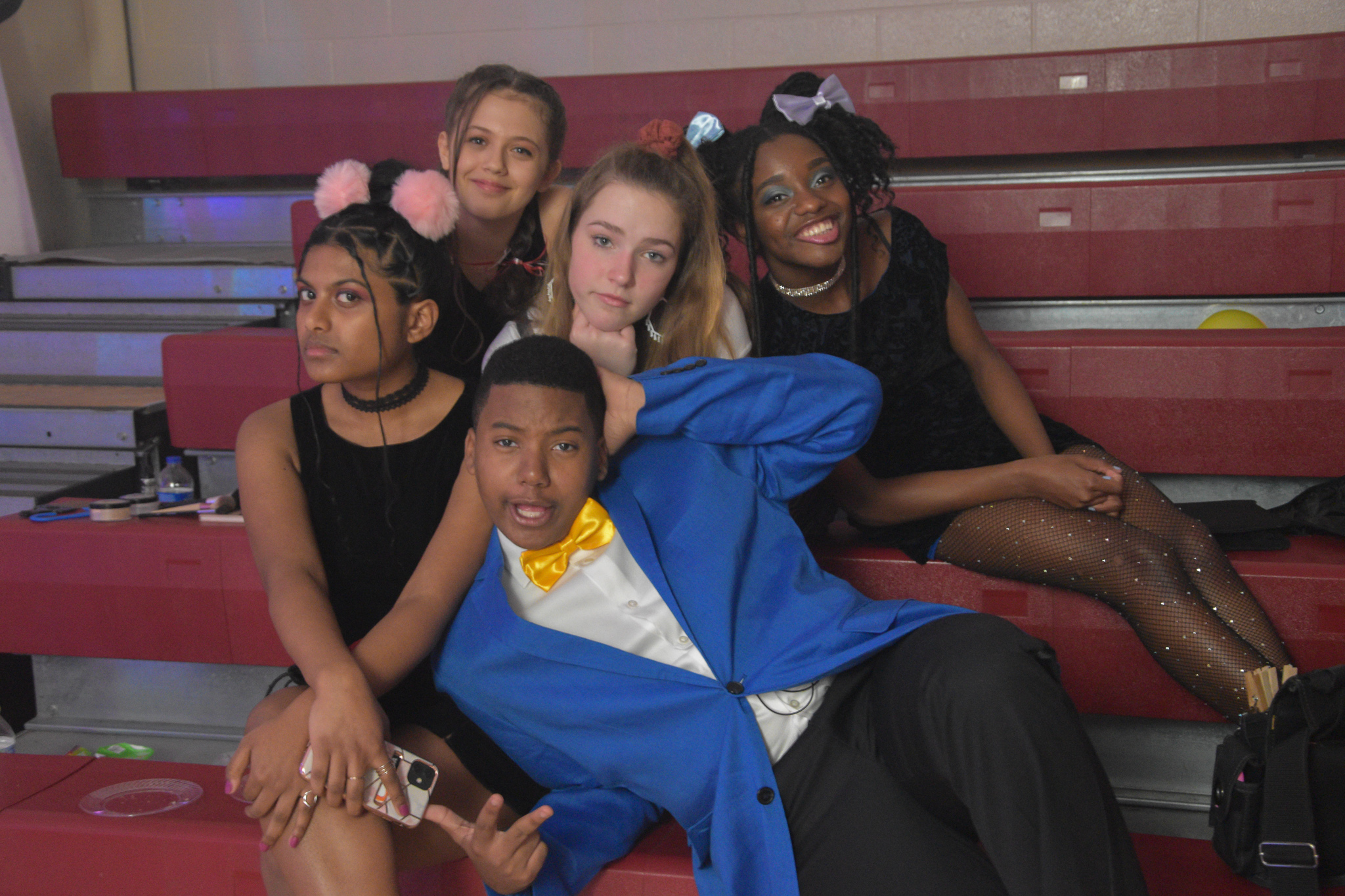 Where did your passion for film derive from?
ML: I'm Haitian-American and part of our Haitian culture is telling these elaborate stories that are ridiculous, filled with sound effects, and completely exaggerated. So, I just naturally came from a family of storytellers. But, I really did not fall in love with film until my undergraduate experience. I was an international studies and English major — pre-law. Then, I took my first film class and I realized that I really loved storytelling in that capacity.
After completing your undergraduate degree, you enrolled in SCAD where you produced the first scripted departmental collaborative project, "What's After." How did this experience shape you as a filmmaker?
That experience was probably the closest thing I've had to a real-life experience of running a TV show, which is what I want to do. I want to be a showrunner. That project itself took at least 100 students from all over, like different cross-departmental majors. That experience helped me realize what it is like to oversee a large project, have investors … get used to creative problem solving and come up with things on the fly.
You were also selected as an intern for Viola Davis's JuVee Productions. How did this experience impact you?
JuVee Productions opened my eyes to what the industry could and should be. They are a small office with nine or 10 people, but they are all people of color … The stories that they like to tell are stories with a twist and stories that have a different perspective. Being in that environment opened my eyes to what the industry could be and what diversity truly looks like. Everyone in that office was really supportive. It was very strange because I had this preconceived notion of what Hollywood is. I was like, "Everyone is going to want a certain way. It's going to be very high-stress. I have to act a certain way and talk a certain way." When I got there, all of that went out the door because they're really like a small family, so they encouraged me to talk, to sit in the meetings, and to ask questions. They gave advice. I have so many mentors and friendships from that office and I am truly grateful for the experience because I could not have imagined a better place to intern.
What were your goals going into the internship and what did you ultimately achieve?
My main goal going into the internship was to learn as much as I could about development and make lifelong connections. I ultimately achieved all of my goals, but I also learned that I have a responsibility to my audience to create diverse stories with a twist on the narrative. I also learned that I would prefer to work with a production company rather than work for one.
How did you get the opportunity to travel to Hong Kong? How did your experience in Hong Kong affect you as a filmmaker?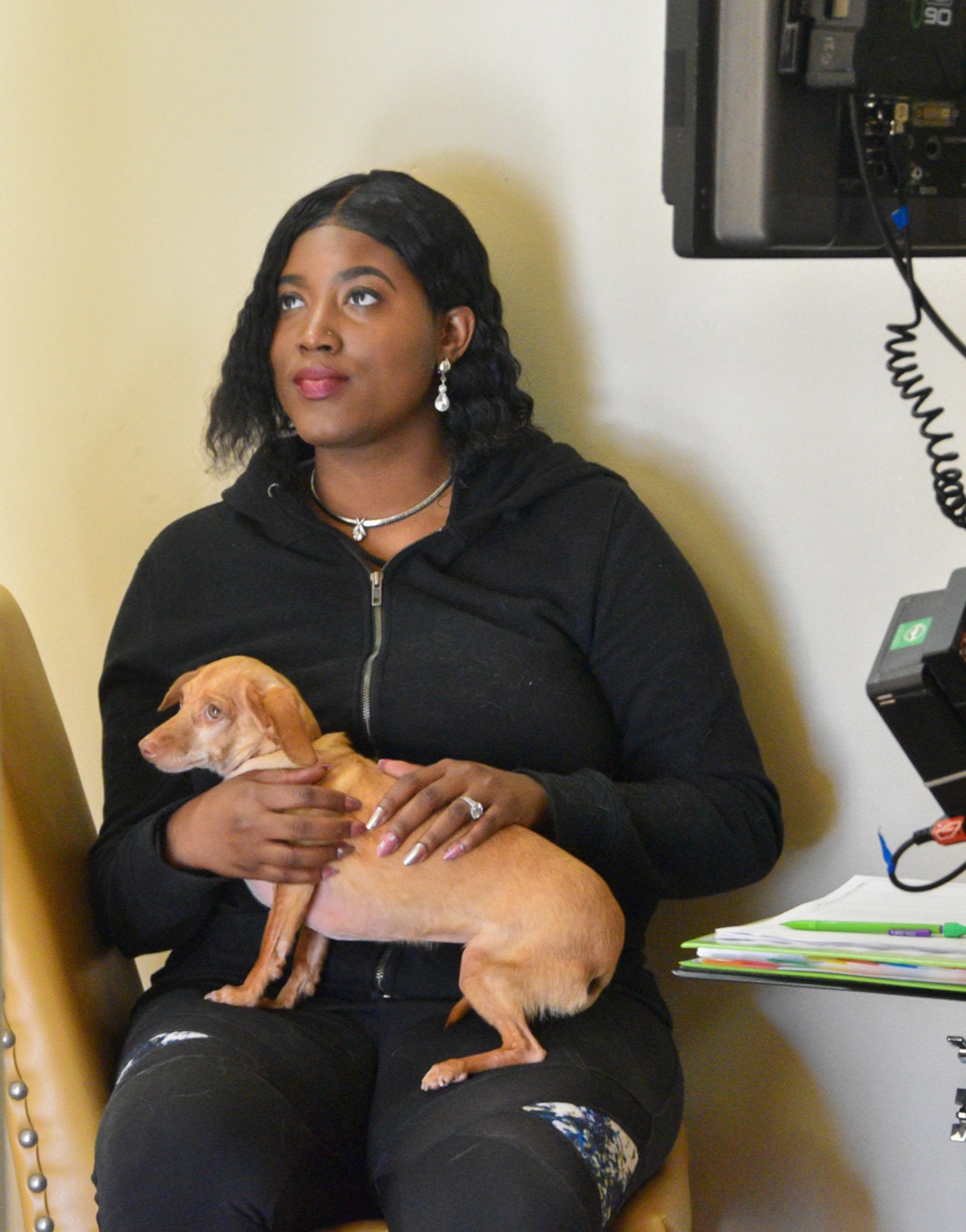 The Hong Kong Film initiative program was through SCAD. We used to have a Hong Kong campus, but it, unfortunately, closed this year. When we had that campus, students from Savannah and Atlanta were given the opportunity to go to Hong Kong for three weeks during the winter break and film a short film and a proof of concept for a pilot.
When I talk about immersing yourself in a culture, I think of Hong Kong. From the fashion to the architecture — there is a story everywhere. It just really opened my eyes to the different folklore different cultures have … and how they view storytelling and how certain storylines might be viewed in their culture. It really gave me a global perspective on storytelling. As a producer, it was nice to work with the Hong Kong film office and see how permits work in a different country.
Having that global perspective on my art, I think, really helps bring it to a different level. Now, when I am making scripts, I am not just thinking how it is going to play nationally or within this subculture. [I am thinking,] "How is it going to look if I play this film in Asia?" or "How is it going to look when I play this film in a different continent?"
While getting your Master's at SCAD, what was your most challenging experience, and what was your most fulfilling experience?
The pilot "What's After" was one of my most challenging experiences because I had been so used to being the sole producer, handling everything myself. I see it; I fix it; I moved on. But when we were doing the pilot, it was like, "Oh no, I can't go fix it, this is somebody's job." 
Having to effectively communicate with the team to make sure that we were all on the same page, that everyone had a job to do and I wasn't taking on too much of the load myself was definitely challenging because I did not know how to navigate that. 
  My most fulfilling [experience] had to be Sundance … only because it was in that moment that I was like, "I am so close that I can taste it.
" That was a really fulfilling experience because I felt like one day — fingers crossed — I will be at Sundance and I will think back on the experience like, "I was just an intern a few years ago and now here I am."
You were selected as one of the three recipients of the WIFTA scholarship. What effect did winning this scholarship have on your journey through the film industry? Can you tell Oz readers about the scholarship and what you plan to do with the money awarded to you?
I saw a post [for the scholarship] on Instagram and said, "Okay, I am just going to shoot my shot." Then, I ended up getting an email saying that I got it and I am like, "Oh my God, that is so exciting. I am so ready." 
Then, they wanted me to go to the gala for it, but I was booked to be on set, so I was like, "I'll skip the gala. I would rather be on set anyway." Then, I decided to go to the gala and I am so glad I went, because I met people that I really look up to … One of them was like, "Don't worry. You are going to make it." Having someone of that caliber say that you are going to make it has been such a reassuring thing. 
Initially, the scholarship was $1,500 and then [the organization] increased it to $5,000 because they were impressed with what I did, which blew my mind completely. When I got the money, I started investing in different equipment for my film company with my writing partner. We invested in podcast equipment. I still have some of that money and it is being set aside for any business ventures that we have like filing for our LLC.
One of the upcoming projects for your production company is Chocolate Thunder. Can you give Oz readers a description of the film?
It is set in the 1990s. It follows the story of Junior Grand-Pierre who is this nerdy Haitian-American kid who has a terrible time talking to girls, but online he is something completely different. He has an online persona where he gives free love advice to people online. When it comes to the upcoming school dance, he basically has to get over his fear of talking to girls and ask out a girl in real life. It is like your typical teen romantic comedy.
Where did the idea for Chocolate Thunder come from? 
First of all, I love teen romantic comedies and my biggest thing with them is that they are all white people. All of them. I have yet to see — outside of Love & Basketball and that one scene from The Wood — teenage African-Americans be portrayed in an innocent way.
Then I got to thinking, "What if Steve Urkel possessed all the charm of Will Smith from the "Fresh Prince of Bel-Air," but only online? What would that story look like and how crazy would that story get?" 
With all those different ideas, I just melded everything together and that's how Chocolate Thunder came about.
Who are some of the creative influences that you look up to?
Issa Rae, number one, because she is the embodiment of what I set out to do. There was a time where I was contemplating if I should work for [JuVee Productions] when I get out of school or should I find and work for a different company. Then, I realized that I wanted to give myself the chance to prove myself and work with a company and not for a company. That is what Rae was able to do … She has complete creative control over the things that she does.
Another person whom I love dearly is Steven Speilberg … in almost all of his films, there is this motif of hope at the end. I think that is something that is really important for you to leave your audience with so that they leave the theatre feeling light-hearted. Also, the fact that he is able to translate that hope throughout whatever genre.
Also, Ava DuVernay because she was in her thirties when she first picked up the camera. I went to school with people who knew they wanted to be a filmmaker since they were out of the womb. That is not what happened to me. I am Haitian, so our choices were doctor, lawyer, or engineer. Anything else was just blasphemy, so I came into my career later in life, which is exactly what happened with her and now she is sitting at the board for the Academy. 
How did the idea for your production company, Anacaona Pictures, come to fruition? Where did the name originate from?
My writing partner and I met during class once and we partnered up and realized that we worked really well together and the way that we write is seamless … We were both always saying that we want to highlight women and people of color, so we were like, "We should just make a business. Let's just do a production company where we tell the stories that we want to tell." 
The name came about because Anacaona is the Queen of the Taínos, which is the indigenous tribe of the Caribbean. She is credited with saving her people because when the Spanish came to the island of Hispaniola, which is Haiti today, they were getting ready to wipe out all of the indigenous people. She created a working relationship with the Spaniards to try and appease them and keep the longevity of her people. 
She is like the unsung hero of the Caribbean. She was born in Haiti, but if you talk to Puerto Ricans, 80 percent of them have Taíno blood in them and identify as Taíno. When [Erik and I] realized that she was a huge historical figure in both of our cultures, we decided that we had to go with her name.
Have you faced any challenges with building Anacaona Pictures?
The biggest challenge is getting through the door. We are still fairly new and we have the tag of fresh graduate students attached to us, so people are like, "Oh, they are still inexperienced." 
Trying to establish a community with people, like the Areu Brothers and Tyler Perry Studios, and local filmmakers to try to get the projects off the ground [and] finding funding is always a challenge no matter who you are. We are still facing those challenges and the coronavirus has literally put a pause on everything that we worked for to get into these meetings and to go into these networking events … We are just having to find ourselves navigating through these uncertain waters and trying to spend this time developing scripts and developing products.
Anacaona Pictures focuses on highlighting the stories of people of color and placing them in important positions. Why do you think that that is important in today's film industry?
Representation matters. 
Being able to see people who look like you in different positions of power is really eye-opening. It really helps to stir a conversation and helps people understand that they can be more than whatever is in front of them. 
When we say people of color, we mean all shades … There are people who have barely been represented on screen, so when we create an ensemble cast we are trying to have … different cultures from all over the globe represented in all of these stories. At the end of the day, that is what America is supposed to be: this great melting pot.