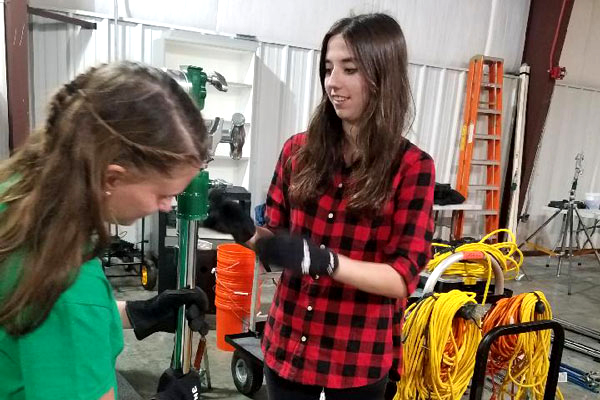 Film students benefit from new partnership with academy
By Oz Online | Published on October 24, 2019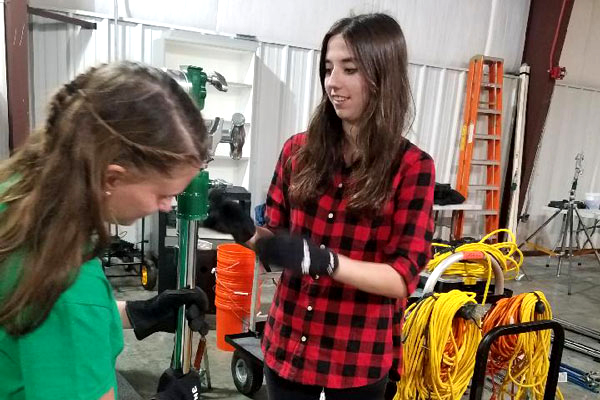 UNG senior Rosie Reeves is enrolled in the introduction to on-set production class at Georgia Film Academy thanks to a new partnership with UNG. She also looks forward to taking the grip and rigging, which is a specialized course at GFA and will count as course electives for her bachelor's degree.
When University of North Georgia (UNG) senior Rosie Reeves heard she could register through the university to take classes at Georgia Film Academy (GFA), she enrolled immediately.
"I knew people who had done it before to get more production education," said the 22-year-old from Atlanta, Georgia. "They said a lot of good things about it."
Reeves, who is pursuing a degree in film and digital media with a concentration in production, is one of 15 UNG students taking classes at GFA this fall.
Thanks to a new partnership between GFA and UNG's Department of Communication, Media and Journalism (CMJ), UNG students can register and pay for GFA classes when they register for UNG classes, said Dr. Jeff Marker, professor and department head of CMJ. GFA classes also count as course electives for the bachelor's degree, he said.
"If students know they want to begin their career by working on set, the GFA certificate is a great complement to their film and digital media degree, and if they plan their schedules properly, they can finish their bachelor's program and the certification program at the same time. That puts them in a very strong position to launch their careers," Marker said.
The partnership between the two institutions developed earlier this year when GFA opened its northeast hub in Norcross, Georgia. The Gwinnett County location is about a 35-minute drive from UNG's Gainesville Campus, where a majority of the school's film students are located, Marker said.
"Our students can easily commute there and take courses not currently offered at UNG," he said. "They also have the option of driving a bit farther and taking classes at GFA's other locations."
Some of the specialized GFA classes include lighting and electric, grip and rigging, or introduction to special makeup effects. Dr. Aaron Levy, director of academics at GFA, said students have access to industry-level equipment and learn from film professionals.
"Students receive hands-on experience to develop muscle memory by working with the equipment and become fully trained in a chosen craft," Levy said.
Reeves is taking the introduction to on-set production class, but said she anticipates the grip and rigging class in spring 2020.
"I am looking forward to building all of the things that they use in film-making," she said. "It is crazy what we can hook to a camera."
After those two classes, Reeves hopes to become eligible for GFA's internship program. Students are paired with industry professionals in a specific craft and work on a set for 8 1/2 hours a day for 20 days. Levy said this unique arrangement is possible through GFA's contract with the film industry labor force's union in Georgia. The union is International Alliance of Theatrical and Stage Employees Local 479.
"It's the secret sauce of the Georgia Film Academy," Levy said. "If you do well — and we know most of our students who embrace training do well — they will get picked up for another gig and their film career will begin."
Reeves agreed.
"GFA's internship is a direct pipeline into the film industry that I wouldn't have if I graduated without an internship or the connections I make through the internship program," she said.
Dan Kelly, instructor at GFA who teaches the on-set production course, said the connections students make in class also have far-reaching benefits.
"Business is all about networking," he said. "Having the UNG students mix with students from other institutions expands that network and will lead to job opportunities."
Currently, 16 University System of Georgia schools and five Technical College System of Georgia schools are GFA partners. More are in the process of adopting the curriculum, Levy said.
He said the partnerships help to provide a workforce for the growing film industry in Georgia.
According to the Motion Picture Association of America, film and television production in Georgia supports more than 92,000 jobs. Currently, 41 television shows and feature films are being shot in Georgia. Well-known shows include "Dynasty," "Ozark" and "The Walking Dead."
"GFA is ensuring the film industry that people are here, ready to work and trained to work," Levy said.
Read the original article on the UNG website, here.