Re:imagine/ATL has launched a new program at Tri-Cities High School and Forrest Hill Academy to train students in film production and connect them with local media professionals.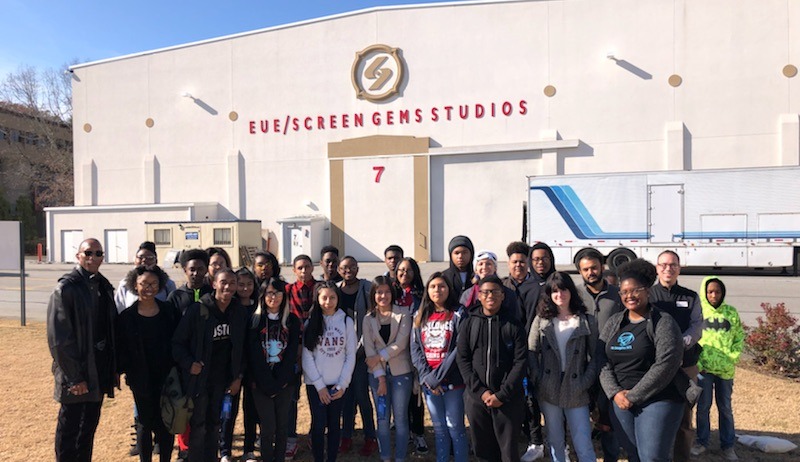 Digital-service learning, soft skills and career exposure are key elements of the program, and its lessons are centered around the use of digital media as a tool to promote a positive message that helps others. For example, students produced micro-content videos encouraging their peers to get involved with the nonprofit, Next Generation Men & Women (the student's "client" for this semester). Soft skills were practiced when mentors and guests visited the classroom, and students learned about career options during their trip to EUE/ Screen Gems.
EUE/Screen Gems, a 10-stage, 33-acre Atlanta studio complex with sound stages and 250,000 square feet of production space, is located less than four miles from both high schools involved in re:imagine/ATL's programs, making the connection between education and career even more accessible for students interested in the local industry. "EUE/Screen Gems believes it is incumbent on those of us fortunate enough to be in Georgia's booming production industry to pay that forward by helping the next generation get a good look at how their interests and skills match up with the creative jobs in our business," says EUE/Screen Gems executive VP, Kris Bagwell.
During the trip to EUE/Screen Gems students learned about the local film industry, production tax incentives, production life, and different roles on set. They also had the opportunity to talk with Iain Paterson (producer and director, Stranger Things, House of Cards), and the advice they received was priceless.
According to the MPAA, there are 28,656 jobs directly related to the film industry in Georgia. The re:imagine/ATL program will continue to work at Tri-Cities, Forrest Hill Academy and other schools in metro Atlanta to connect students with film industry professionals and prepare them for new opportunities. The program was made possible through a grant from United Way of South Fulton.