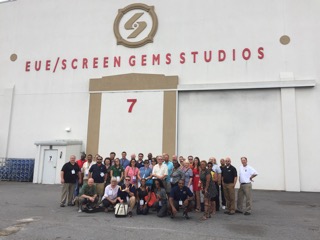 EUE/Screen Gems Hosts GA Educators
By Oz Online | Published on August 4, 2015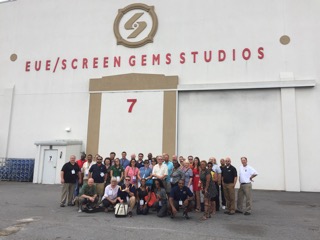 EUE/Screen Gems Studios in Atlanta recently hosted an eventful day for Georgia educators.
About 40 audio-video technology and film teachers from the state were taken on a tour of the historic location by EUE/Screen Gems Studios Executive Vice President Kris Bagwell. The 10-stage, 33-acre Atlanta studio complex with sound stages offers 250,000 sq. ft. of production space and 40,000 sq. ft. of furnished office space.
Kris gave the group an inside look at the sound stage for the USA Network TV show Satisfaction, which is currently filming its second season on the lot.
The studios have hosted more than 30 scripted television shows and feature films since opening in 2010.
Tim McCabe, co-president of Georgia Production Partnership, acted as liaison for the Georgia Department of Eduction.
At the close of the tour, each participant was given a copy of the CREW issue of Oz Magazine.