Crew Call
By Oz Online | Published on May 10, 2017
Georgia-based production veterans and recent transplants weigh in on the production terrain.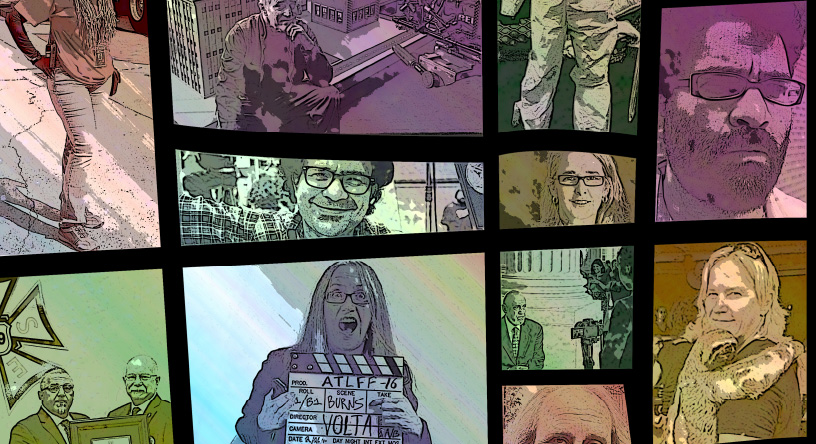 Georgia has come a long way since President (then-Governor) Jimmy Carter created our state Film Commission in 1973–the first office of its kind outside of California and a decision inspired by the financial benefits the 1972 filming of Deliverance brought to Georgia.
"When I first started out in the 1970s, crew from New York would ask, 'Are you local or are you professional,'" says Billy Sherrill, key grip and key rigging grip, about working in Georgia. "I didn't know enough to know this was a bit of an insult."
Today, the Motion Picture Association of America (MPAA) reports that more than 25,700 people are directly employed by the film and TV industry in Georgia, and there are more than 2,700 industry-related businesses in the state.
So how did we get from an emerging regional production center in 1972 to one of the top five film and television production centers in the world in 2017? Through the vision and persistence of Georgia's uniquely innovative, talented and stalwart professional film and television production community–our crews, our actors, our creative community, our film related businesses-and through the vision of our forward-thinking economic development and legislative leadership.
From the 1970s to 2007, Georgia's state film office actively recruited more than 550 film and television productions to Georgia. And in fiscal year 2007 (July 1, 2006-June 30, 2007), the 48 productions filmed in Georgia had a total budget of $93.1 million and generated an economic impact of $241.5 million.
"Some of us have been around long enough to experience the ups and downs," says camera operator Norman Andrews. "We had a mini-boom in the 1990's when Georgia's pool of good technicians was discovered, and numerous productions chose to work here—especially movies and TV shows with southern themes that would benefit from our authentic southern locations. Then Canada introduced a major tax incentive and, combined with favorable currency exchange rates, the LA producers mostly packed up and headed north."
Georgia's true game-changer came in 2008 when our state legislature passed the Georgia Entertainment Industry Investment Act—one of the industry's most competitive production incentive programs—and Georgia quickly became one of the three top US film and television production centers. For fiscal year 2016, the Georgia Film, Music and Digital Entertainment Office reports that 245 film and TV productions shot in Georgia, spending $2.02 billion and generating an economic impact of $7.2 billion–that's 24 times more economic impact than in fiscal
year 2007.
But we'll let our crews tell you themselves.
How is the tax-incentive boom benefiting Georgia crew?
ED HOTCHKISS: I was here through the 90s when people had to leave town to stay in the features business or to work in episodic TV. Now crew here that want to advance have many more opportunities. And as they move up, that gives new people the opportunity to move into the business.
LISA BILEK: I've seen a tremendous increase in the volume of work and the number of crew and vendors since the 2008 Georgia tax incentive was implemented. I've been part of the Atlanta production community for over 25 years,
and not only is the feature film world off the charts, other projects including television series, commercials, corporate and reality production have benefited as well. Working across all platforms has given me and many others the opportunity to mix it up, meet new people and learn new ways to get the job done.
NORMAN ANDREWS: When my kids were small, I quit working as first AC on long-form projects to have a more sane family life. I was increasingly shooting and camera operating for corporate and commercial clients. When the recent "boom" put so many shows in Georgia, I started getting calls again to day-play as first AC and to shoot EPK "behind the scenes" stories for films and TV shows shooting here.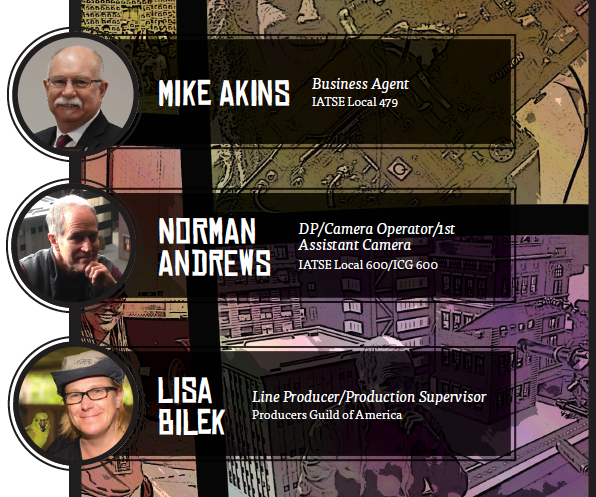 JEN FARRIS: When a location manager gets here and has to start from scratch, they can feel like a fish out of water. They can figure it out but it will take much longer. Location managers love that I know the city. I know the short cuts, how to avoid the traffic and I already have relationships with neighborhoods. "Oh–I used to go to that church and I know the minister's name" or "that's my aunt's neighborhood–let me call her." I know where that exists, this exists–boom–I can pick up the phone and get things started.
NATHALIE DORTONNE: The first major film project I worked on was Netflix's Come Sunday. I was at an Atlanta Film Society event and I met someone who gave me the email address for the film's production coordinator and I reached out to that coordinator to say I was looking for a position. I was invited in for an interview with the line producer and director Joshua Marston and I was offered the director's assistant position.
CLAIRE PAPEVIES: I grew up in Atlanta but once I went to college I didn't think I'd be coming back. I'm all about traveling, so in college I was a PA in Australia, interned at the Weather Channel and after college I worked for an LA company as a PA in Costa Rica on The Bachelor. Then back in LA with a production company, I learned cinematography. Three years ago, ARRI invited me to intern in Australia with their service engineers. To my surprise, after the internship everyone there kept saying "All the work's in Atlanta, you should give it a try." The first week I was in Atlanta, I got called to work on the biggest project I'd ever done.
PATRICK MICELI: I moved to Atlanta from Las Vegas just three months ago, and it has been the most positive experience of my adult life. I've already gotten to PA on two major commercials–and I've been background talent on several of the major TV shows and feature films. This gives me a chance to make connections with dozens of local crew members and actors, as well as become familiar with all the productions in the Atlanta area. It's incredible how many productions are happening here all at once and the people in the industry are so nice.
MIKE AKINS: We're getting to learn from the best crews in the world. On huge films like Ant-Man, Captain America, and Guardians of the Galaxy, the first time they shoot here, 68-78% of crew is from out of town. Next time they're back, it's the other way around because with that franchise's second project in mind, the Georgia crew makes sure they're so well trained in the project's specialty areas that most of crew can be hired here.
Why is there still a tendency to bring in crew from LA or New York, or to hire crew who've recently moved to Georgia from those production centers, rather than to hire Georgia crew?
PAPEVIES: A few years ago, word got out that there were not enough experienced crew in Georgia and crew people started pouring in. First primarily from LA and New York, but then as other states lost their tax incentives, those crews began to move here too.
BILLY SHERRILL: Most keys are hesitant to work with someone they've never worked with before and a lot of people shooting here already know the people they prefer to work with.
ALFEO DIXON: Greenlights and meetings happen months before a project opens a production office and is up and running here. The higher your job is on the food chain, the harder it is to get in early enough. We've gone from about nine solid camera operators to about 90.
ANDREWS: For upper level jobs in the camera department, there's a strong tendency to hire people known and trusted by the DP. This often translates into someone from LA or recently transplanted. But Georgia has excellent DPs and camera operators who are long established working on big movies-and they do get those calls too. If there is a bias, it's more against those without credits on hundred-million dollar movies rather than strictly a bias against hiring locals.
FARRIS: You call people you like first and if they're booked you hope they will shoot you a good name and if you need to, you can teach them what they need to know to do the job right. I'm a very good teacher–but they have to have the know-how to do it right on a consistent basis. If you don't know how to do it, practice, practice. Learn and then do it right. I can't teach you a second time. It's so competitive, there's someone waiting to take your job.
LINDA BURNS: When I hear someone say bad things about "locals," it's sometimes simply about people who've stepped up too fast and aren't ready for it. If someone gets in the union as a local and they're "faking it til they make it," or pretending to know more than they do, that can damage the chances of more qualified locals getting jobs because the assumption is all locals aren't professionals. It gives people an excuse to bring someone in from elsewhere. Slow down and master your craft; working on a few shows doesn't make you an expert. Get your training on Tier One and Two shows. You'll be getting health insurance, a full-time gig, and the experience you need to build a long-term career.
Relationships, Reliability, Loyalty: How to Get Hired
HOTCHKISS: Show up before time. Work hard. Ask questions if you don't know completely what is going on. Get asked back.