When Stranger Things fans began watching Season 4, they were thrilled to be given a deeper look into Eleven's early days living in the lab with "Papa," and to meet her many "siblings" –– other test subjects Papa and his team experimented on. With numbers for names just like El (ranging from Two through Eighteen), these super kids played a pivotal role in the season, and as it turns out, playing their respective roles in the show became a pivotal part in the rising careers of these young actors.
We caught up with 10 of the Atlanta-based actors who brought these "number" roles to life and discovered that most of them auditioned for the part without even knowing what show it was for (sending in a video audition with their hair pulled back tightly and exhibiting specific emotions). When they were cast, they had to first agree to shave their heads and sign a strict non-disclosure agreement before finding out what show and what part the casting was even for.
Read on to get to know a little bit more about the kids behind the roles that brought the Stranger Things Rainbow Room scenes to life.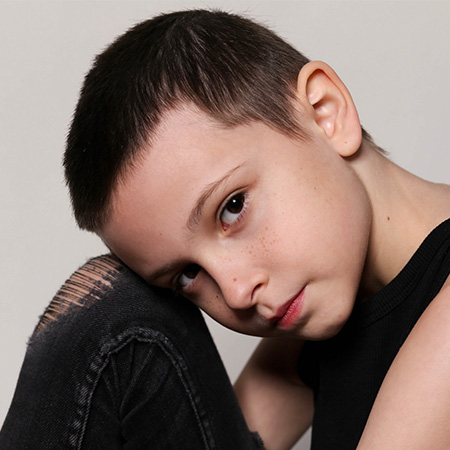 Role: Young Eleven
How did you get the role on Stranger Things?: "I sent in an audition for the show, and I've been a fan of the show since I was four, so when I found out I got the part, I was crying on the floor, I was so excited."
Thoughts on shaving your head for the role: "When I was younger, I liked to role play as Eleven, and I really wanted to be like her, so I asked my mom if I could shave my hair to look like her, but she wouldn't let me. So when I got the part, I couldn't wait to start filming and shave my head. Then when they cut off my first braid, I got a little scared, but I really liked it and the freeness it gave my head."
Fave vacation: "My family loves to go to Big Bear Lake [California], and I love that the cabins have hot tubs, because it's so relaxing and fun to get in a hot tub when it's snowing."
---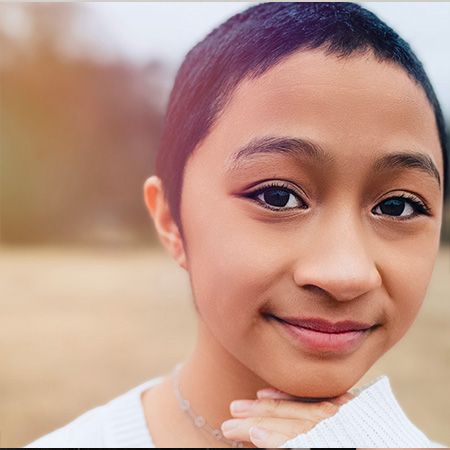 Chloe Adona
Age: 13
Role: Nine
Thoughts on shaving your head for the role: "I was scared to have a look that isn't in today's beauty standards, but then I realized beauty standards are something you create for yourself, and I was able to really embrace the haircut."
Fave Stranger Things character: "Steve Harrington. I love his friendships and chemistry with other characters on the show. Steve just ties everything together."
Actor who inspires you: "Zendaya has always been my role model from day one watching her on K.C. Undercover. Seeing where she's gotten now is really inspiring for me."
Surprising fact about you: "I'm really into human psychology and why we do things the way we do. I read books about it and watch lots of YouTube videos on the subject."
---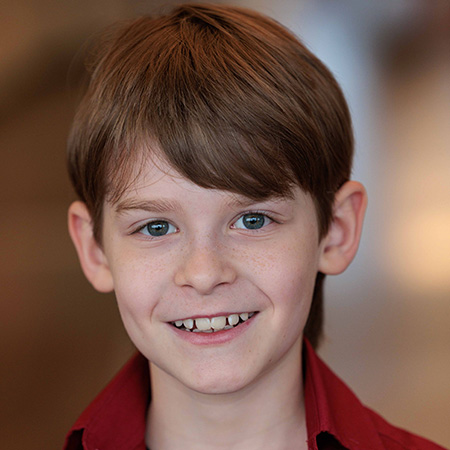 David Kaplan
Age: 12
Role: Twelve
Is it your goal to be a full time actor?: "Yes, I'm currently on an upcoming new FX show, Kindred, and I'm really busy. If I continue to stay busy, then yes, I plan to be a full time actor."
What is your dream role?: "Any role that I get to work with Ryan Reynolds, because he's a great, hilarious actor."
Actor who inspires you: "Millie Bobby Brown. Now she's 18, but she was a kid actor and grew up in the acting business, and she is relatable to child actors. Plus, she was super nice and just amazing to work with."
---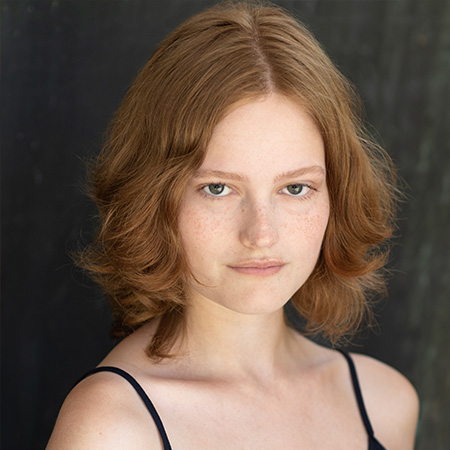 Sparrow Nicole
Age: 18
Role: Four
Is your goal to be a full time actor?: "Absolutely, yes! I'm moving to LA to attend USC for film and television production, and I want to be in the industry in all ways. I want to be a director and screenwriter while continuing to act."
---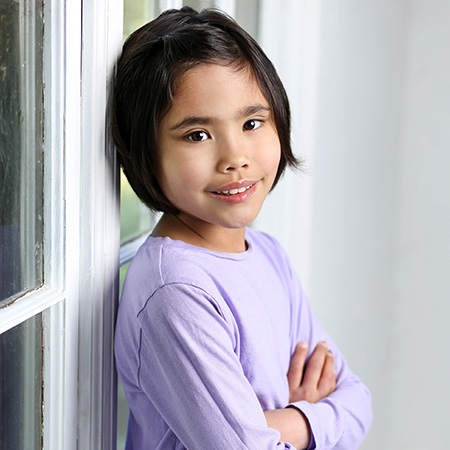 Olivia Sembra
Age: 9
Role: Eighteen
Is it your goal to be a full time actor? "I want to be an actor, but I also want to be an author and a veterinarian, because I love animals."
Fave Stranger Things character: "I love Dustin's girlfriend Susie, because she's really smart with codes, and I like codes."
Fave hobby: "Probably acting club. I do a lot of different things, but I really like my acting club."
Hidden talent: "I can roll my tongue and my belly! One day I wanted to see what I could do with my body, so I started moving around and realized I can make my belly look like a sea."
---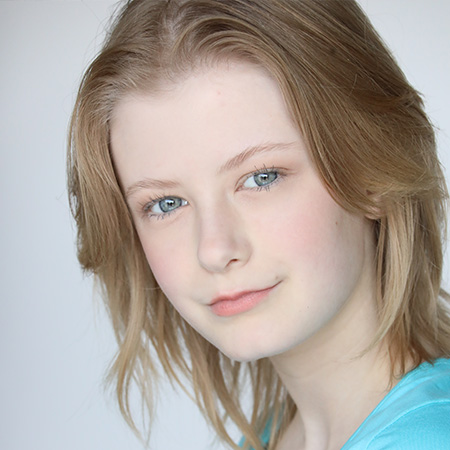 Lana Jean Turner
Age: 14
Role: Seven
Fave Stranger Things character: "Hopper. He reminds me a lot of my dad, and he has great one-liners."
Fave movie of all time: "Definitely The Shining. I love it so much with all the iconic moments. I love everything Stephen King, but The Shining is the best."
Fave vacation: "I really love New York City. I feel like it captures my vibe really well. When I step off the plane in New York, I am fully myself."
Hidden talent: "I am really good at telling identical twins apart. I've always been good at finding the different features that define the two."
---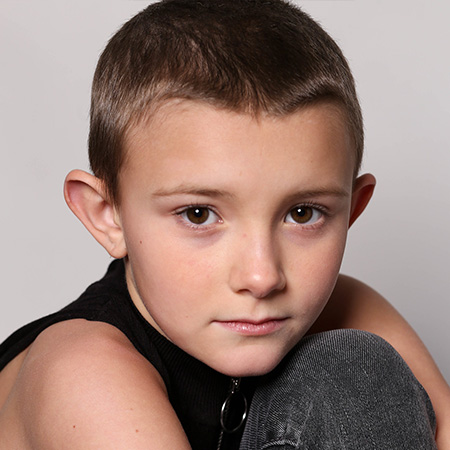 Hendrix Yancey
Age: 10
Role: Thirteen
How did you get the role on Stranger Things?: "Years ago, I actually auditioned for the role of Eleven, and it was the first ever role that I was pretty bummed that I didn't book. They said I had an amazing take, but I'm pretty tall for my age, so I was too tall for the role. So then when I got the audition for this, even though it had a ton of code names, we had our suspicions, and I was so excited."
Thoughts on shaving your head for the role: "I had kids at school bully me for having short hair, but my BFF actually grabbed one of them and made him apologize, and then they all left me alone after that!"
Fave hobby: "My mom and I basically have an animal shelter in our house. We find animals who are abandoned and take them in, pay for their medicine and then rehome them!"
---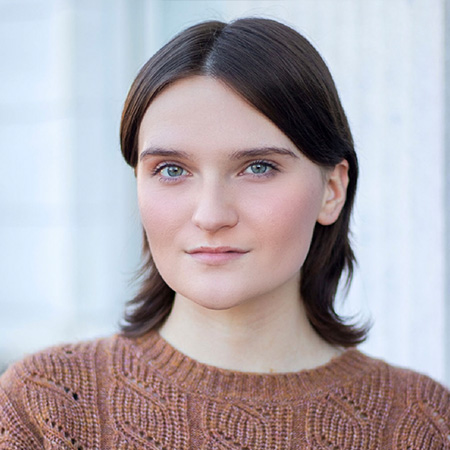 Jessica Arden Napier
Age: 20
Role: Five
Actor who inspires you: "Saoirse Ronan. I think she's one of the most versatile actresses out there, and she's the ideal of what I want to do: action, drama, some comedy. She sets the bar for me."
Fave hobby: "I'm really into all the aspects of filmmaking. I'm an acting major now in college, but I'm also really into photography and cinematography, and I love costuming in films, as well. And I definitely want to incorporate directing into my career, too. I have all these little hobbies that all work into what I want to do."
Surprising fact about you: "I'm actually a twin! She's a fraternal twin, so we don't look exactly alike, but we definitely have that twin connection. One of the things we do the most is I'll be humming a song in my head, and she'll start singing it out loud, and vice versa."
---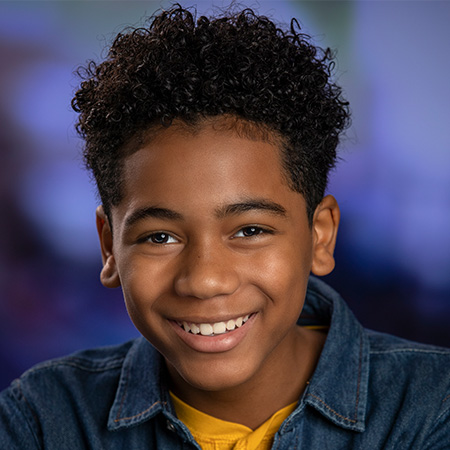 Jeremiah Friedlander
Age: 12
Role: Fourteen
Tell me about shaving your head for the role: "I was extremely nervous, because my hair was very long. It was actually my first haircut ever! But if you really want to do something, you have to make sacrifices, and I do not regret it at all."
Is your goal to be a full time actor? "Yes ma'am! I love acting with a passion. Currently, I'll film something and be on set, then have a couple months break before I film something else. I can't wait until I go straight from set to set."
Fave Stranger Things character: "Murray. He's super funny and sarcastic, and I feel like we have the same personality, because I'm always sarcastic."
Actor who inspires you: "Millie Bobby Brown. She actually helped me book a job, because on the Stranger Things set, she needed to get her heart rate up for a scene, so she started doing jumping jacks and listening to music to get her emotions up, so I tried that before an important audition, and ended up booking the job."
---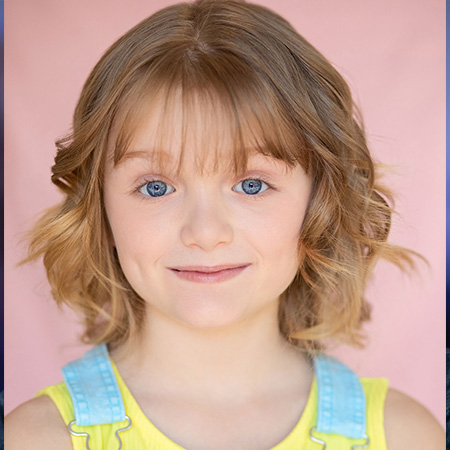 Bentley Williams
Age: 10
Role: Fifteen
Thoughts on shaving your head for the role: "I lost 22 inches of hair, but I was so excited for a new look and thought I looked brave and fierce."
Actor who inspires you: "Millie Bobby Brown. I don't know if you know this but right before she got the role on Stranger Things, she was going to quit acting, because in this industry, we get a lot of no's. But she proves it is really worth it to keep trying."
If you could only eat one food forever, what would it be: "Pepperoni pizza, with extra cheese."
Hidden talent: "People think my mom does all the edits on my social media page, but I do it for her! All the videos and Reels; I do all the editing!"