"I started to make Georgia home. The support here is unlike any other city."
Minor roles in Hollywood films became stepping stones for Alexis Louder's promising career, and then one day she found herself co-starring in a film with Gerard Butler and Frank Grillo. Her hard work paid off, but it doesn't end there. She is just getting started.
On December 2, 2022, Louder's latest film, Violent Night, opened up in theatres just in time to serve movie-goers a Christmas movie like no other.
In Violent Night, a wealthy family is held hostage by a group of mercenaries, but thankfully a half-drunk Santa Claus (David Harbour) comes to the rescue.
Grossing 13.5 million on opening weekend, the film quickly received praise from critics and became adored by fans. "Critics hail what might be a new traditional holiday classic that more than earns its R-rating by turning every imaginable Christmas-related item into a lethal weapon," wrote SyFy.
With an ensemble cast including David Harbour, John Leguizamo, and Beverly D'Angelo, Louder thrived in her role as Linda, a strong-willed wife and mother forced to spend the holidays at the house so that her daughter can have a nice Christmas.
As an actress, Louder was given creative freedom to bring her character to life. This was an opportunity that offered an elevated experience working on Tommy Wirkola's film and that showcases her talent and experience - leaving us to fervently wait for her next role on the big screen.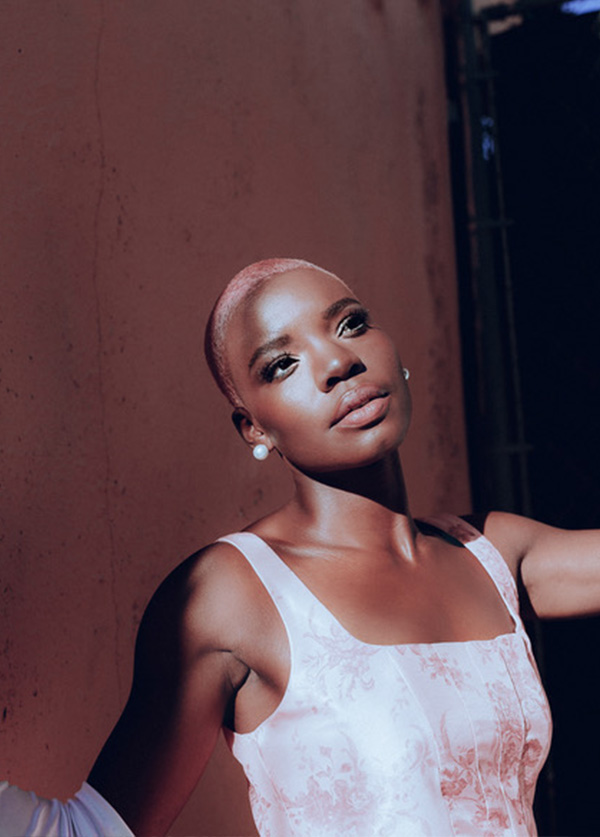 Alexis Louder Enters the Stage
Louder moved to Atlanta in 2014 after attaining a Bachelor of Arts in Theatre from the University of North Carolina - Charlotte in 2013. Her love for the art of acting was sparked during her senior year in high school when walking off stage after delivering a monologue as part of her elective class assignment. The class was supposed to be an easy break between math and science classes that would prepare her for medical school.
Plans changed quickly.
"I'm pretty sure that performance was awful, but I got off the stage and thought, 'I really have to get good at this because I'm pretty sure this is what I'm going to do','" said Louder in an interview with UNC during a visit post-graduation.
Previous to her first leading role in 2021 on Copshop, Louder had several supporting roles and guest star appearances in productions such as HBO's Watchmen, NBC's Chicago PD, Showtime's The Good Lord Birds, Black Panther, and The Tomorrow War, among many others.

We had a chance to check in with Louder to learn more about her journey and her vision for 2023. Here is what she had to say:
Why Atlanta?
Louder: Your girl couldn't afford New York or LA, so I had to be economically wise with my dreams. Now that I've been here for so long and my career has flourished here, I see no reason to leave! It's like Atlanta and I grew together and we have a kind of symbiotic relationship.
Coming to a new city, and looking for opportunities, how was your arrival and introduction to the Atlanta community?
Louder: I spent so much time, in the beginning, comparing Atlanta to a place I wasn't planning on returning to, and when I realized that, I started to fall in love with Atlanta for what it was. Then, I couldn't help but see the beauty in the people, the architecture, and the street art. There are so many ways to feed an artist. And once I embraced the community, I started to make Georgia home. The support here is unlike any other city.
You initially moved to Atlanta intending to pursue your career in theatre. Are theatre plans still on deck for you?
Louder: Always! I love the stage. I had planned to do a play, winter of 2021, but Omicron did us in. It was going to be a cool play. I hope it comes back around. Until then, I'm open to local theatre and Broadway.
What is one mistake you made that you learned the most from?
Louder: Waiting too long. Sometimes you just need to jump at something. I wanted to study online at RADA (Royal Academy of Dramatic Art) during the pandemic, and by the time I got to it, all the classes were full. Someone jumped when I didn't.
"When you start filming, it's hard to keep a straight face with so many funny people around."

You had an incredible breakthrough in "Copshop" with names like Frank Grillo and Gerard Butler. What are some of the main takeaways from that experience?
Louder: Trust yourself. After I booked the role, I sat down with the script, and I saw how many monologues I had and how much of me was in the script. I panicked a little. But with some great advice from my Drama Inc. teacher, I came up with a plan to tackle the work, trust myself to do it, and I was able to enjoy the process. I wasn't stressed at all on that set. I had a great time doing what I love, and that's always the goal.
What attracted you the most to the Violent Night script, and specifically to the character of Linda?
Louder: How much fun I knew I was going to have. Violent Night was written so well, and I never had the opportunity to play someone like Linda. She's confident and successful but has terrible aim.
How did you prepare for your role as Linda in Violent Night?
Louder: That was challenging, because I was given so much license with Linda and that's not the norm. I saw how she dressed, so I got an inkling of the type of woman she was from that. But once I had Linda in the room with the Lightstones, it was a complete revelation of who she is, and why Jason fell in love with her in the first place.
What made the experience of filming Violent Night different from any other you have done?
Louder: I've never filmed in the tundra! -20 degrees most days! Besides surviving– nay! Thriving – in the tundra – I went curling – this film was a true ensemble for me. I've never worked with that large of a group at once. It's usually me interacting with characters individually. I liked this change of pace because it was like being in class or something for the rehearsals. The one downside when you start filming is it's hard to keep a straight face with so many funny people around.
What are some of the characteristics of your character, Linda, that you feel very strongly about?
Louder: Her independence and confidence. More women should have that and keep it even when they step into marriage or parenthood. I think it makes for a more dynamic partnership, and you don't lose yourself in the midst of life.
Is there a kind of role or project that you would like to work on this 2023?
Louder: I would like to fall in love in a film. A RomCom is calling my name! I love watching them and I'd like to see myself in one someday. But I do miss the action, so if anyone wants to put a gun in my hands again, I'm game.
2023, Off to a Good Start
In 2023, we can expect to see Louder in The Changeling, a series that will air on AppleTV+, which is based on the novel by Victor LaValle. From Annapurna and Apple Studios, The Changeling is a fairytale for grown-ups. A horror story, a parenthood fable, and a perilous odyssey through a New York City you didn't know existed.
Louder rises to the occasion playing the lead opposite LaKeith Stanfield. The audience can expect another delightful performance as Louder proudly continues to break through in the industry. "I can say that I stretched parts of myself I thought were as grown as they could be," shares Louder, getting us excited to see her on the screen this Spring. "I'm proud of the work I've done, and I really look forward to you all seeing it."