Their Purpose Driven Mission – Afemo and Elisabeth Omilami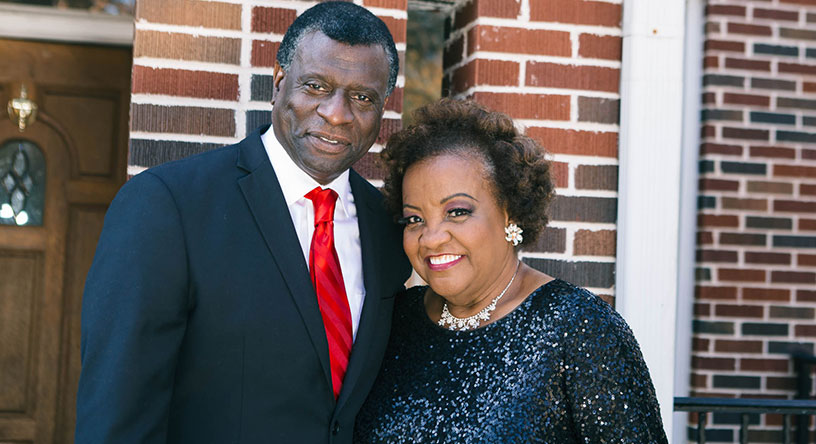 We are in need of a renaissance right now," says Elisabeth Omilami, actress and CEO of Hosea Feed the Hungry and Homeless (now known as Hosea Helps). She runs the company alongside her husband, chief operating officer and fellow actor, Afemo Omilami. Her words come from an honest place of using art to improve the lives of others and combine the worlds of entertainment and philanthropy. That combination can be challenging in one household, but Elisabeth and Afemo make a powerhouse team that makes it come seamlessly together.
In 2000, Elisabeth inherited Hosea Helps from her father, civil rights icon Reverend Hosea Williams, who created the organization to keep hunger out of Atlanta's communities with an annual Thanksgiving and Christmas meal drive. Every year since 1971, Hosea Helps has fed, housed and offered employment assistance to more than 40,000 Atlanta residents. The pair has managed to increase the services and create a year round business model that allows them to touch a larger group of people. "It's more than the Thanksgiving dinners," Afemo explains. "We came into leadership, and we went from the two [holiday] events to providing services all year around."
They are among a small group of people who hold two equally demanding, full-time jobs: philanthropy and entertainment. Afemo, who has a long list of movie credits, shares that he would love to play a superhero one day, and the irony of his statement shines a light on his humble spirit. In Raising Dion (2019), Afemo plays an ornery apartment supervisor who gives seemingly idle threats to the protagonist and his mother while the boy learns to control his newly found superpowers. The series, produced by Michael B. Jordan, gets Afemo one step closer to his superhero role, but only on the other side, as an unempathetic character.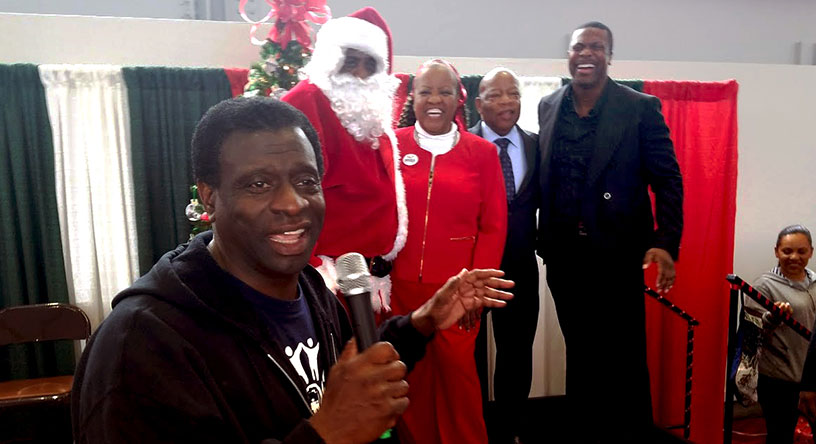 In reality, Afemo's hero work started many years ago when, in the middle of his acting career, he added philanthropist to his name. When Rev. Williams passed away in 2000, Afemo had a role in Remember the Titans (2000), starring Denzel Washington. He and his wife knew they had to pick up the torch that her father lit and keep the work going.
Their community and social activism always find a way to make it on screen, making them a couple of true creative forces, much like Ossie Davis and Ruby Dee. Just as in life and their 42-year marriage, they've often carried out their acting roles together, which has positioned them as a "go-to" couple for the screen. In Ray (2004), they played a couple who abruptly interrupted a Ray Charles performance in a club, warning the dancers and performers that they were hell-bound for listening to his groundbreaking combination of gospel and bebop music. In Selma, Lord Selma (1999), they were not a couple, but they graced the screen to tell the story of two young girls coming of age and fighting in the civil rights movement.
Between them, the two have appeared in some of Hollywood's more iconic movies and TV shows. Elisabeth has recently starred in American Soul (2019), Merry Wishmas (2018) and Hap and Leonard (2016). Afemo can be seen in the upcoming Creepshow (2019), Poms (2019), Full Count (2019), A Brother's Honor (2019) and Freedom's Path (2019). He can also be found on Bounce TV as detective Noah St. Charles in Saints and Sinners (2016). His credits also include, The Hunger Games: Catching Fire (2013), The Firm (1993) and Survivor's Remorse (2014).
More recently in the Georgia-lensed film, Best of Enemies (2019), the Omilami's helped tell the courageous story of Ann Atwater, a civil rights activist who fought the plight of poverty in rural North Carolina in the 1960s. Elisabeth shared how working with Academy Award-winner Sam Rockwell and Emmy Award-winner Taraji P. Henson gave her insight into how to take on such a deep and soul-gripping role. "I found out that Taraji is a true, committed actress because the conditions that we had to film in were very challenging," she said. "The whole experience proved to me that it was a labor of love for her; that she did it not because of any other reason, but she believed in the story of Ms. Ann Atwater." In 2014, Elisabeth played the lead role in the stage version of Best of Enemies at Atlanta Theater, Theatrical Outfit. Playing the character herself and talking with Atwater's family gave Elisabeth the privilege of sharing her knowledge of the activist.
"If we didn't have our acting careers, we would be bonkers. It lifts us up.
This is [our] therapy: to be creative."
– Elisabeth Omilami
Sharing their leadership, acting expertise and passions with the communities they serve is something Elisabeth and Afemo look forward to. They want to help others reach their full potential in the entertainment industries, both on stage and screen, that have brought them so much joy. Elisabeth explains, "If we didn't have our acting careers, we would be bonkers. It lifts us up. This is [our] therapy: to be creative." Another part of their mission is to encourage creativity in others through mentorship. The couple express their pride in a few of their former co-actors and what they've come to accomplish in the harsh world of Hollywood. In Selma, Lord Selma (1999), Afemo plays a young girl's father, who is played by Jurnee Smollett-Bell. He beams with pride thinking of the roster of films she's worked on and starred in.
In the midst of all of their community work and encouragement, the couple has fought for their own acting careers. Audition after audition has kept them on their toes. Each audition has helped them master handling rejection by being brutally honest with themselves and any other actor or artist that stands in front of that table. "I don't care what any actor says, 'Oh, I just forget about it and go on.' No, you don't. You don't forget. You wonder why," she laughs. Drawing courage and taking examples from those they encounter through Hosea Helps, Elisabeth and Afemo push through the rejections and keep fighting for what they want and need.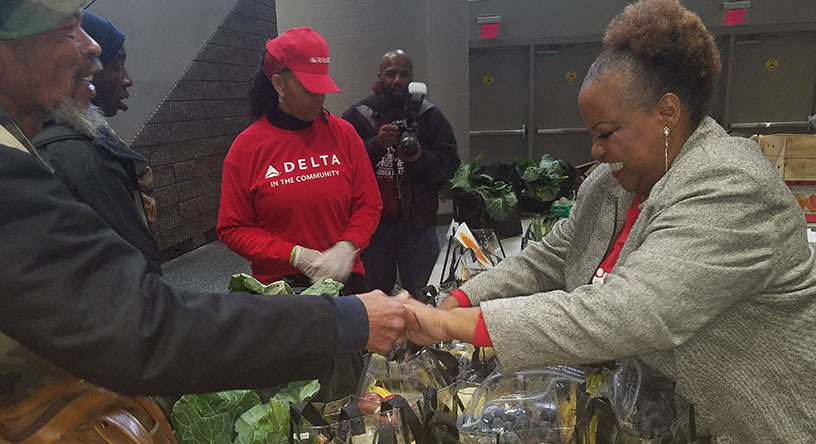 It has ultimately been a labor of love that fueled them to build Hosea Helps to serve even more families. They constantly hear stories of families living out of cars, facing hunger and falling into depression. Giving their all to help families stay together and stay afloat, as well as living their cinematic dreams, is a daunting double life, but Elisabeth and Afemo have mastered the balancing act. They aspire to the heights of Ossie Davis and Ruby Dee, who were incomparable storytellers of their time.
Throughout their careers, they've taken on roles that will stay with them and allow them to keep dreaming and stretching their talents. Afemo shares that his role in Sankofa (1993) was his most impactful acting job. He played a slave that was trained by his master to become a cruel overseer of his own people. While learning about Noble Ali, Afemo discovered that he could relate to the character on a deeper level. There was a time in his life when he was conditioned to believe less of himself. "I was born in a very poor place and kind of brainwashed about my history, who I am," he said. "And I was totally ignorant. Yet through all of that, I began to find my way to the revolutionary person of, 'Afemo Omilami.'"
Elisabeth recounts her favorite character on the 1990s stage of the Alliance Theater, when she got the chance to bring John Henry Redwood's The Old Settler to life. In the story, an older woman who's running a boarding home with her sister catches the eye, and heart, of a young male boarder. The romance sparks ire and temptation in the house. But Elisabeth also leaves a little room to keep looking for a role that removes her out of her comfort zone. After seeing Octavia Spencer star in the thriller Ma (2019), she knew that she would love to play a villain. With a laugh, she admits it could release some every day tensions.
Confronted with the idea of being typecast as freedom fighters and leaders, the thought doesn't seem to bother Elisabeth and Afemo one bit. As a matter of fact, they welcome it. "If we don't tell our stories, someone else is going to write them and tell them wrong," she said. "Then we can't blame them for telling it wrong because you didn't tell it, and you knew [the stories]."
"People find their way to us to say, 'can you help us?' I don't care whether we are in India, Africa or Asia, or just out on the street! We had to finally accept that we've been marked."
– Afemo Omilami